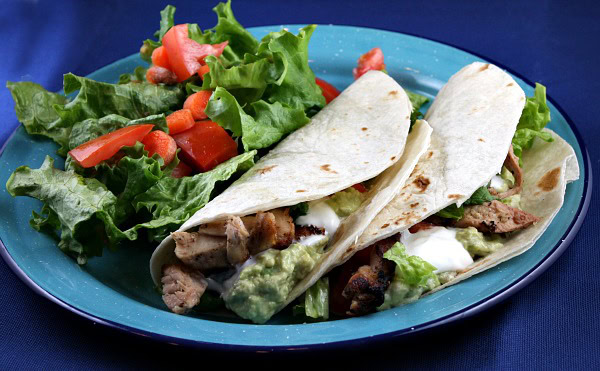 Beer- Marinated Chicken Tacos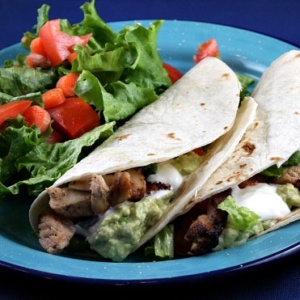 A simple, flavorful marinade gets these tacos ready for quick grilling. The meat stays nice and tender.
Yield:
6 to 8 tacos
Prep Time:25 min + marinating time
Cook Time:8 min
Ingredients:
MARINADE:
1 bottle Mexican beer, such as Corona
2 tablespoons dark sesame oil
1 tablespoon finely chopped garlic
1 teaspoon dried oregano
1 teaspoon kosher salt
1/2 teaspoon freshly ground black pepper
1/4 teaspoon cayenne pepper
CHICKEN:
6 to 8 boneless, skinless chicken thighs, about 4 ounces each (rinsed & patted dry)
WRAP:
8 (6 to 7-inch) flour or corn tortillas
Taco Fillings (as desired): salsa, guacamole, sour cream, lettuce, tomato, cilantro
Directions:
1. Prepare marinade: Whisk ingredients together in a small bowl.
2. Place chicken thighs in a large plastic resealable bag and pour in the marinade. Press the air out of the bag and seal tightly. Turn the bag to distribute the marinade, place the bag in a bowl, and refrigerate for 2 to 4 hours, turning the bag occasionally.
3. Remove chicken from bag and discard marinade. Grill chicken thighs over direct medium heat until the meat is firm and juices run clear, 8 to 10 minutes, turning once halfway through grilling time. Transfer the chicken to a cutting board and cut the thighs into thin strips.
5. Warm tortillas according to package directions. Pile the sliced chicken inside the tortillas. Top each taco with desired fillings.
Source: RecipeGirl.com (Adapted from Weber)