These tacos – Cedar- Planked Halibut Tacos with Citrus Slaw- are seriously the best fish tacos my family has eaten in a long time. SO GOOD.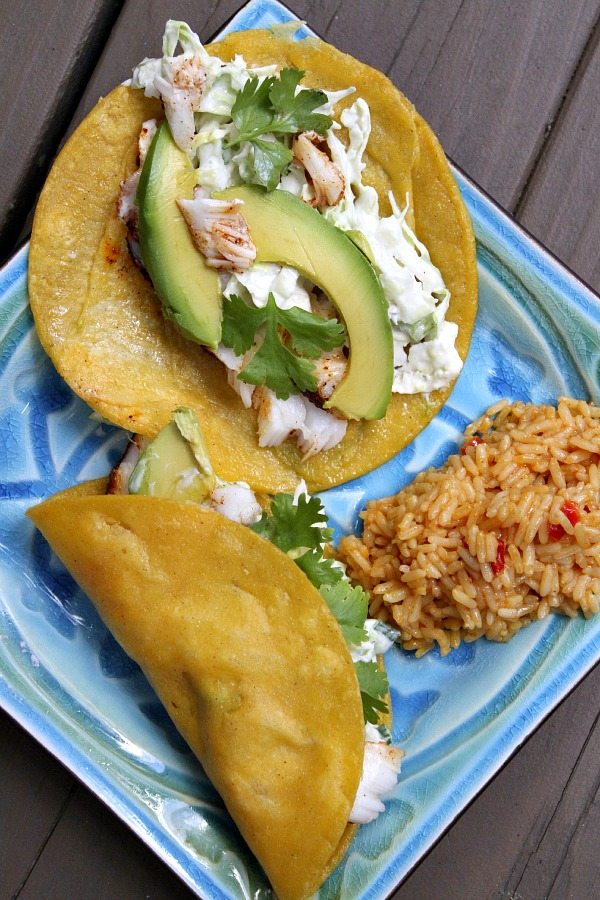 Cedar- Planked Halibut Tacos w/ Citrus Slaw
Yield:
12 tacos
Prep Time: 30 min + soaking time
Cook Time: 20 min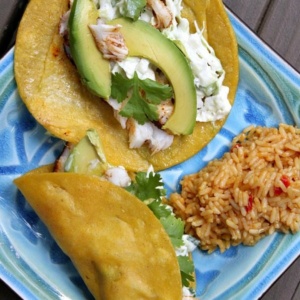 Ingredients:

1 (15x6 1/2-inch) cedar plank
1/2 teaspoon salt
2 cups shredded Napa (Chinese) cabbage
1/4 cup chopped green onions
1/4 cup low fat sour cream
2 Tablespoons freshly squeezed lime juice
2 teaspoons chili powder
1 teaspoon cumin
1/2 teaspoon freshly ground black pepper
1/4 teaspoon salt
1 (1 1/2 pound) halibut fillet
12 (8-inch) flour or corn tortillas

cilantro and sliced avocado, for serving

Instructions:

1. Soak plank in water to cover 1 hour; Drain. (It's actually best if you can soak it for several hours).

2. Prepare grill, heating one side to medium heat (300° to 350°) and one side to high heat (400° to 500°).

3. To prepare slaw, combine 1/2 teaspoon salt, shredded cabbage, salad greens, green onions, sour cream, and lime juice; toss well to coat. Chill.

4. To prepare tacos, combine chili powder, cumin, pepper, and 1/4 teaspoon salt in a small bowl. Sprinkle chili powder mixture over fish.

5. Place plank on grill grate over high heat; grill 5 minutes or until lightly charred. Carefully turn plank over; move to medium heat. Place fish on charred side of plank. Grill halibut, covered with grill lid, 18 minutes or until fish flakes with a fork.

6. Warm tortillas according to package directions. Break fish into chunks, and place about 2 ounces fish on each tortilla. Top each taco with 1/4 cup slaw, and garnish with avocado and cilantro.

Tips:

*Use lowfat tortillas to make this a lower fat meal. Use low carb tortillas to make this a lower carb meal!
*If preparing this recipe as GLUTEN FREE, just be sure to use GF corn tortillas (in place of flour).