Here was last night's dinner:  Roasted Vegetable and Black Bean Tacos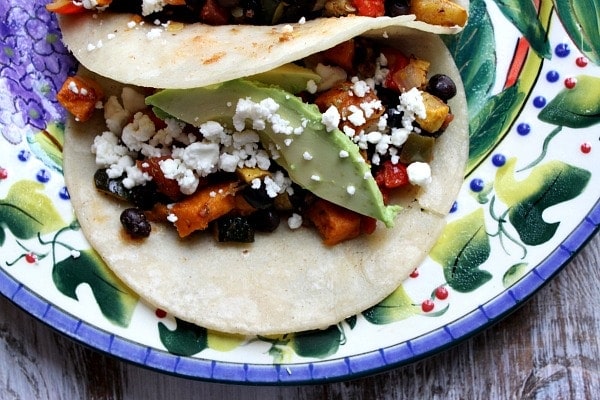 One of the things I'm most happy about as a parent is when I can find/create meals that my child will actually eat and enjoy.  I tried to do that with The Recipe Girl Cookbook– focused on family-friendly meals that EVERYONE will enjoy. My family does enjoy all of the recipes in the book.  I continue to experiment, and I'd love to say that my son wants to eat everything I make for dinner, but that's not always the case.
This was one of those dinners I had in my head, so I opened my vegetable drawer to see what was lurking in there and basically just grabbed what I saw.  Also in my head was the thought that my son doesn't like most vegetables, but I was bound and determined to make this recipe delicious enough for a veggie-weary child.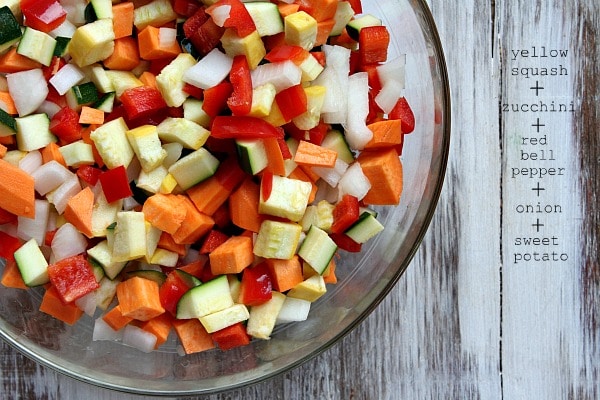 I went with yellow squash, zucchini, onion, red bell pepper and sweet potato.  Corn would work nicely in here too, as would butternut squash.  These are tossed with a small amount of olive oil and salt and pepper, then roasted for 45 minutes.  This step can be prepared the night before and then just combined w/ the rest of the ingredients to make the tacos.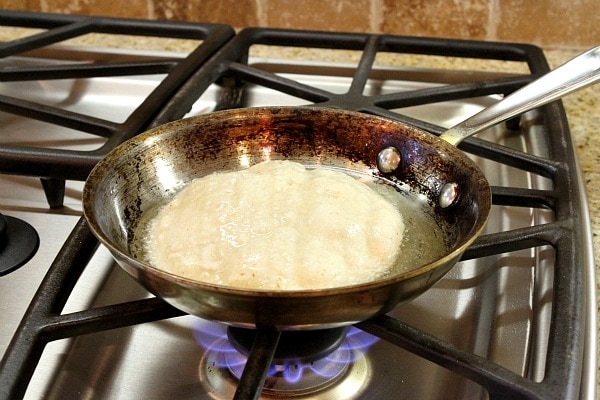 I like to prepare taco tortillas the way my Mom taught me to make them.  I fry them in oil.  Yes, OIL!  They're just kind of the best that way- nice and pliable and they do not crack apart when you eat them.  Just heat the oil and fry each tortilla for about 20 seconds (see the recipe below for details).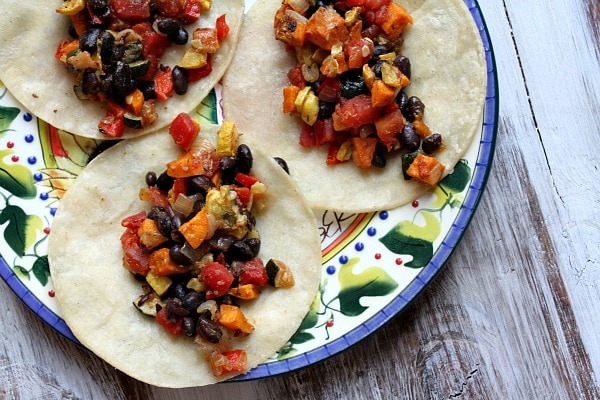 Those roasted veggies are mixed with black beans and a can of Ro-Tel tomatoes (you can use freshly chopped tomatoes and canned chiles if you'd like).  A homemade taco-spice blend is mixed in too.  Tuck a few spoonfuls of the mixture into the center of each tortilla…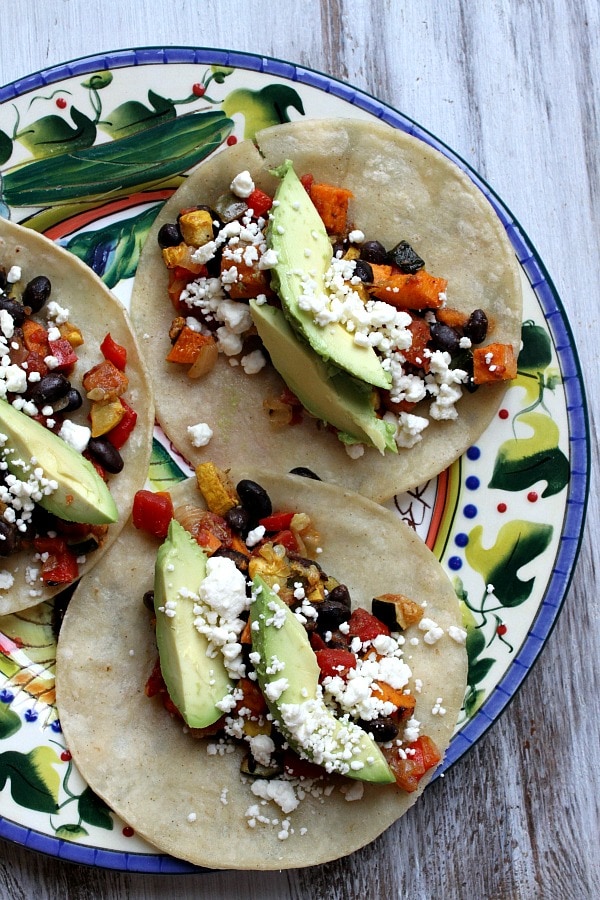 … then add your fixings!  I opted for a few good slices of fresh avocado and crumbled feta cheese.  Dress them up however you'd like though… other nice add-ins: lettuce, fresh tomato, salsa and sour cream.
So I'm guessing you'd like to hear the results?  On whether or not my kiddo enjoyed these "vegetable" tacos?  Well, it turns out the little guy had a horrible headache and opted to skip dinner entirely.  So I'll have to try it out on him another time.  I can tell you, however, that my husband and I thought they were very, very good and chowed down on three tacos each!  The roasted vegetables lend a slightly sweet flavor to the taco.  So good!
Roasted Vegetable and Black Bean Tacos
Yield:
10 to 12 tacos
Prep Time: 30 minutes
Cook Time: 55 minutes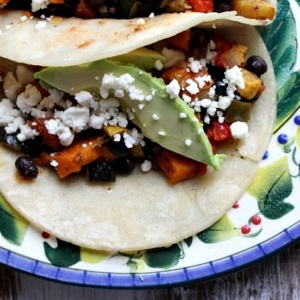 Ingredients:

1 medium yellow squash, chopped into small chunks (1 cup)
1 medium zucchini, chopped into small chunks (1 cup)
1 small onion, chopped (1 cup)
1 medium red bell pepper, de-seeded, ribs removed and chopped (1 1/2 cups)
1 medium sweet potato or yam, peeled and chopped (1 1/2 cups)
1 tablespoon olive oil
kosher salt and freshly ground black pepper
One (15-ounce) can black beans, drained and rinsed
One (10-ounce) can original Ro-Tel (tomatoes + chiles)
1 teaspoon ground cumin
1/2 teaspoon smoked paprika
1/2 teaspoon garlic powder
1/2 teaspoon dried oregano
1/2 teaspoon sea salt
1/4 teaspoon freshly ground black pepper
10 to 12 taco-sized corn tortillas
canola or vegetable oil
suggested add-ins: avocado, cotija or feta cheese, lettuce, sour cream)

Instructions:

Preheat the oven to 425 degrees F. Spray a large, rimmed baking sheet with nonstick spray.
Add all of your vegetables to a large bowl and toss with the olive oil. Spread the veggies on the prepared baking sheet and sprinkle with salt and pepper. Roast 15 minutes, stir to re-distribute, roast another 15 minutes, stir again, and roast one more time for 15 minutes (45 minutes total). This step may be prepared ahead of schedule- just refrigerate your veggies until ready to make your tacos.
In a medium skillet, heat the black beans and Ro-Tel tomatoes over low heat. In a small bowl, combine the spices (cumin through pepper). Sprinkle the spices over the beans/Ro-Tel and stir to combine. Add the roasted veggies, stir to combine and continue to heat until the mixture is completely warm.
In a small skillet, heat 1/2 inch or less of oil over medium-high. When you can flick a drop of water in the oil and get a sizzle, you're ready to fry your tortillas. Place one tortilla in the hot oil and use tongs to press it down so it cooks on both sides- you only need to cook it for about 20 to 30 seconds to soften it up. Remove the tortilla to a paper-towel-lined plate. Repeat with remaining tortillas, placing paper towels in between each cooked tortilla to absorb the oil.
Assemble tacos: Place a scoop of the roasted veggie/black bean mixture into a tortilla and add desired fixings. Repeat with remaining ingredients. Leftovers are good for a couple of days!

Tips:

To prepare this recipe as GLUTEN-FREE, just be sure to use brands of beans and tortillas that are GF.
Chili powder may be substituted for smoked paprika, if necessary.
If you don't wish to fry your tortillas, you can soften them by heating 3 at a time in damp paper towels in the microwave (they'll be more susceptible to tearing though). Or flour tortillas are a good choice too.
Sub your favorite shredded cheese for the feta, if desired.

Nutrition:

2 WEIGHT WATCHERS Freestyle SmartPoints per taco (tacos not fried in oil... toppings extra)
SOURCE: RecipeGirl.com
Here are a few more vegetarian taco recipes you might enjoy: