Southwest Salad with Avocado Dressing is packed with your favorite Mexican salad fixin's and the dressing is to live for!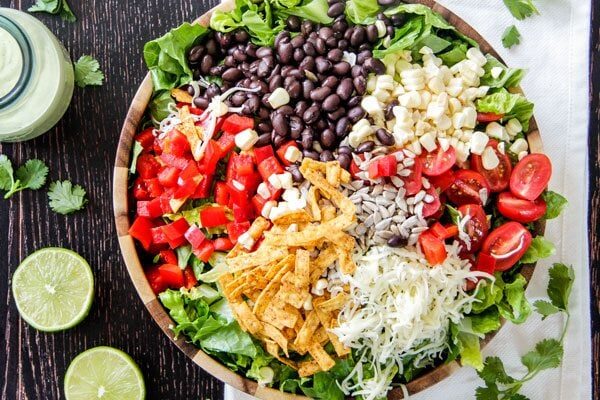 I love it when the weather warms up and its time to turn in our slow cookers and soups for the grill and salads!  I love a good salad and to me "good" means a salad piled high with crunchy veggies, nuts or seeds and always a good cheese – with lettuce more of an in-between filler of all other things delicious. This Southwest Salad is no exception.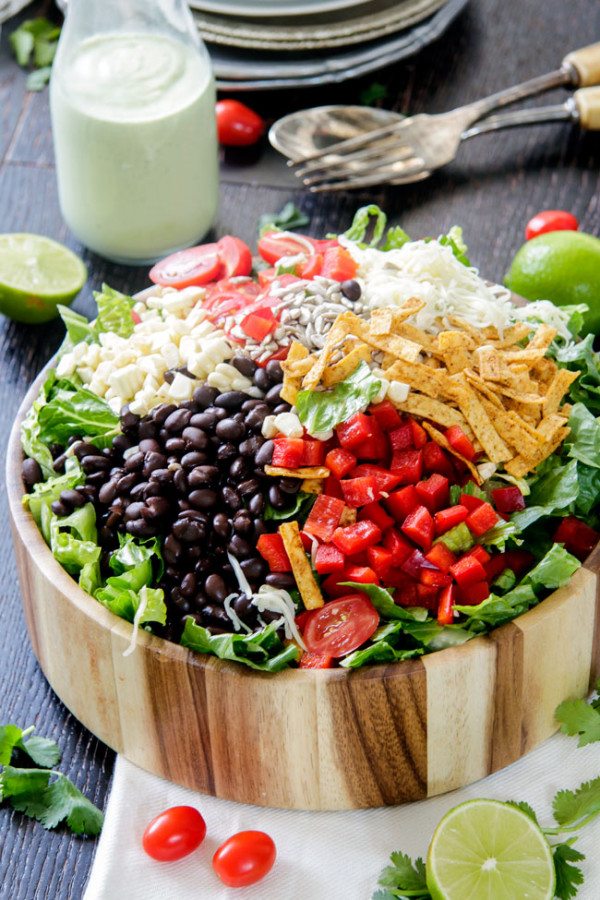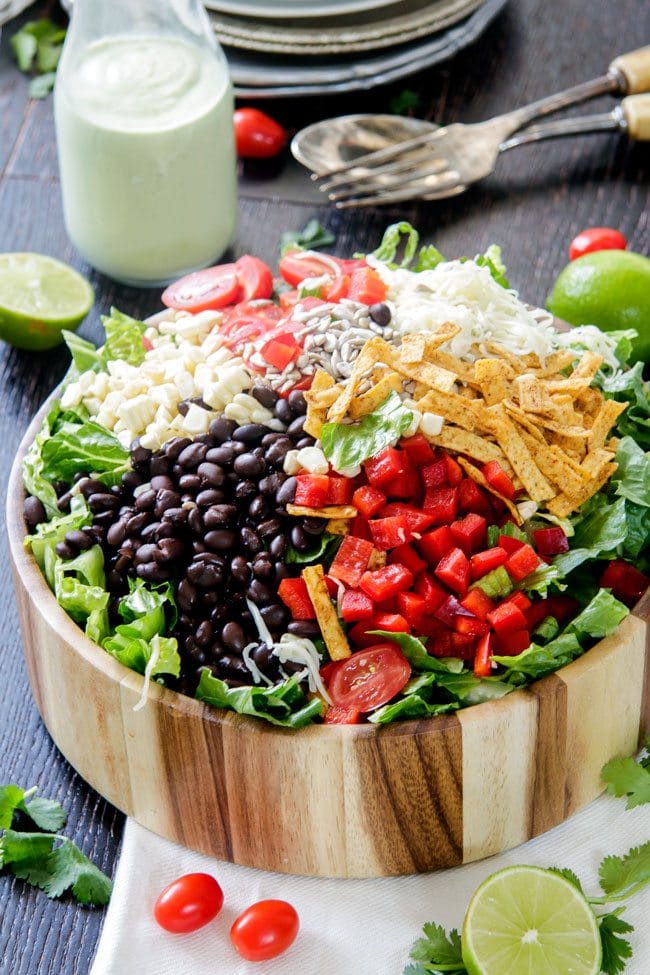 Its packed with red bell peppers, tomatoes, fresh sweet corn, black beans, sunflower seeds, Pepper Jack cheese, and tortilla strips all bathed in the most intoxicatingly delicious creamy Avocado Dressing.  The symphony of flavors and textures will make your mouth giddy!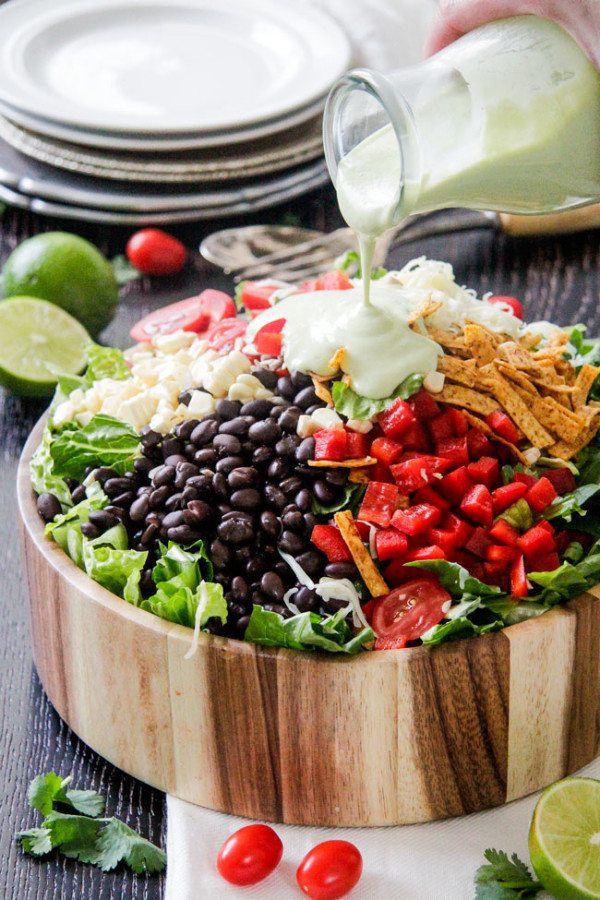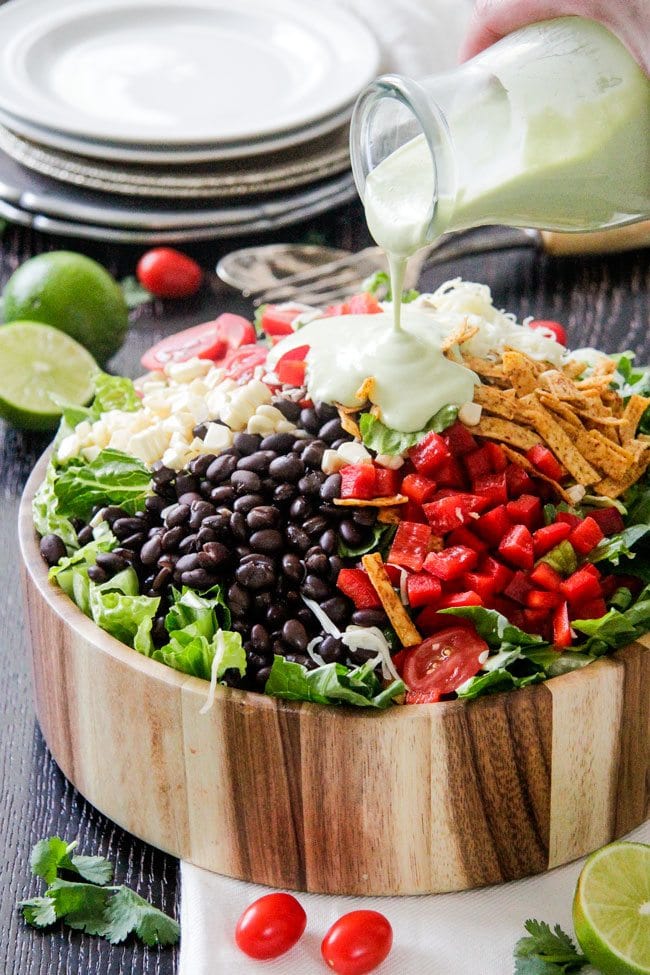 Especially the Avocado Dressing,  I could practically drink it!  Its a silky blend of avocado, sour cream (or Greek yogurt), cilantro, lime juice, garlic, and hints of salt, pepper and ground cumin.  To me, the salad is almost just a vehicle to consume this luscious fiestalicious dressing.  Almost.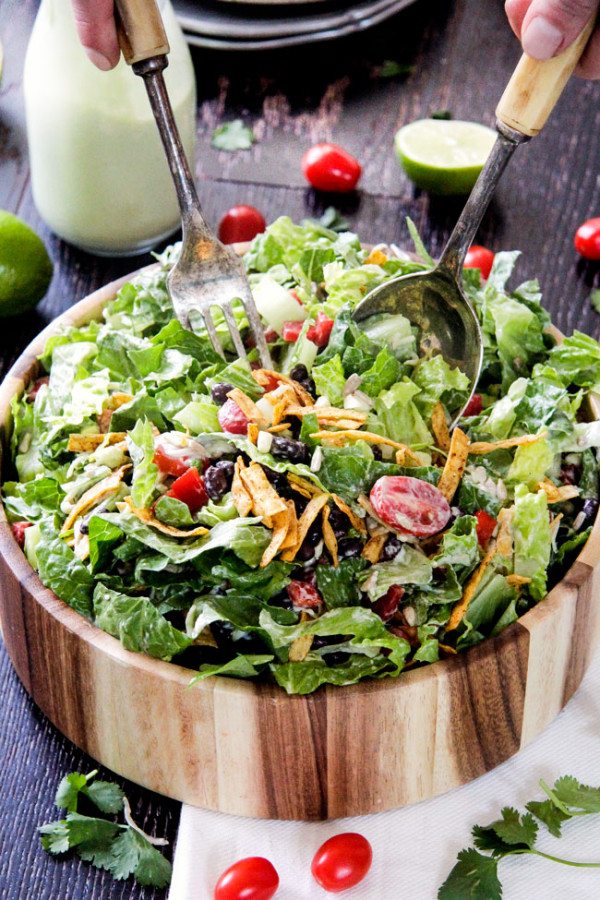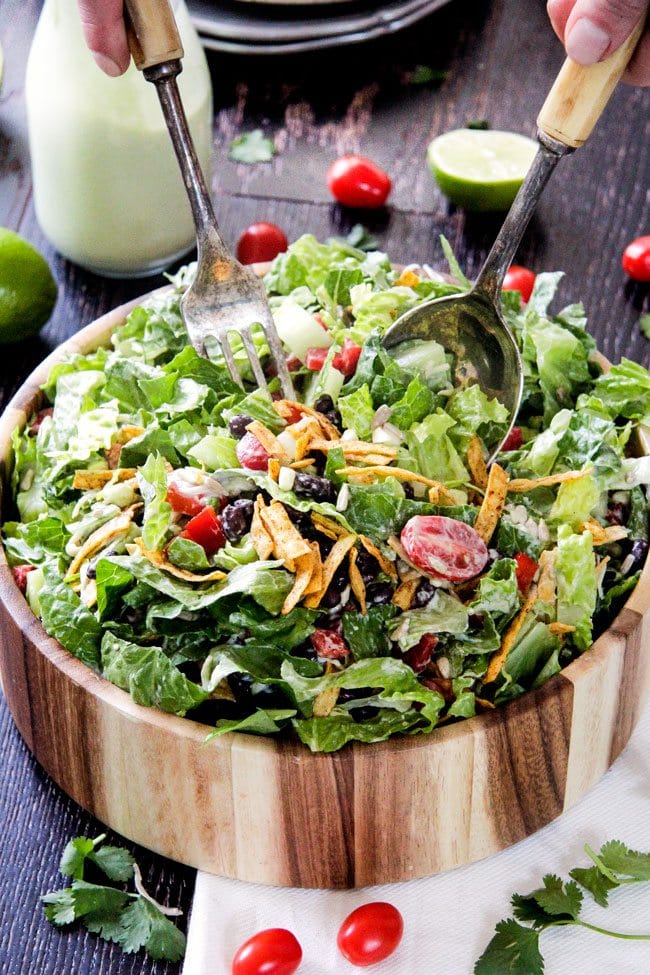 This Southwest Salad with Creamy Avocado Dressing is a salad recipe so good you will actually be craving salad!
Southwest Salad with Avocado Dressing
Yield:
6 servings
Prep Time: 15 mins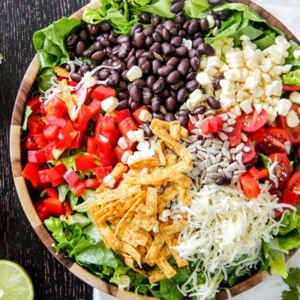 Ingredients:

Southwest Salad

1 head romaine lettuce, chopped
fresh corn kernels from 1 ear of sweet corn
1 red bell pepper, chopped
1 cup cherry or grape tomatoes, halved
1 (15 oz.) can black beans, rinsed and drained
1/3 cup roasted and salted sunflower seeds
1/2 cup grated pepper jack cheese, or more to taste
Tortilla Strips for Salads

Avocado Dressing

1 small avocado, peeled and pitted
2 tablespoons real mayonnaise
1/4 cup sour cream or plain Greek yogurt
1/3 cup water plus more as needed
1/4 cup cilantro, loosely packed
2 garlic cloves, peeled
2 tablespoons lime juice
1/2 teaspoon salt
1/4 teaspoon pepper
1/4 teaspoon ground cumin

Instructions:

Add all of the Avocado Dressing ingredients to a blender and chop then puree until smooth, scraping sides down as needed. Add additional water, a tablespoon at a time, as needed to reach desired consistency.  Chill while you prepare your salad ingredients.  You can also prepare Dressing the day before serving and store in the refrigerator.
Add all Southwest Salad ingredients to a large bowl and toss to combine.  Toss salad with desired amount of dressing or drizzle dressing over individual servings if not eating all of the salad immediately.

Nutrition:

4 Weight Watchers Freestyle SmartPoints per serving (6 servings) with the following modifications: use reduced-fat pepper jack cheese, use light mayonnaise and nonfat yogurt, and omit the tortilla strips.
SOURCE:  RecipeGirl
Here are a few more salads you might enjoy: