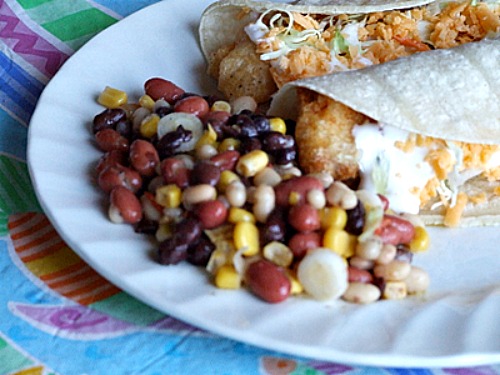 White, Red and Black Bean Salad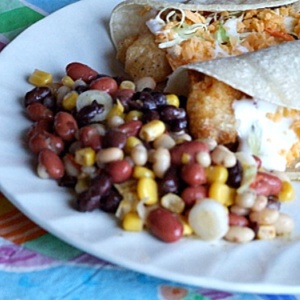 Yield:
8 servings
Prep Time:15 min
Ingredients:
One 15-ounce can white beans
One 15-ounce can kidney beans
One 15-ounce can black beans
One 11-ounce can Mexicorn (with red and green peppers in it)
3 whole green onions, chopped
4 tablespoons extra virgin olive oil
4 tablespoons red wine vinegar
1/2 rounded teaspoon garlic powder
1/2 rounded teaspoon cumin
1/4 rounded teaspoon salt (or to taste)
1/4 rounded teaspoon freshly ground black pepper (or to taste)
Directions:
1. In a colander, drain all the beans. Add corn. Rinse well with cool water. Drain well. Pour into a large bowl.
2. Finely chop the green onions, using all of white portion and enough tops to measure a little over 1/2 cup. Add to bean mixture.
3. Pour olive oil into a 2 cup glass measuring cup. Whisk in vinegar, garlic powder, cumin, salt and pepper. Pour over bean mixture. Stir until well coated. Serve immediately or chill.
Tips:
*If you are preparing this recipe as gluten-free, just be sure to use brands of corn and beans that are known to be GF.
Nutrition:
Nutritional Information per serving:
Serving size: salad divided by 8
Calories per serving: 257
Fat per serving: 7.75g
Saturated Fat per serving: 1g
Sugar per serving: 1.75g
Sodium per serving: ,span class="sodium">569g
Fiber per serving: 11g
Protein per serving: 11.5g
Cholesterol per serving: 0mg
Carbohydrates per serving: 38g
WW POINTS per serving:
Points Plus Program: 6 Old Points Program: 6.5