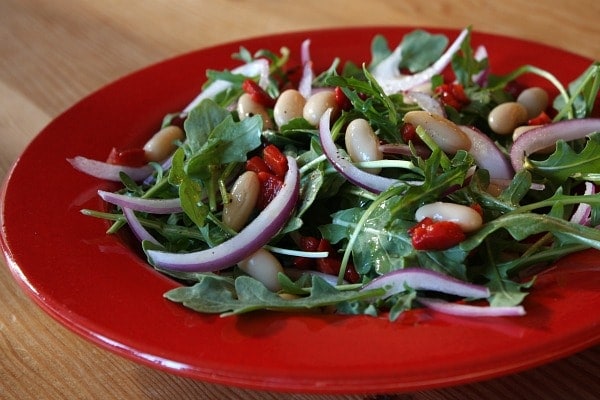 Arugula, White Bean & Roasted Red Pepper Salad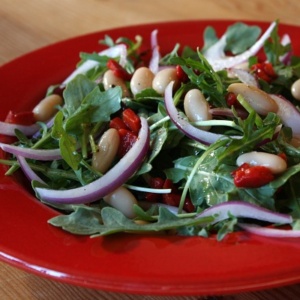 It can't get much easier than this. Just toss the ingredients in a big bowl with the dressing and serve...
Yield:
4 servings
Prep Time: 15 min
Ingredients:
SALAD:
3 cups torn arugula leaves
1/2 cup chopped bottled roasted red bell peppers
1 (16 ounce) can navy beans, rinsed & drained
1/3 cup vertically sliced red onion (optional)
DRESSING:
1 1/2 Tablespoons white balsamic vinegar
1 Tablespoon olive oil
1 teaspoon honey
1/4 teaspoon salt
1/4 teaspoon black pepper
Directions:
1. To prepare salad, combine salad ingredients in a large bowl.
2. To prepare dressing, combine vinegar and remaining ingredients in a small bowl, stirring with a whisk until blended. Pour over salad, tossing to coat.
Tips:
*I actually prefer this salad without the onions. The slightly peppery flavor of arugula is perfect with just the roasted red peppers, beans and the simple dressing.
*Use regular balsamic vinegar if you'd like- but the white variety is nice because it won't make your salad look muddy.
Nutrition:
Nutritional Information per serving:
Serving size: 1 cup
Calories per serving: 177
Fat per serving: 4g
Saturated Fat per serving: .6g
Sugar per serving: 2g
Fiber per serving: 6.5g
Protein per serving: 9.24g
Carbohydrates per serving: 27.7g
WW POINTS per serving (1 cup):
Points Plus Program: 4 Old Points Program: 4.5