Here's a great chicken recipe… moist and flavorful and all that good stuff: Grilled Chicken with Lemon and Oregano.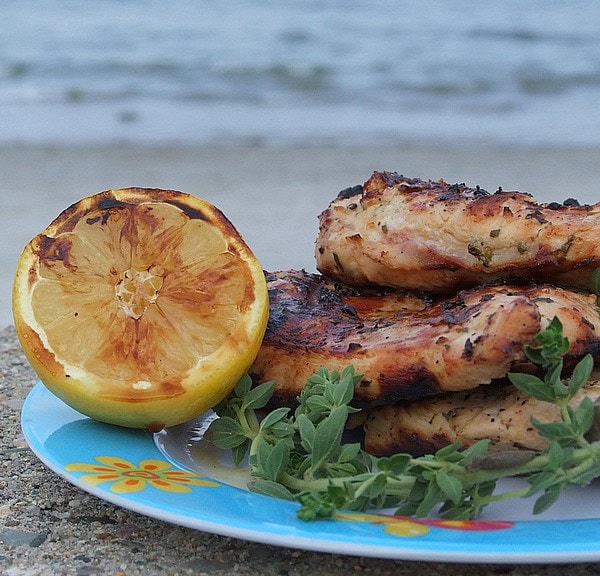 We grilled this up for the first time at our beach house on the 'ol charcoal grill. Use boneless breasts or those with bones and skin… whatever you prefer to marinate. Just make sure the grill is heated up pretty well before you put the chicken on. If it has to grill too long, you'll end up with burnt, dry chicken.
One little trick that I usually do when I'm grilling chicken is to transform the breasts into even thickness by pounding the heck out of them with my meat mallet. That eliminates problems with uneven cooking, and the chicken usually has a better shot at remaining moist and tender.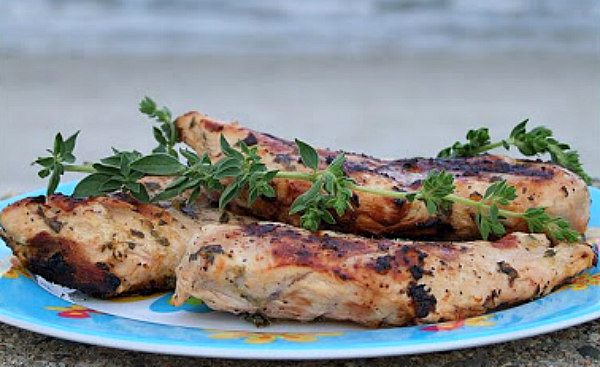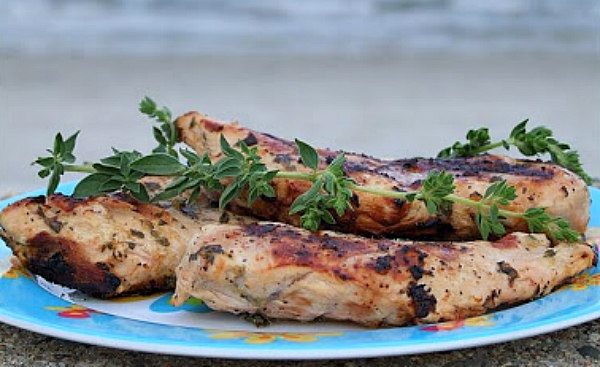 A nice, little addition to this one is grilled lemons. They become soft and juicy, and the lemon flavor mellows a bit to add a good drizzle to the grilled chicken.
The chicken is good on its own or sliced up and placed on top of greens.
CLICK BELOW TO WATCH A SHORT VIDEO SHOWING YOU HOW TO MAKE THIS RECIPE, THEN SCROLL DOWN TO PRINT OUT THE COMPLETE RECIPE:
Grilled Chicken with Lemon and Oregano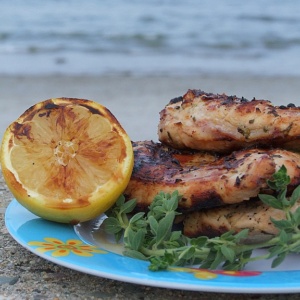 Terrific summery chicken recipe. The grilled lemons are a nice touch to squeeze on top.
Yield:
4 servings
Prep Time:20 minutes + marinating time
Cook Time:20 minutes
Ingredients:
1 tablespoon

grated lemon zest

1/3 cup (about 2 lemons)

lemon juice

, freshly squeezed

1/4 cup

finely chopped fresh oregano

2 tablespoons

olive oil

(plus more for grates)
coarse salt & freshly ground pepper

2 pounds

chicken breast

2 medium

lemons

, halved crosswise
oregano sprigs for garnish, optional
Directions:
Prepare marinade: In a small bowl, whisk together the lemon zest and juice, oregano, oil, 2 teaspoons coarse salt and 1 teaspoon pepper. Divide the marinade between 2 large re-sealable plastic bags. Divide the chicken between the bags; shake to coat. Let marinate at room temperature for 30 minutes, turning bags occasionally.
Grill the chicken: Preheat the grill to medium; lightly oil the grates. Remove the chicken from its marinade, and pat dry with paper towels. Place the chicken on the grill. Cover and cook until lightly browned and cooked through, about 8 to 10 minutes. Turn the chicken over, cover and cook until chicken is cooked through (an instant-read thermometer should read 175° when inserted into the thickest part of the chicken). If the chicken is browning too quickly, move to cooler parts of grill or turn grill to low heat.
Transfer the chicken to a cutting board. Tent with foil; let rest 10 minutes. Meanwhile, place lemon halves on the grill, cut side down; cook until slightly charred, 8 to 10 minutes. Serve chicken breasts with grilled lemon halves. Garnish with fresh oregano sprigs, if desired.
Tips:
Chicken grills up best when it's an even thickness throughout the breast. Take the time to pound out the breasts slightly (between two pieces of plastic wrap) to even out the thickness.
Nutrition:
WEIGHT WATCHERS Freestyle SmartPoints per 8-ounce serving: 2
Here are a few more grilled chicken recipes you might enjoy: