Peppery Grilled Garlic Bread
Yield:
8 servings
Prep Time: 15 min
Cook Time: 2 min + cooling time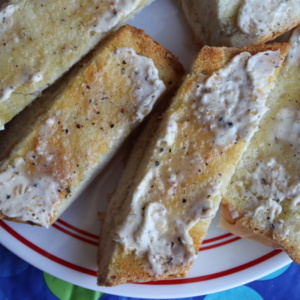 Ingredients:

1/2 cup (1 stick) unsalted butter, softened
3 large garlic cloves, pressed
1 teaspoon fresh ground pepper
1 teaspoon freshly squeezed lemon juice
salt to taste
1 loaf French bread, cut into slices
1/3 cup extra virgin olive oil

Instructions:

1. In a small bowl, mix butter, garlic, pepper and lemon juice. Add salt to taste. Set aside.

2. Preheat the grill to medium-high heat. Lightly brush the bread with oil. Place face down on grill and cook until slighly crisp and light brown, about 2 minutes. Spread grilled bread with garlic butter and serve immediately.