This recipe has been featured in a post on The Recipe Girl blog:  Grilled Vegetable Chili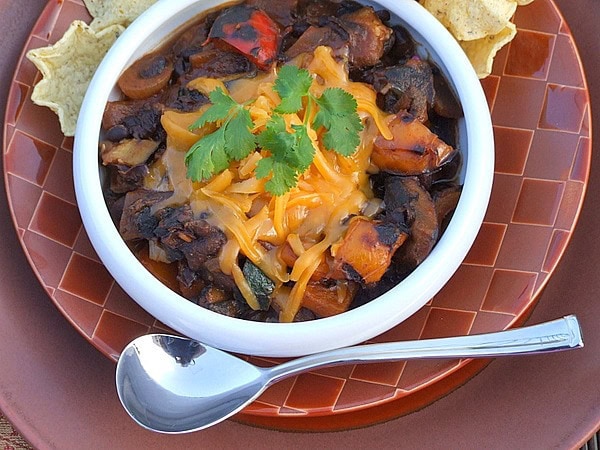 Yield: 4 servings
Prep Time: 20 min
Cook Time: 25 min
Grilled Vegetable Chili
My family really enjoyed this unique chili recipe topped with cheddar, sour cream, cilantro and a squeeze of lime. My son liked scooping it up with tortilla chips.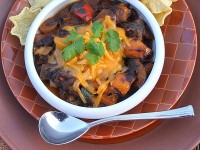 Ingredients:
2 medium zucchini, sliced 1/2-inch thick
1 large red bell pepper, quartered
1 large yellow bell pepper, quartered
2 large portobello mushroom caps
1 medium red onion, sliced 3/4-inch thick
1/4 cup extra-virgin olive oil
salt and pepper
2 cloves garlic, minced
2 medium jalapeño chiles, seeded and finely chopped
1 (15 ounce) can black beans, rinsed
1 Tablespoon chili powder
3 Tablespoons tomato paste
1 cup light beer
1 cup vegetable broth
1/3 cup freshly chopped cilantro (for serving)
3/4 cup shredded reduced-fat cheddar cheese (for serving)
4 Tablespoons reduced-fat sour cream (for serving)
Directions:
1. Preheat a grill to medium-high. Lightly brush the zucchini, bell peppers, portobellos and red onion with 3 Tablespoons olive oil; season with salt and pepper. Cover and grill, turning once, until charred, about 8 minutes. Transfer to a plate to cool. Chop into 1/2-inch chunks.
2. In a large saucepan, heat remaining 1 Tablespoon olive oil over medium heat. Add garlic and jalapeños and cook for 1 minute. Add the black beans and heat through. Stir in grilled vegetables and chili powder; season with salt and pepper. Stir in tomato paste and cook for 2 minutes. Stir in the beer and cook until slightly reduced, about 10 minutes. Stir in vegetable broth and simmer over low heat until thickened, about 5 minutes.
3. Divide chili among 4 bowls. Top with cilantro, cheese and sour cream.
Leave a Comment