Grilled Vegetables happen to be an awesome addition to chili in this Grilled Vegetable Chili recipe.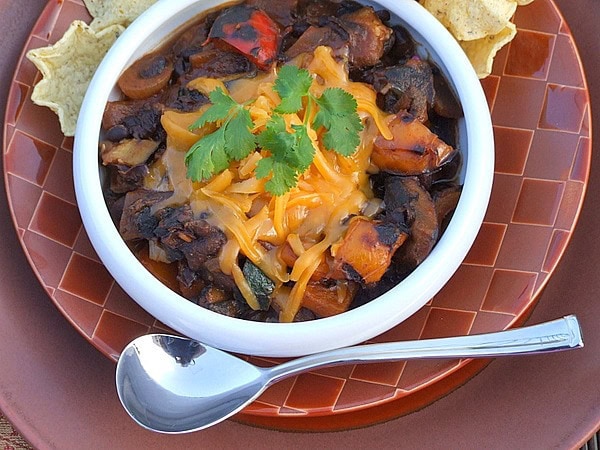 Grilled veggies are chopped up and added to garlic, jalapeno, black beans, chili powder and tomato paste. The mix is simmered in beer and vegetable broth, until thickened.
We top ours with melted cheddar, a dollop of sour cream and freshly chopped cilantro. With an added squeeze of lime, this is a wonderful summer chili. We enjoy ours with tortilla chip dunkers.
If you're looking for more great chili recipes, you might also enjoy Spicy Vegetarian Chili or Steak and Beer Chili.
Grilled Vegetable Chili
My family really enjoys this unique chili recipe topped with cheddar, sour cream, cilantro and a squeeze of lime. My son likes scooping it up with tortilla chips.
Yield:
4 servings
Prep Time: 20 minutes
Cook Time: 25 minutes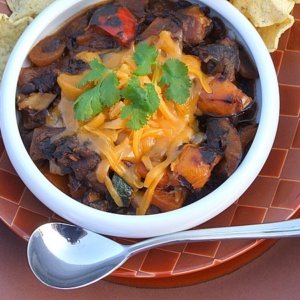 Ingredients:

2 medium zucchini, sliced 1/2-inch thick
1 large red bell pepper, quartered
1 large yellow bell pepper, quartered
2 large portobello mushroom caps
1 medium red onion, sliced 3/4-inch thick
1/4 cup extra-virgin olive oil
salt and pepper
2 cloves garlic, minced
2 medium jalapeño chiles, seeded and finely chopped
1 (15 ounce) can black beans, rinsed
1 tablespoon chili powder
3 tablespoons tomato paste
1 cup light beer
1 cup vegetable broth
1/3 cup freshly chopped cilantro (for serving)
3/4 cup shredded reduced-fat cheddar cheese (for serving)
4 tablespoons reduced-fat sour cream (for serving)

Instructions:

Preheat a grill to medium-high. Lightly brush the zucchini, bell peppers, portobellos and red onion with 3 Tablespoons olive oil; season with salt and pepper. Cover and grill, turning once, until charred, about 8 minutes. Transfer to a plate to cool. Chop into 1/2-inch chunks.
In a large saucepan, heat remaining 1 tablespoon olive oil over medium heat. Add garlic and jalapeños and cook for 1 minute. Add the black beans and heat through. Stir in grilled vegetables and chili powder; season with salt and pepper. Stir in tomato paste and cook for 2 minutes. Stir in the beer and cook until slightly reduced, about 10 minutes. Stir in vegetable broth and simmer over low heat until thickened, about 5 minutes.
Divide chili among 4 bowls. Top with cilantro, cheese and sour cream.
SOURCE RecipeGirl.com (Adapted from Rachael Ray)