This healthy Confetti Chili recipe is more than just a pretty bowl of chili- it's filling and delicious, and best of all… it's low in calories too!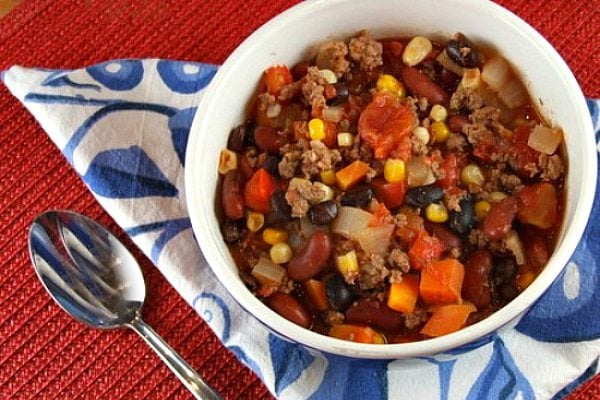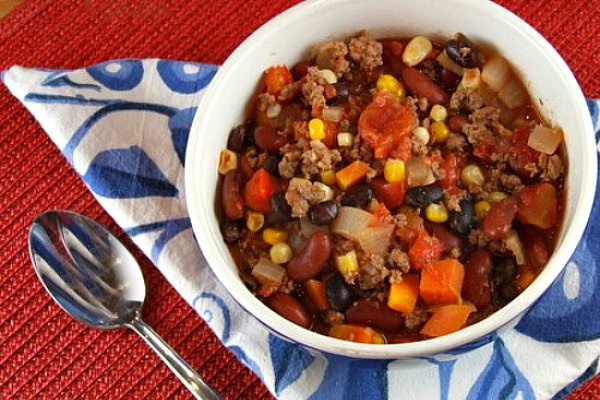 One of the reasons that people ultimately fail when beginning a healthy-eating lifestyle is that they choose foods to eat that don't give them a feeling of being full. And let's face it… when you feel like you're starving, you're going to blow it. I've been trying to choose foods that are high in fiber, and it really makes a big difference. Snack on a slice of whole-grain bread that has 5 grams of fiber in it and a cup of tea… it's amazing how satiating that can be.
Especially at dinnertime, I want my meal to be appealing.  I don't want to feel like I'm eating 'diet' food, and I'd like to feel full. If dinner hasn't filled me up, I'm likely to be searching for something sweet later on in the evening that I otherwise wouldn't be so tempted to eat. This Confetti Chili is my latest find for a satisfying, colorful and high fiber choice that is also a good one for the family.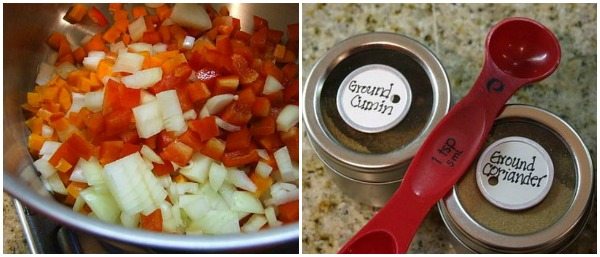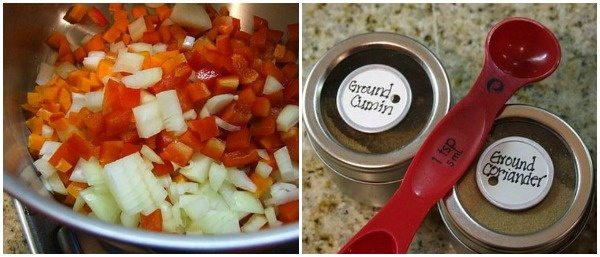 Here's the how-to:  Saute your colorful veggies- onion, bell pepper, & carrots.  Add the secret spices that make this chili so good.  No chili powder in this chili!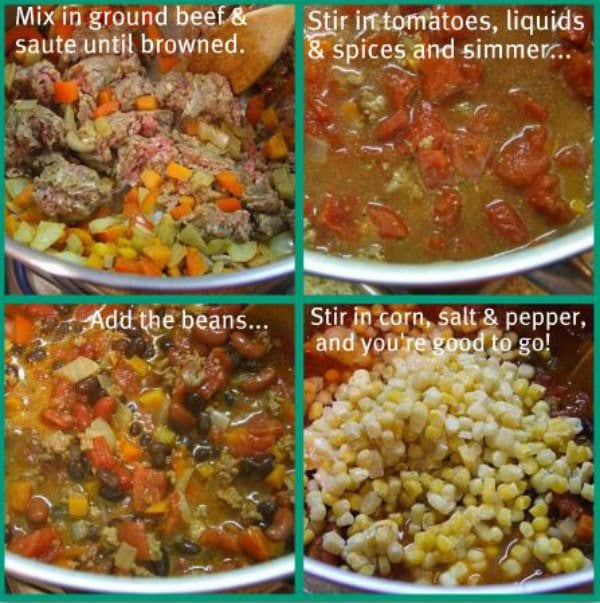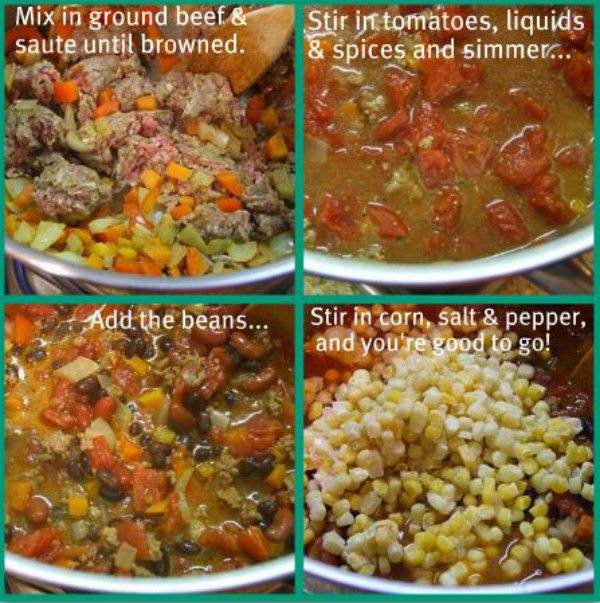 Follow the pics. This is an easy, easy chili to make!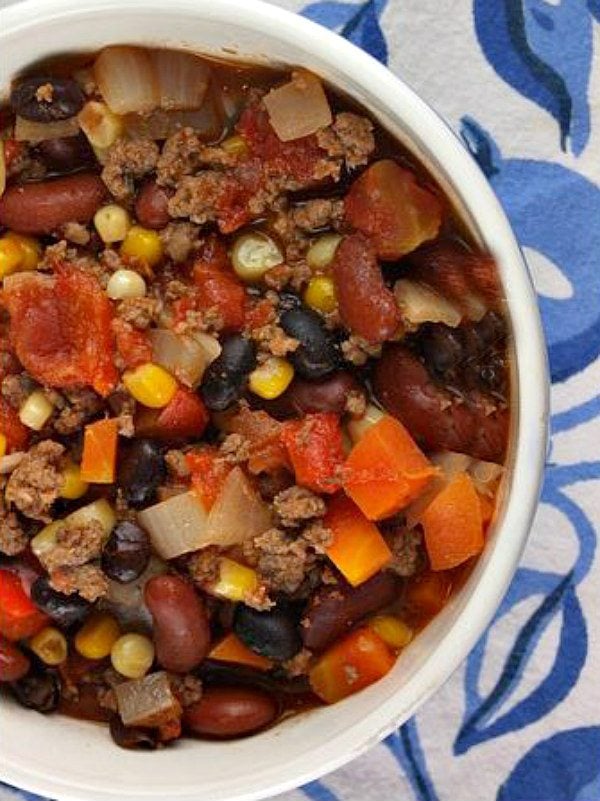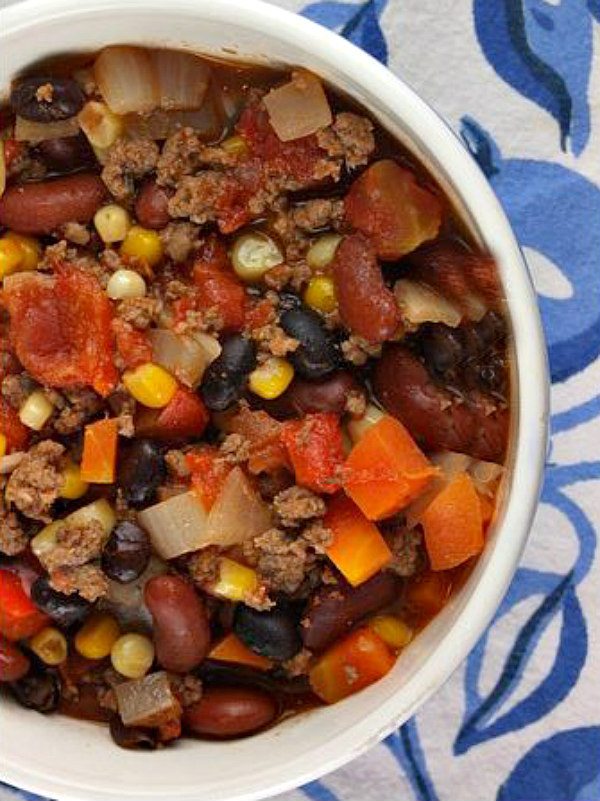 Here's the best part > this chili is filling, and you will definitely feel full after eating it. Serving size is 1 1/4 cups… and for that you'll be eating 250 calories. My family really likes this one a lot. It's a nice change to make a chili that doesn't have the usual chili powder addition. My little one doesn't like to eat chili so much on its own, but if I give him a handful of Dorito scoop chips, he's all over it.  Stay away from the chips yourself, add a side salad, and you've got yourself a satisfying, low fat dinner.
Confetti Chili
Yield:
8 servings (1 1/4 cups per serving)
Prep Time: 30 minutes
Cook Time: 60 minutes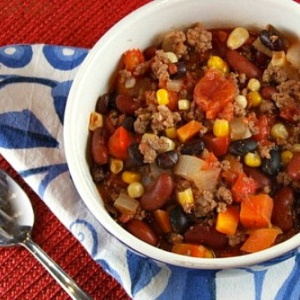 Ingredients:

1/2 tablespoon olive oil
1 small onion, diced (1 cup)
1 medium red bell pepper, seeded & diced (1 cup)
1 medium carrot, diced (1/2 cup)- no need to peel
2 teaspoons ground cumin
1 teaspoon ground coriander
1 pound lean (90% lean or higher) ground beef
1 (28 ounce) can no-salt added crushed tomatoes, with their juices
2 cups water
1 canned chipotle chile in adobo sauce (seeded & minced), + 2 teaspoons of the sauce
1/2 teaspoon dried oregano
1 (15.5-ounce) can black beans (drained & rinsed)
1 (15.5-ounce) can kidney beans (drained & rinsed)
1 1/2 cups frozen corn kernels
salt & freshly ground black pepper to taste

Instructions:

Heat oil in large pot over medium heat. Add onion, bell pepper and carrot; cover and cook, stirring occasionally, until softened, about 10 minutes. Add cumin and coriander and cook, stirring for 1 minute. Add ground beef; raise heat to high and cook, breaking up the meat with a spoon, until the meat is no longer pink. Stir in tomatoes, water, chipotle + adobo sauce, and oregano; bring to a boil. Reduce heat to medium-low and cook, partially covered, stirring from time to time, for 30 minutes.
Stir in the beans and continue cooking, partially covered, 20 minutes longer, until the chili is nicely thickened. Stir in the corn and cook until heated through. Season with salt & pepper and serve.

Tips:

If you are preparing this recipe as GLUTEN FREE, make sure you purchase a brand of chipotles in adobo sauce that are GF. The La Costena brand is noted as gluten-free.

Nutrition:

Nutritional Information per serving (Serving size:

1 1/4 cups)

Calories:

251, 

Fat:

4.74g, 

Saturated Fat:

1.53g, 

Fiber:

10.66g, 

Protein:

21.15g, 

Cholesterol:

35.15mg, 

Carbohydrates:

33.43g

Weight Watchers POINTS per serving:  SmartPoints: 5, Points Plus: 6, Old Program: 6