Here's a simple, delicious recipe with a pretty presentation: Red Pepper Confetti Asparagus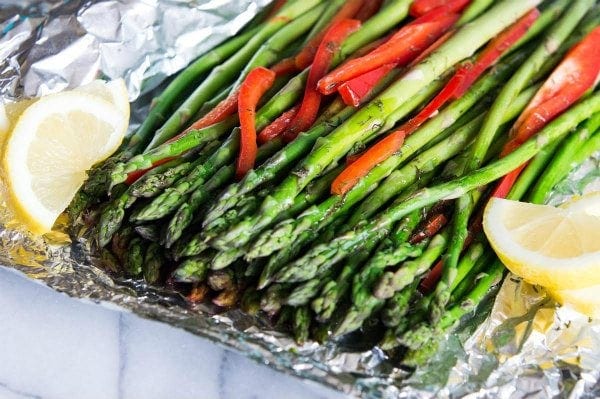 These asparagus are wrapped in a snugly foil packet- complete with plenty of dill and lemon.  Red pepper strips added to the packet are a big-time bonus.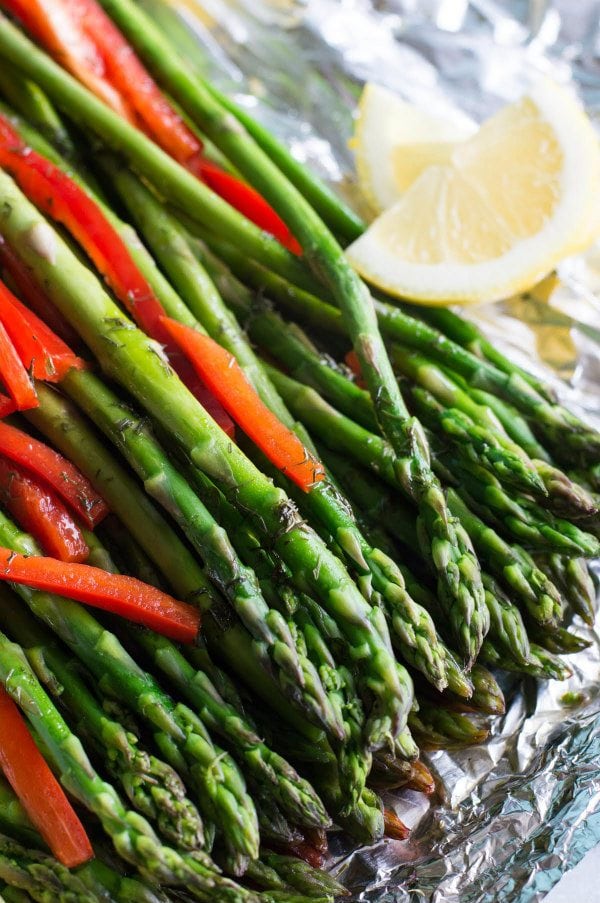 Red Pepper Confetti Asparagus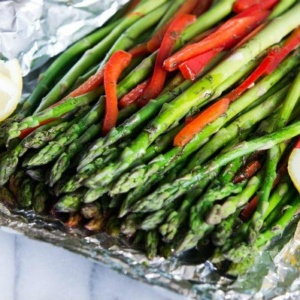 Yield:
8 servings
Prep Time:10 minutes
Cook Time:10 minutes
Ingredients:
2 pounds fresh asparagus
1 red bell pepper, sliced thinly
2 tablespoons olive oil
4 tablespoons freshly squeezed lemon juice
1/2 cup chopped fresh dill
freshly ground black pepper
Directions:
Preheat oven to 350 degrees.
Place asparagus on a piece of aluminum foil large enough to hold the asparagus in a single layer and to fold over and seal. Place the foil and contents into a rectangular casserole dish. Lay sliced bell pepper over asparagus. Sprinkle the asparagus and bell pepper with olive oil, lemon juice, and dill. Season with pepper. Wrap the foil around the asparagus (snugly but not tightly), and seal tightly by folding the edges together.
Bake 10 to 15 minutes, depending on the thickness of the asparagus. Serve immediately.
Nutrition:
Nutritional Information Per Serving (serving size = recipe divided into 8 equal servings): Calories: 59, Calories from Fat: 31, Total Fat: 3.5g, Saturated Fat: .5g, Cholesterol: 0mg, Sodium: 3g, Potassium: 274mg, Carbohydrates: 6g, Dietary Fiber: 2.75g, Sugar: 3g, Net Carbs: 3.25g, Protein: 2.5g
Weight Watchers Points per serving:  Smartpoints: 1, PointsPlus: 2, Old Points Program: 1
SOURCE:  RecipeGirl.com
Here are a few more asparagus recipes you might enjoy: