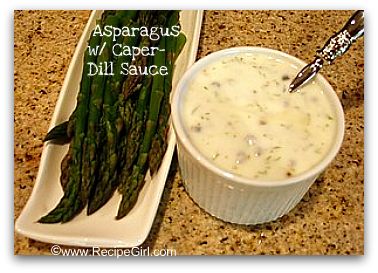 Asparagus with Caper- Dill Sauce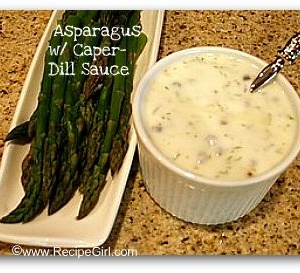 Yield:
4 servings
Prep Time: 15 min + chill time
Cook Time: 5 min
Ingredients:
1 cup nonfat yogurt or sour cream
1/4 cup fresh lemon juice
1/4 cup fresh chopped dill (or 1 tablespoon dried)
1/4 cup capers, drained
1/2 teaspoon salt
1/2 teaspoon fresh ground pepper
1 pound fresh asparagus (or try )green beans
Directions:
1. Blend all sauce ingredients together in a medium bowl. Chill for at least 1 hour.
2. Cook asparagus or green beans to desired tenderness.
3. Drizzle sauce over vegetables.
Tips:
*Try serving the vegetables chilled too, with sauce drizzled on top.