One of my all-time favorite easy side dishes:  Sauteed Tomatoes with Thyme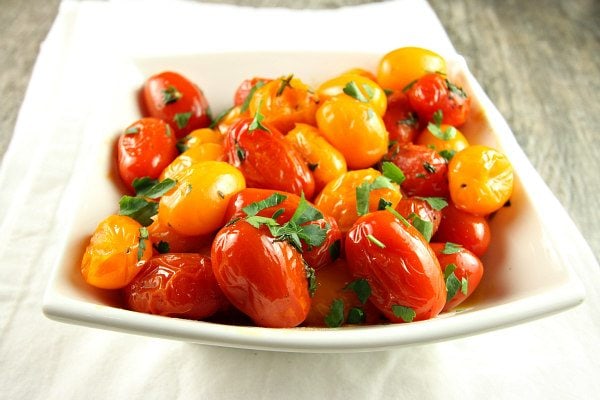 If you have access to some fresh pear or cherry tomatoes this summer- either from the Farmer's Market or your own garden- you need to make this simple side dish.  When tomatoes are sauteed, they sweeten up perfectly… and when you add simple herbs, they're so delicious!!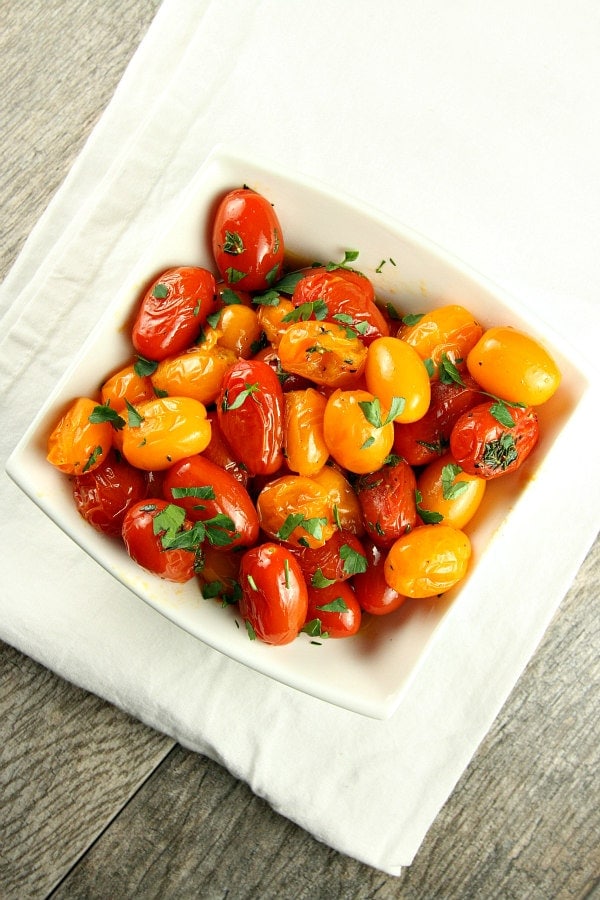 Serve this as a side dish to grilled meats or fish.  You'll be so happy you did!
Sauteed Tomatoes with Thyme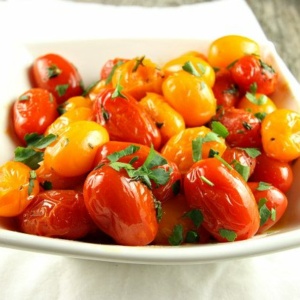 Yield:
4 servings
Prep Time:10 minutes
Cook Time:5 minutes
Ingredients:
1 teaspoon olive oil
1 pint red pear/cherry tomatoes
1 pint yellow pear/cherry tomatoes
1 tablespoon fresh thyme leaves
1/4 teaspoon kosher salt
1/8 teaspoon freshly ground black pepper
chopped fresh parsley for garnish, optional
Directions:
In a large skillet, heat the oil over medium heat.
Add the tomatoes and thyme to the skillet.  Cook, shaking the skillet occasionally, until the tomatoes are slightly blistered and shiny- about 5 minutes.  Sprinkle the tomatoes with salt and pepper.  Sprinkle parsley on top, if desired.
Nutrition:
Nutritional information per serving (1 cup per serving):  Calories: 38, Fat: 2g, Sat Fat: 0g, Cholesterol: 0g, Sodium: 170mg, Carbohydrates: 6g, Sugar: 3g, Fiber: 2g, Protein: 1g
Weight Watchers POINTS: Freestyle SmartPoints: 0, Original SmartPoints: 0, PointsPlus: 1, Old Program: 1
Here are a few more recipes using tomatoes that you might enjoy: