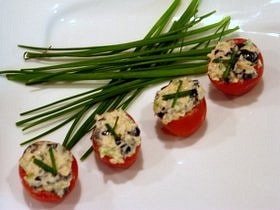 Salmon- Stuffed Cherry Tomatoes
Improvise and use leftover cooked salmon and cherry tomatoes fresh from the Farmer's Market (or your garden!
Yield:
24 appetizers
Prep Time: 30 min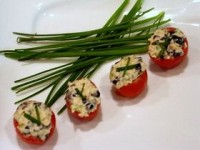 Ingredients:

1 (7 1/2 ounce) can salmon
1/3 cup mayonnaise
1 teaspoon fresh lemon juice
1/3 cup chopped black olives
1/2 stalk celery, minced
1/2 teaspoon prepared horseradish
couple of dashes of salt
24 cherry tomatoes
chives, chopped

Instructions:

1. Drain salmon and remove skin and bones. Flake salmon and blend with mayonnaise, lemon juice, olives, celery. horseradish and salt.

2. Slice tops from cherry tomatoes with a very sharp serrated knife. Remove pulp and discard.

3. Stuff salmon mixture into tomatoes and sprinkle with chives.

Cooking Tips:
*It's easiest to get the pulp out of the cherry tomatoes with a small grapefruit spoon or melon scooper.
*To prevent these prepared appetizers from rolling around on the platter, gently slice the bottom of the tomato to create a flat surface.

Tips:

*If you are preparing this recipe as GLUTEN FREE, just make sure that you are using a brand of mayonnaise that is GF.