It's time to make a beautiful Rustic Tomato and Zucchini Tart!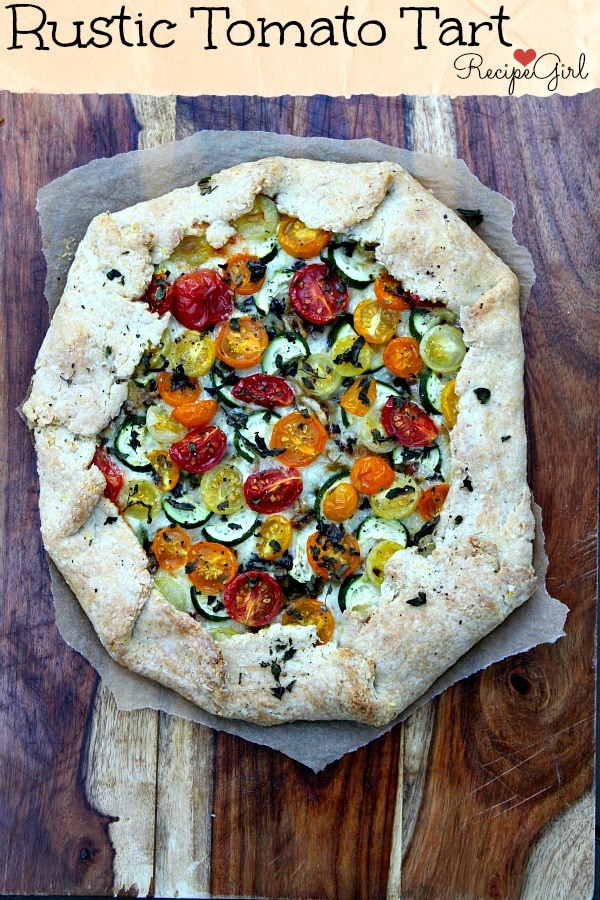 This new mountain region I live in is beautiful in the summer. The temperature is perfect. It's probably a good thing we didn't move in the middle of winter, or I might be telling a different story. I keep hearing rumors about the snow… "You DO know it snows a lot here, right?" (said the neighbor). "I once saw 10 foot drifts in this neighborhood and no one could drive anywhere," said our gardener. Another neighbor added that we should be investing in a snow blower now while the pickings are many. "And don't skimp," he said. "You're gonna need a good one." These people don't frighten me. I'm excited about the snow we're going to get. But for now, I'm still celebrating summer! Here's the latest recipe I created with some gorgeous cherry tomatoes I grabbed at the Farmer's Market: Rustic Tomato and Zucchini Tart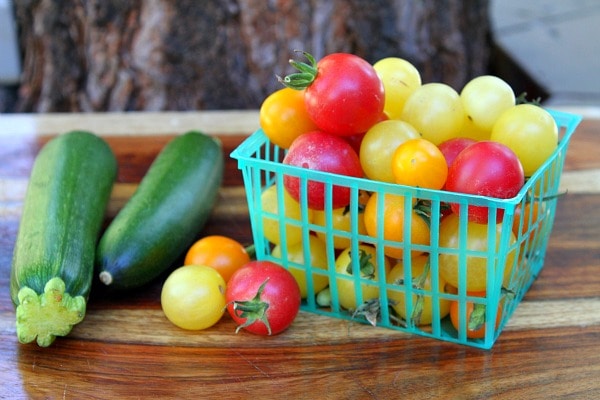 Aren't these tomatoes just so sweet and bright and wonderful? I'm the kind of person who would happily sit down and eat one right after the other without any adornment.
The tart I made is as good as it is pretty. And it's really very simple to make.
How to make a Rustic Tomato and Zucchini Tart
The first order of business is to sauté some leeks- just to soften them up. Then set them aside to cool while you make the crust.
Then you'll mix flour in a medium bowl with cornmeal (for a little crunch!), sugar, and salt.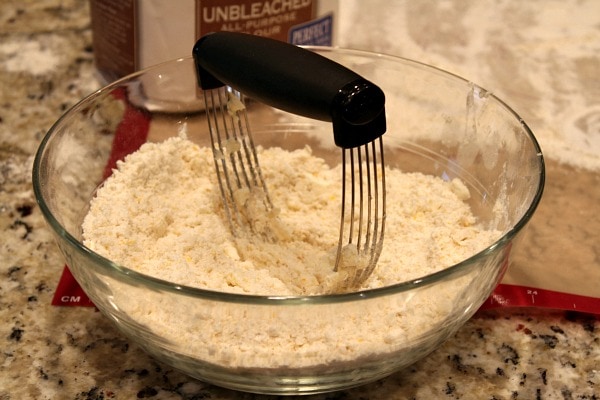 Next is cutting in butter with a pastry blender (or toss this into the food processor and let the processor do the work). Then you'll stir in buttermilk until your dough is able to be shaped into a ball.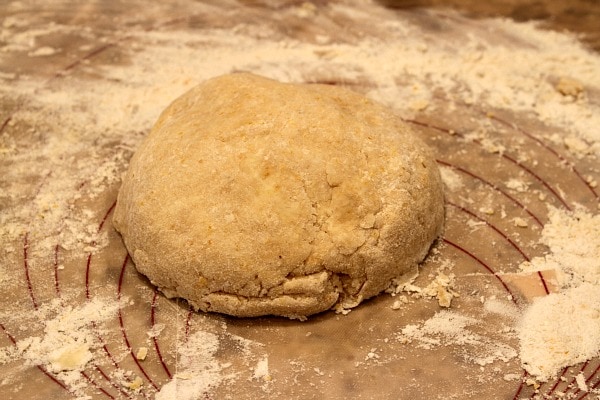 Like this!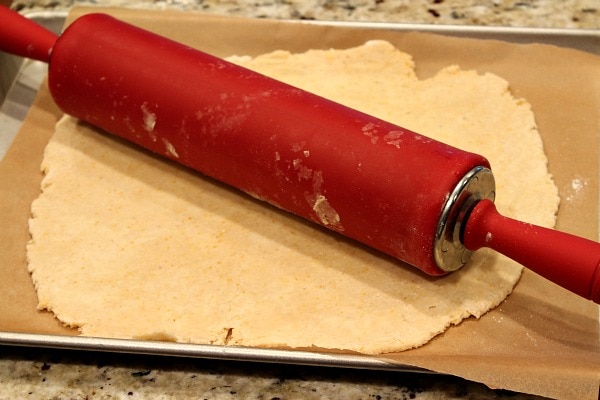 Next comes rolling out the dough on a parchment lined baking sheet. Shoot for rolling it into some semblance of a circle. Perfection is not needed or wanted here.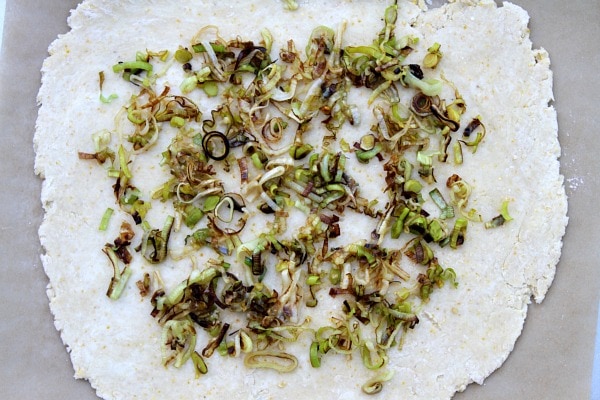 Then you'll sprinkle your softened leeks into the center, leaving a 1 1/2-inch border around the edge.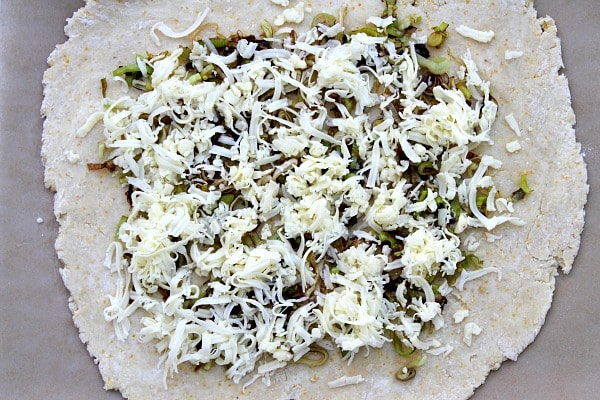 Next you'll sprinkle cheese on top (I use Fontina, but you can use your favorite soft white cheese that is easy to shred).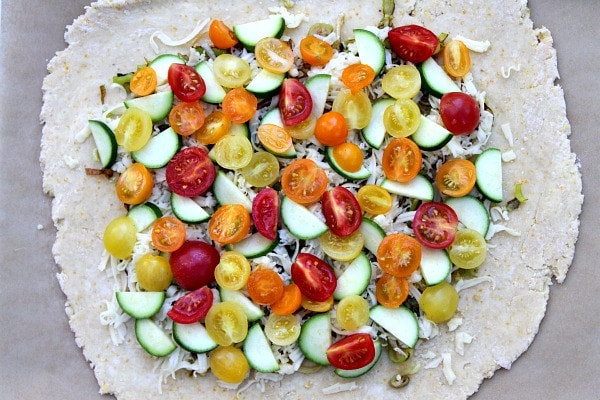 Finally, you'll add tomatoes and zucchini. Make it pretty!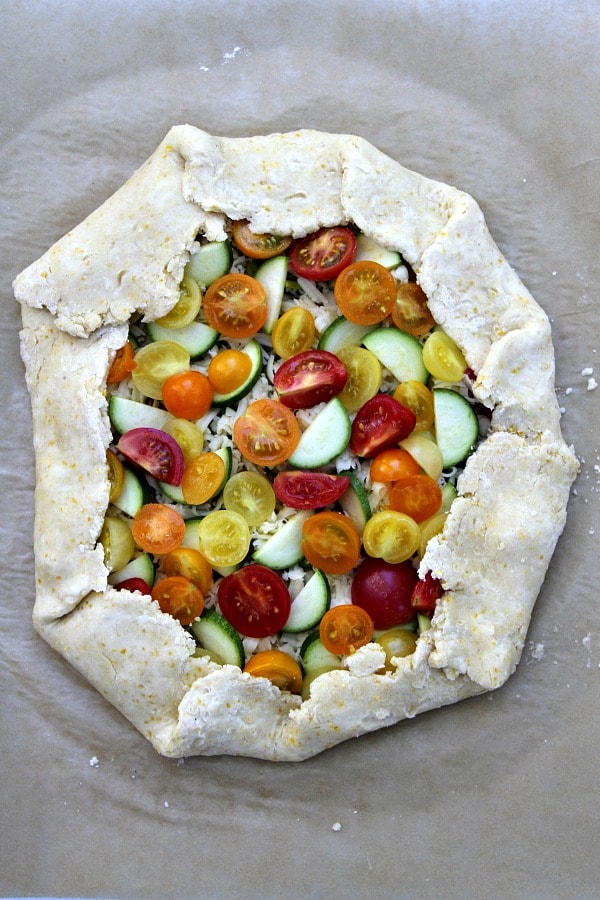 The edges of the tart are folded (inward toward the middle).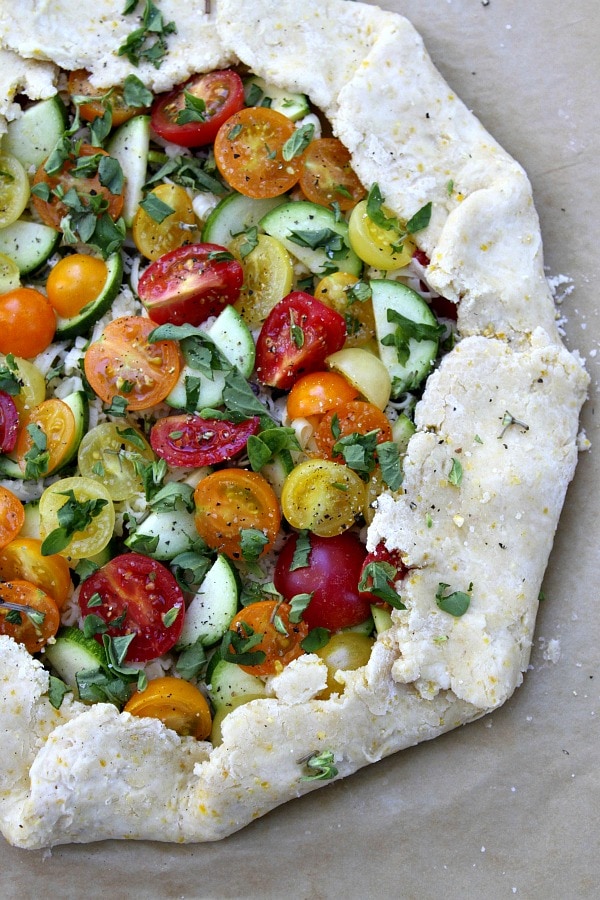 The final step is sprinkling salt, pepper and fresh herbs.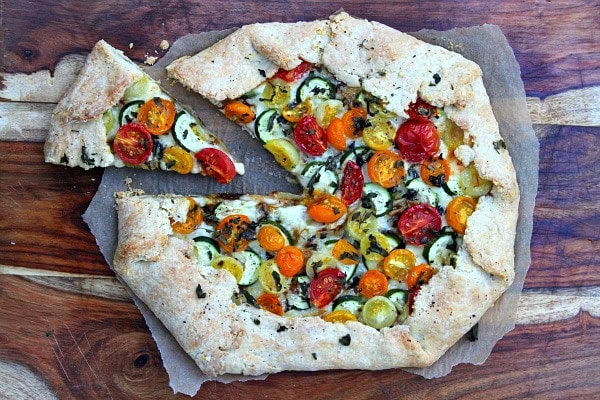 It'll bake for about 45 minutes, and then you've got yourself a rustic tomato and zucchini tart- ready as a side-dish to grilled meats, or as a main dish for vegetarians. I like to serve it alongside some grilled skirt steak. The crust lends a slightly sweet flavor (which goes nicely with the sweet tomatoes), and the crunch that the whole grain cornmeal gives the crust is interesting too. The filling is all just great summer stuff, wonderful all-around of course. You don't have to do much to summer produce to make it shine as the star of the dinner.
Make it while you still have access to summer produce! Let's talk again this winter about that snow thing, okay? I think I'm good with it. We'll see!
Here are a few more recipes using fresh tomatoes that you might like to try:
Rustic Tomato and Zucchini Tart
Fantastic recipe to make with fresh summer produce!
Recipe Details
Ingredients
CRUST:
1¾

cups

all purpose flour

1/4

cup

whole grain cornmeal

2

tablespoons

granulated white sugar

1/4

teaspoon

salt

1/2

cup (1 stick)

cold salted butter,

cut into pieces

1/3

cup + 1 to 2 tablespoons

lowfat buttermilk
FILLING:
2

whole

leeks,

cut into thin slices (white and some green parts too)

1

tablespoon

olive oil

1

cup

shredded Fontina cheese

(or another white cheese of your choice)

1½

cups

multi-colored cherry tomatoes,

sliced in half

1

small

zucchini,

sliced

1

tablespoon

chopped fresh oregano or basil

kosher salt and freshly ground black pepper
Instructions
PRE-FILLING PREP:
In a large skillet, saute the leeks in olive oil until softened and lightly browned. Set aside to cool.
MAKE THE CRUST:
Preheat the oven to 350 degrees F. In a medium bowl, combine the flour, cornmeal, sugar and salt- whisk together. Add the butter and use a pastry cutter to cut it into the dry mixture (you can also do this step in a food processor). Keep cutting in the butter until your mixture is a mess of crumbs. Add 1/3 cup of buttermilk and stir to combine. You'll need to add 1 to 2 more tablespoons of buttermilk to create a nice ball of dough (get in there and use your clean hands... and transfer it to a floured surface where you can knead it into a ball). You don't want it to be wet, so don't add too much buttermilk- just until it all comes together. If you're doing this in a food processor, just drizzle in the buttermilk until the dough comes together in a ball. Place the ball of dough onto a large parchment-lined baking sheet and roll it into a 12 to 14-inch round circle (it does not have to be perfect).
ASSEMBLE AND BAKE THE TART:
Sprinkle the leeks around the middle of the rolled out crust, leaving about a 1½-inch border around the edge. Add cheese next, then tomato and zucchini. Gently fold edges over toward the middle, on top of the filling. Sprinkle fresh herbs on top and a good dose of salt and pepper.

Bake for 45 minutes to 1 hour, or until the crust is golden brown and the filling is bubbly. Let cool for about 15 minutes, then slide the tart onto a cutting board, cut into slices and serve.
Nutrition
Serving:
1
slice
,
Calories:
431
kcal
,
Carbohydrates:
40
g
,
Protein:
11
g
,
Fat:
25
g
,
Saturated Fat:
14
g
,
Cholesterol:
67
mg
,
Sodium:
429
mg
,
Potassium:
227
mg
,
Fiber:
2
g
,
Sugar:
7
g
,
Vitamin A:
913
IU
,
Vitamin C:
12
mg
,
Calcium:
154
mg
,
Iron:
2
mg