This recipe has been featured in a post on The Recipe Girl blog: Easy Tomato Tart.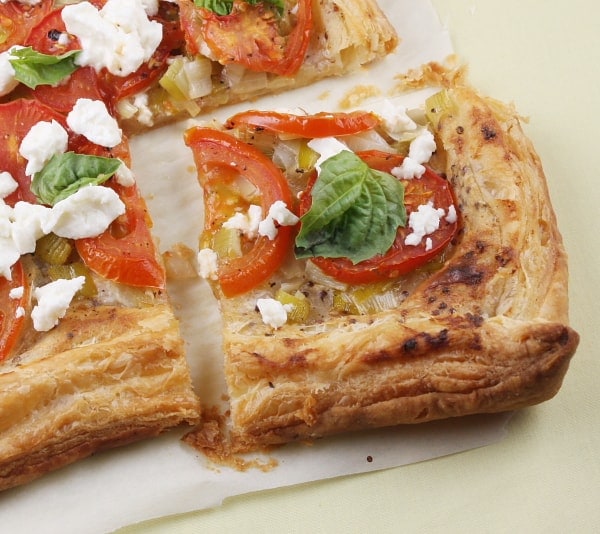 Tomato & Goat Cheese Tart
This easy side dish makes good use of those end-of-summer tomatoes. Also good cut into smaller pieces as an appetizer treat.
Yield:
4 side dish servings or 9 appetizer bites
Prep Time: 25 minutes + chilling time
Cook Time: 25 minutes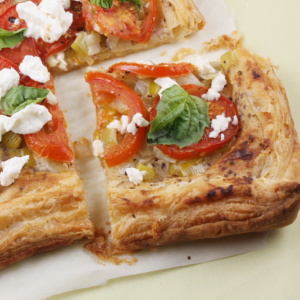 Ingredients:

all-purpose flour, for rolling
1 sheet of frozen puff pastry, thawed
1 1/2 Tablespoons sour cream (light is fine)
1 1/2 teaspoons grainy Dijon mustard
sea salt and freshly ground black pepper
2 large leeks, white and green parts only
1 Tablespoon butter
3/4 pound small beefsteak tomatoes, sliced 1/4-inch thick
2 ounces goat or feta cheese
8 to 10 small basil leaves

Instructions:

1. Preheat oven to 400 degrees F. On a lightly floured surface, roll out the puff pastry to thin it out a bit. Transfer to a parchment-lined baking sheet.

2. In a small bowl, mix sour cream and mustard. Season with salt and pepper. Spread sour cream mixture evenly over pastry; fold over 1/2-inch border around the edges of the pastry & press to seal. Place baking sheet in the refrigerator for about 10 minutes.

3. Chop leeks; place in a fine sieve- rinse and then pat dry thoroughly. In a medium skillet, melt butter over medium heat. Add leeks and season with salt and pepper. Saute, stirring frequently, until leeks are very soft (about 6 minutes). While leeks are cooking, set tomato slices on paper towels to allow the towels to soak up some of the juices from the tomatoes.

4. Arrange cooked leeks over the sour cream mixture on the chilled pastry. Top with sliced tomatoes. Season with salt and pepper.

5. Bake until pastry is golden brown and crisp, 25 minutes. Let cool slightly, then top with goat cheese and basil leaves.

6. Serve warm or at room temperature.

Tips:

*Sub halved pear tomatoes for the small, sliced tomatoes if you'd like.