This Spinach, Feta and Pine Nut Phyllo Tart recipe is a delicious Greek style recipe. A buttery phyllo tart base is filled with spinach, feta cheese, pine nuts and onions.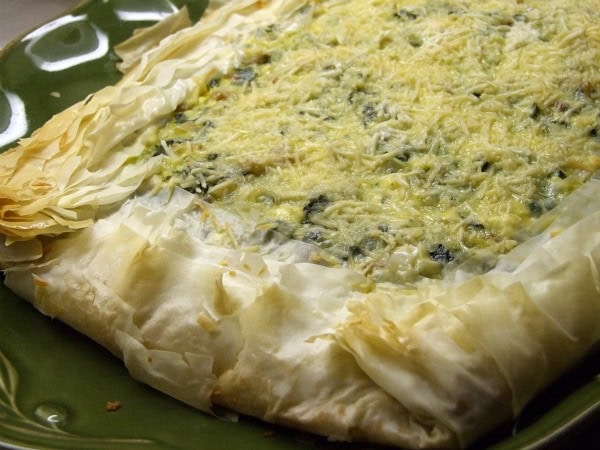 My family really loves this recipe! It was a huge hit at our Greek dinner party. We served it as a side dish to lamb. Everyone wanted the recipe, and it was even better the next day as leftovers.
This recipe has been featured in a post on The Recipe Girl blog: Greek Dinner Party- Main Dishes & Sides.
Spinach, Feta and Pine Nut Phyllo Tart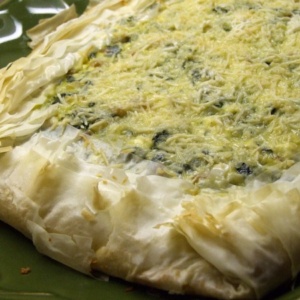 Yield:
6 servings
Prep Time: 45 minutes
Cook Time: 35 minutes
Ingredients:
For Filling:
1/2 cup pine nuts (about 3 ounces)
1 medium onion
1/3 cup olive oil
2 (10-ounce) packages frozen chopped spinach, thawed
1/2 teaspoon salt
2 large eggs
1/2 cup crumbled feta (about 3 ounces)
1 tablespoon fine dry bread crumbs
Tart:
7 (17 x 12-inch) phyllo sheets
5 tablespoons unsalted butter
6 tablespoons + 1/4 cup freshly grated Parmesan
Directions:
Preheat oven to 375°F.
Make filling:  In a shallow baking pan toast pine nuts in middle of oven until golden, about 4 minutes, and cool. Finely chop onion and in a large heavy skillet cook in oil over moderately low heat, stirring, until softened. Squeeze spinach to remove as much liquid as possible and stir with salt into onion. Cook spinach mixture over moderate heat, stirring occasionally, until any liquid is evaporated, 1 to 2 minutes, and cool slightly. In a large bowl whisk eggs until combined and stir in spinach mixture, pine nuts, feta, and bread crumbs until combined well. Filling may be made 1 day ahead and chilled, covered. Bring filling to room temperature before proceeding.
Stack phyllo sheets and cover with 2 overlapping sheets plastic wrap and then a dampened kitchen towel. In a small saucepan melt butter and cool slightly. Lightly brush a 10 1/2- by 7 1/2- by 1-inch rectangular tart pan with a removable fluted rim with butter.
On a work surface lightly brush 1 phyllo sheet with butter. Sprinkle 1 Tablespoon Parmesan evenly over buttered phyllo and repeat layering with 5 more phyllo sheets, butter, and 5 Tablespoons Parmesan. Arrange last phyllo sheet on stack and lightly brush with butter. Transfer phyllo to tart pan, letting excess hang over edge, and spoon filling onto phyllo, spreading evenly. Fold edges of pastry over filling, leaving center uncovered , and lightly brush top of phyllo with butter. Sprinkle remaining 1/4 cup Parmesan over exposed filling and bake tart in middle of oven until golden, 25 to 30 minutes. Serve tart warm or at room temperature.
Tips:
The recipe calls for a 10 1/2- by 7 1/2- by 1-inch rectangular tart pan. The tart could also be made using a baking sheet or a jelly-roll pan, as the filling is dense enough to hold its shape on its own.
SOURCE:
RecipeGirl.com (via
Gourmet
)