This recipe has been featured in a menu on the site- Sicilian Dinner Party.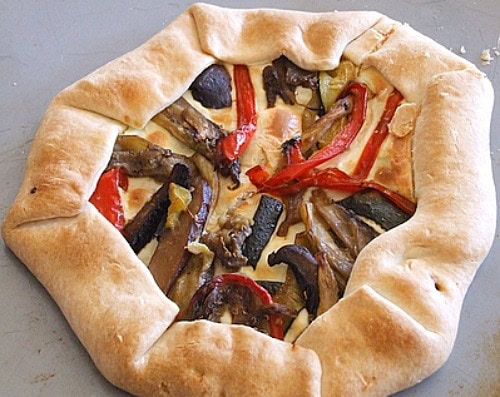 Roasted Vegetable Tart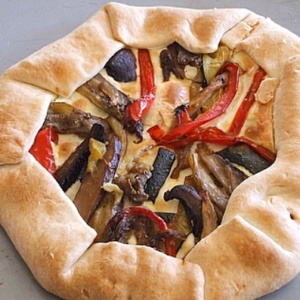 Everyone always loves this appetizer, and it looks nice too. I have varied the cheese from goat cheese to gorgonzola- both with good results.
Yield:
2 tarts (12 slices total)
Prep Time: 20 min
Cook Time: 35 min
Ingredients:
1 eggplant, cut into 1/4-inch slices
2 portabello mushrooms, sliced
1 red bell pepper, cut into 1/2-inch slices
1 zucchini, cut into 1/4-inch slices
2 Tablespoons olive oil
salt & pepper to taste
4 ounces blue cheese, crumbled
3 ounces cream cheese, softened
1 large egg
1 Tablespoon grated Parmesan cheese
2 refrigerated pie crusts
Directions:
1. Toss eggplant, mushrooms, bell pepper and zucchini with olive oil in large roasting pan. Season with salt and pepper. Roast for 12-15 minutes at 450 degrees, or until the vegetables are tender, stirring once or twice.
2. Beat blue cheese and cream cheese in bowl until smooth. Add egg and Parmesan and beat until blended.
3. Unfold each pie pastry on baking sheet and pinch any tears. Spread 1/2 of the cheese mixture to within 2 inches of the edge of each pastry. Arrange vegetables over the cheese and fold the pastry over from the edges, making a lip around the pastry so that it partially covers the filling.
4. Preheat oven to 400 degrees. Bake for 20 minutes or until the pastry is brown.
5. Cut into wedges and serve warm.
Tips:
*Try adding a little fennel seed.
Source: www.RecipeGirl.com