This side dish is gluten-free adaptable– please see tips below the recipe…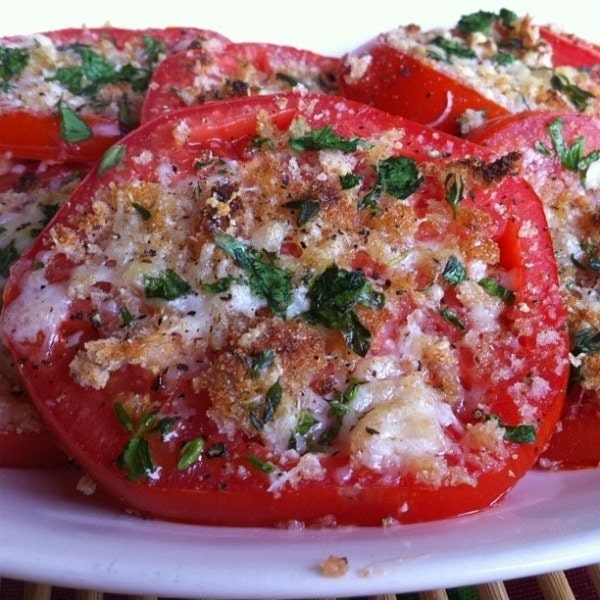 Tomatoes w/ Asiago Cheese and Fresh Herbs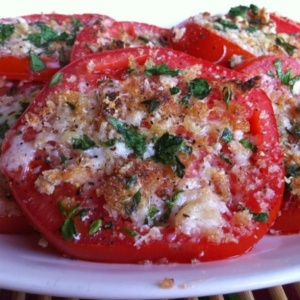 When tomatoes are at their ripest and sweetest, that's the time to make this recipe...
Yield:
6 servings
Prep Time: 15 min
Cook Time: 3 min
Ingredients:
3 medium beefsteak tomatoes, sliced 1/4-inch thick
1/4 cup coarse fresh breadcrumbs
1/4 cup finely grated Asiago cheese
1 Tablespoon finely chopped fresh Italian parsley
1 teaspoon chopped fresh thyme
2 teaspoons extra-virgin olive oil
kosher salt and freshly ground black pepper
Directions:
1. Position a rack 6-inches from the broiler unit and preheat the broiler.
2. Arrange sliced tomatoes on a rimmed baking sheet, slightly overlapping.
3. In a small bowl, combine breadcrumbs, cheese, parsley, thyme and olive oil. Sprinkle evenly over the tomatoes. Give the tomatoes a good sprinkle of salt and pepper.
4. Broil until the breadcrumbs are a deep, golden brown, 2 to 3 minutes. Serve immediately.
Tips:
*Use the best tomatoes that you can find for this recipe. Straight from the Farmer's Market is best!