You know how there are kids out there who demand to eat one of three things for dinner… things like chicken nuggets, macaroni & cheese and quesadillas?  I may tug on some nerves here, but I think those picky eaters are picky because they're allowed to be picky.   Realistically, did you have three choices for dinner when you were growing up?  I have a strong belief that children should eat what you make for dinner… and they shouldn't have an opportunity to receive a separate desired meal, simply because that's what they say they'll eat.  Put food in front of your kids, tell them that's what's for dinner.  They'll eventually eat, and they'll learn to like/dislike things just like you and me.  I've only had one child to work with, but I'm pleased that he is at a point where he will at least taste everything.  He gets what we eat for dinner, and if he doesn't like it so much… well then, he has a light dinner that night (and no dessert). 
I've finally gotten my kiddo to the point where he actually enjoys eating lettuce.  I made a chicken salad for dinner the other night, and I gave it to my son too.  He loved it.  And he discovered in that salad- for the 1st time- that he loves garbanzo beans.  Wow!  I wasn't quite so sure that he'd like what I made to go with it though since he has professed his dislike for tomatoes many times.  I gave it to him anyways… and guess what?? He loved that too. Here's the winning recipe: Fresh Tomato & Goat Cheese Tart, which I adapted from EveryDay Food.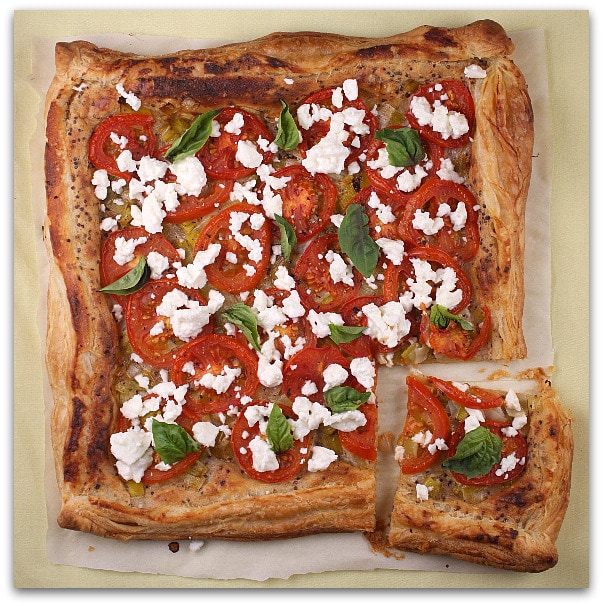 This tart is super easy to make. Thaw out a piece of puff pastry. Spread it with a little bit of sour cream & whole grain mustard, and then top it with sauteed leeks and end-of-summer tomatoes (either sliced, small tomatoes or halved pear tomatoes). Bake it up for about 25 minutes and then top with crumbled goat cheese (or feta) and basil.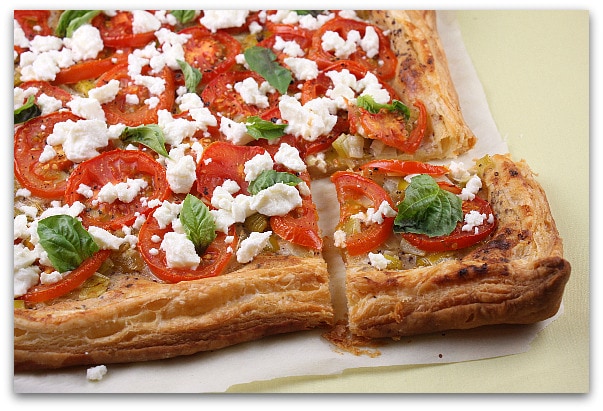 Cut the tart into four pieces to serve as a side for 4 people for dinner. It would be equally good cut into smaller pieces and served appetizer-style.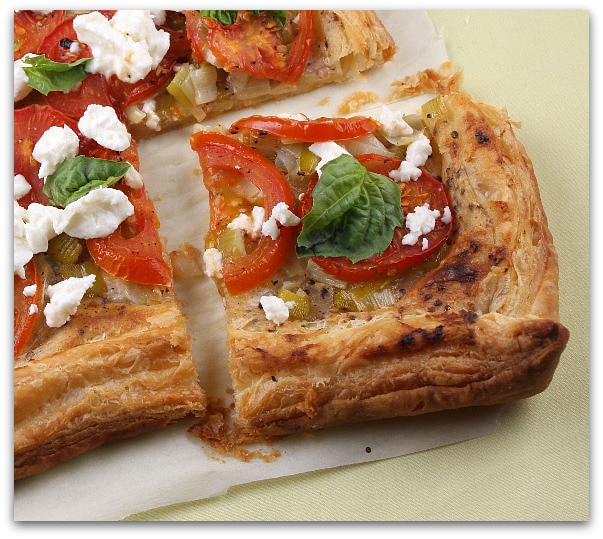 The roasted tomatoes give the tart a bit of a sweet flavor, and the goat cheese gives it tang. I think the goat cheese is the key that won my son over (he loves the stuff). He kept calling this "pizza," and emphatically declared this recipe a real keeper. I'm certainly not claiming I'm Mother-of-the-Year or anything– my son has eaten his fair share of chicken nuggets! It took a while to get him to this point (he's 9) but we've always, always made him try things.  And he has plenty of 9 year old friends who are still demanding chicken nuggets for dinner (by age 9, shouldn't they be old enough to be expanding their menu?)  Do try and feed your kids, anything and everything, from the moment they are able to eat real food. They can't discover that they enjoy foods if they don't have the chance to try them 🙂
Edited to add– of course there are exceptions to this situation- medications, texture problems, allergies… I'm simply referring to kids who are picky eaters… just because they're allowed to be.
This recipe can be found here: Fresh Tomato and Goat Cheese Tart
I've accepted a recipe challenge from Pepperidge Farm Puff Pastry to create a sophisticated and simple original recipe using an ingredient that is indigenous to California. I've decided to create something using the California Avocado. I'd love to hear your suggestions for what I can do with Puff Pastry + Avocado! Be sure to check out www.PuffPastry.com for more recipes using Puff Pastry, and let me know if you spot some recipes that you'd like to try.
Disclaimer: This post is sponsored by Pepperidge Farm Puff Pastry for time and materials invested in the Puff Pastry recipe challenge.