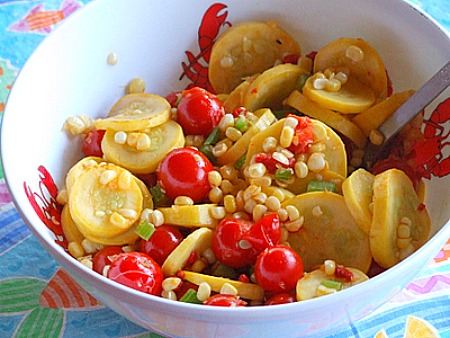 Summer Squash with Cherry Tomatoes
Perfect for summer. Use fresh tomatoes and basil and fresh corn on the cob!
Yield:
4 servings
Prep Time: 10 min
Cook Time: 8 min
Ingredients:
1 Tablespoon olive oil
2 cups sliced summer squash
1/4 cup diced roasted red pepper
1 cup cherry tomatoes
1 cup fresh corn kernels (about 1 large ear)
1/3 cup sliced celery (optional)
2 Tablespoons chopped fresh mint or basil
Directions:
Heat oil in large skillet. Add squash and sauté, stirring frequently, for 3 minutes over medium-high heat. Stir in peppers, tomatoes, corn and celery (if using). Lower heat to medium and continue cooking, stirring frequently, for another 5 minutes. The vegetables should be barely cooked through and retain their texture. Stir in the herbs just before serving.
Nutrition:
Nutritional Information per serving:
Serving size: 1/4 of the recipe
Calories per serving: 87
Fat per serving: 4g
Saturated Fat per serving: .5g
Sugar per serving: 2.5g
Fiber per serving: 2.5g
Protein per serving: 2.5g
Cholesterol per serving: 0mg
Carbohydrates per serving: 13g
WW POINTS per serving:
Points Plus Program: 2 Old Points Program: 2.5