Fantastic twist on classic deviled eggs: Smoked Salmon Deviled Eggs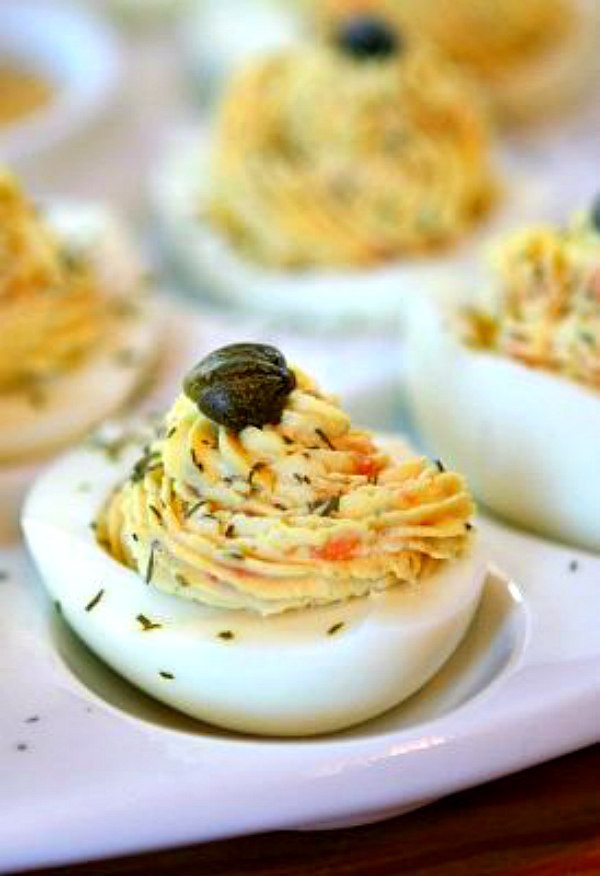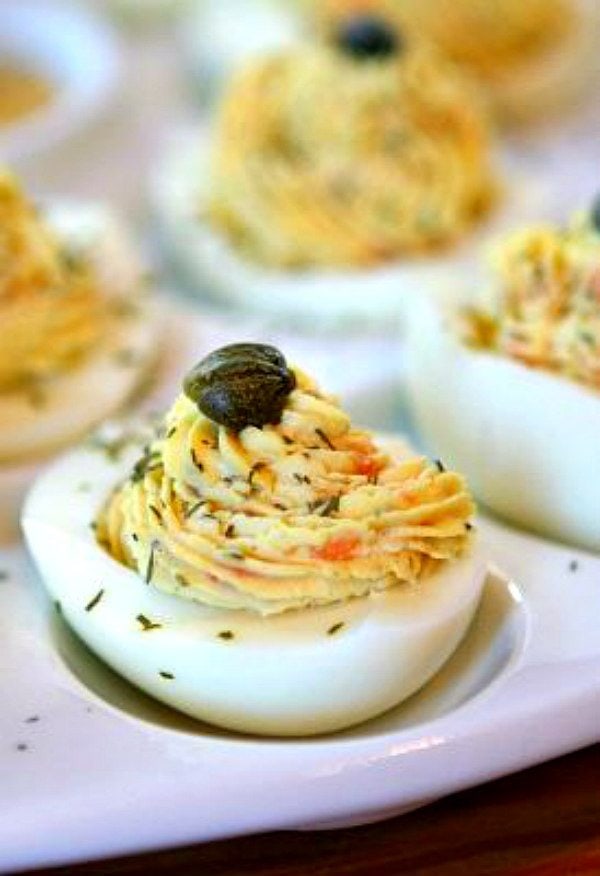 Smoked Salmon Deviled Eggs
It turns out that smoked salmon and capers are a perfect addition to deviled eggs. Serve these up at a brunch and watch them fly off the table.
Yield:
24 appetizers
Prep Time: 25 minutes + chill time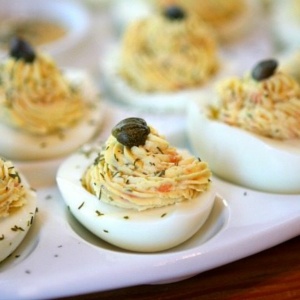 Ingredients:

1 dozen hard- boiled large eggs, peeled
1/4 cup mayonnaise (or more to taste)
2 tablespoons Dijon mustard
4 ounces smoked salmon, finely chopped (plus a little extra for garnish)
1 teaspoon freshly squeezed lemon juice
1 teaspoon freshly ground black pepper
freshly chopped dill to taste (or dried)
capers, rinsed and drained

Instructions:

Slice eggs in half lengthwise and carefully remove the yolks. Mash the yolks and then add the mayonnaise, Dijon, salmon, lemon juice and pepper. Add dill to taste. If you're using fresh, you will not need as much as the dried to add flavor. Stir to blend.
Pipe the filling into the egg halves, using a large star tip, and then top each with a caper at the peak, plus a tiny piece of smoked salmon, if desired.
Refrigerate these for at least an hour before serving to give the flavors a chance to meld.

Tips:

To hard-boil eggs, place eggs in a large saucepan with cold water. Bring to a boil, then cover, remove from heat and let sit for 15 minutes. Cool and then peel.
SOURCE: RecipeGirl.com