Bacon Balsamic Deviled Eggs are deviled eggs gone gourmet with the addition of a few special ingredients. Serve these as an appetizer at your party and watch them fly off the table! Watch the video showing you how to make this recipe, then scroll to the bottom of this post and print out the recipe so you can make these at home.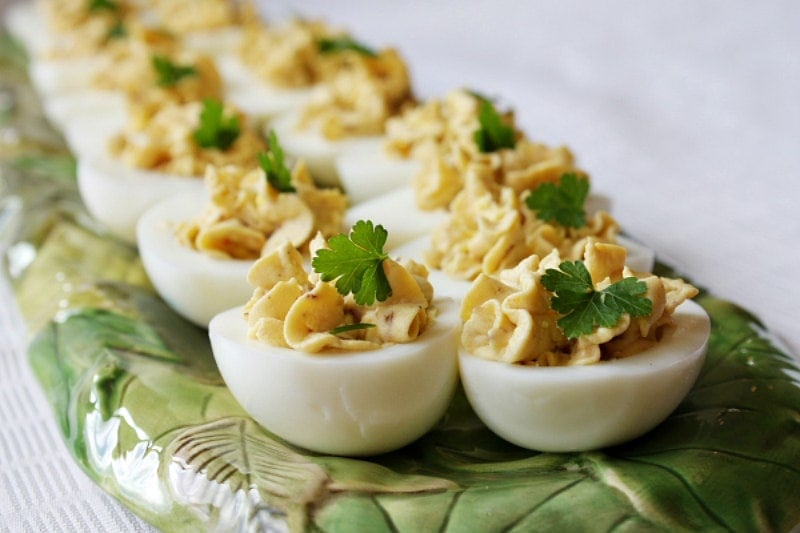 Bacon Balsamic Deviled Eggs
Deviled Eggs have always been a favorite appetizer of mine. My mom made them with just mayonnaise and a little celery salt and always sprinkled them with paprika. As simple as they were, they disappeared from her serving platters with ease. I still make Mom's simple recipe once in a while. Kids seem to like them without added crunch, etc. But for cocktail parties and other special celebrations, I whip up this Bacon Balsamic Deviled Eggs gourmet version of the classic recipe.
How to make perfect hard-boiled eggs:
I have a very easy method for making hard-boiled eggs that I learned from watching Martha Stewart a long time ago. Place your eggs in a single layer in a large pot. Cover the eggs with water and bring to a boil. Cover, and then turn off the heat. Let the eggs sit for 15 minutes. Then rinse with cold water, and peel the eggs.
Also, now that I have an Instant Pot, I use that quite often for making deviled eggs. It's super easy to make them in the Instant Pot, and the shells slip off incredibly easy using this method too. My friend Gina from SkinnyTaste.com has a good tutorial (with a video) that shows you how to make hard-boiled eggs in the Instant Pot.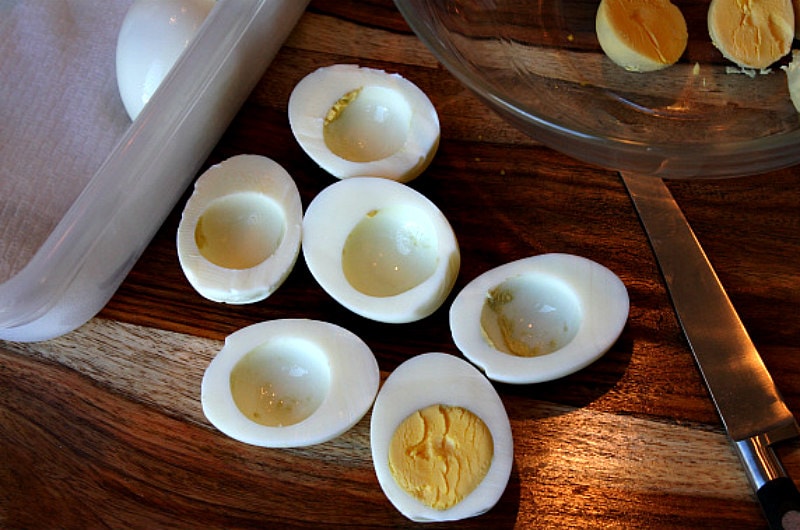 What kind of eggs are best for making deviled eggs?
If you know you're going to be making hard-boiled eggs, it's good to note that older eggs will be easier to peel than fresh eggs when hard-boiled. So buy your eggs a week ahead of hard-boiling them. You'll be much less frustrated when it comes time to slipping off the peels!
How to make deviled eggs:
Make your hard-boiled eggs first. I always make a few extra since there always seems to be a few that are hard to peel. Those tough-to-peel rascals end up looking like rejects for using in this recipe, so I set those aside to make egg salad for egg salad sandwiches instead. If you make a few extra, you should be good to go with 12 eggs that look nice when you peel them.
Use a sharp knife to slice the hard-boiled eggs in half. Dump the cooked yolks in a bowl and place the white halves on a platter. While your eggs are cooking, cook four slices of bacon in a skillet until crisp.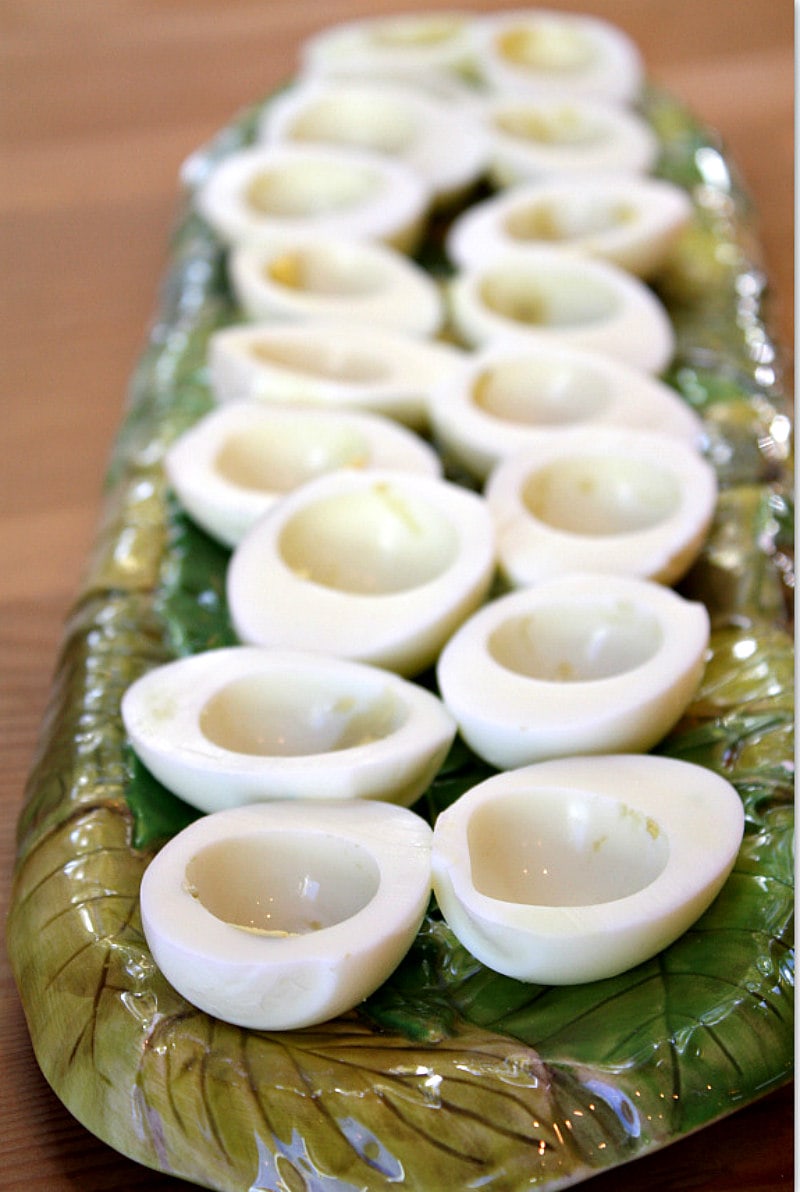 In a medium bowl, mash the egg yolks and mix with mayo, chopped bacon, celery salt, onion, pepper, balsamic vinegar and a little sugar. Spoon the mixture into the egg halves or use a piping bag if you want it to look a little more fancy (or neat).
Take a look at my photos. Mine look pretty fancy the way the mixture is piped on. For these Bacon Balsamic Deviled Eggs, I used a piping bag with a too-small tip and it was a pain. The bacon kept getting stuck in the tip and caused quite the headache. If you wish to use a piping bag/tip, be sure to mince the bacon finely and use a tip that is large enough to push the chunks through. When you watch the video, you'll see that a bag without a tip is used for transferring the filling to the egg, and that method is so much easier.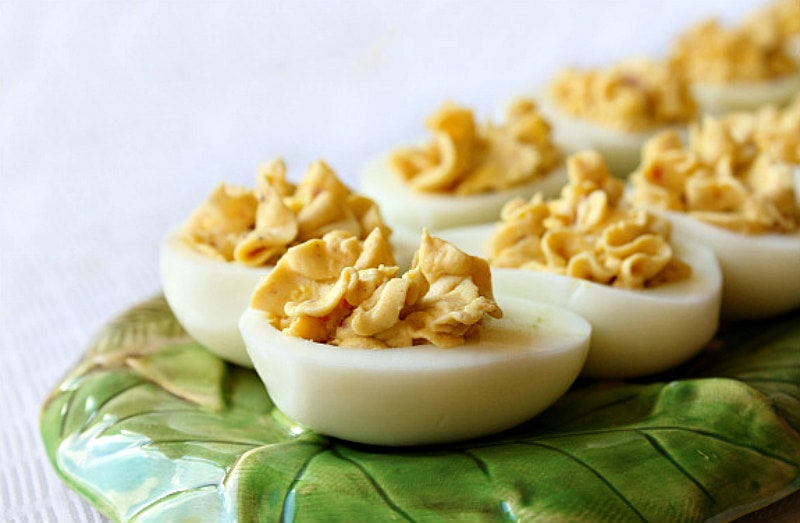 I have a couple more deviled egg recipes you might like to try. My Deviled Eggs Deluxe recipe is a bit more of a classic variety. It has a little bit of crunch in it from added celery. And my Smoked Salmon Deviled Eggs are a favorite for serving at brunch.
Bacon Balsamic Deviled Eggs
This deviled eggs recipe is a delicious twist on the classic recipe!
Recipe Details
Ingredients
12

large

eggs

4

slices

bacon,

cooked until crisp & chopped finely

½

cup

mayonnaise

1

tablespoon

grated red onion

1

teaspoon

granulated white sugar

½

teaspoon

balsamic vinegar

⅛

teaspoon

celery salt

¼

teaspoon

pepper

Italian parsley,

for garnish
Instructions
Place the eggs in a large pot in a single layer. Fill the pot with water to cover the eggs by about an inch. Cover and bring the water to a boil. Turn off the heat and let the eggs sit (covered) in hot water for 15 minutes. Drain. Cool the eggs under cool running water in the sink.

Peel the eggs and halve lengthwise. Place the cooked yolk in a medium bowl and place the white halves on a serving platter (cut-side up).

Mash the yolks with a fork. Add the bacon, mayonnaise, onion, sugar, vinegar, celery salt and pepper. Stir until thoroughly combined; taste and adjust/add seasonings, as needed.

Spoon the mixture into the egg white halves or use a piping bag with a large opening tip. Garnish with parsley. Refrigerate, lightly covered, until ready to serve.
Notes
*Use light mayonnaise if counting WW points.
*If preparing this recipe as GLUTEN FREE, be sure to use brands of mayonnaise and bacon that are known to be GF.
*I always hard-boil a few more eggs than the recipe calls for in case of breakage during boiling. You can always use the left over to make egg salad sandwiches.
Nutrition
Serving:
1
serving (1/2 egg)
,
Calories:
83
kcal
,
Protein:
3
g
,
Fat:
7
g
,
Saturated Fat:
1
g
,
Cholesterol:
97
mg
,
Sodium:
101
mg
,
Potassium:
41
mg
,
Vitamin A:
140
IU
,
Calcium:
14
mg
,
Iron:
0.5
mg