These Spider Web Eggs are a fun and spooky addition to a Halloween party menu. These are simply eggs that have a "web" pattern imparted onto them. Rest assured, they they taste just like regular hard boiled eggs, but they have a cool Halloween theme!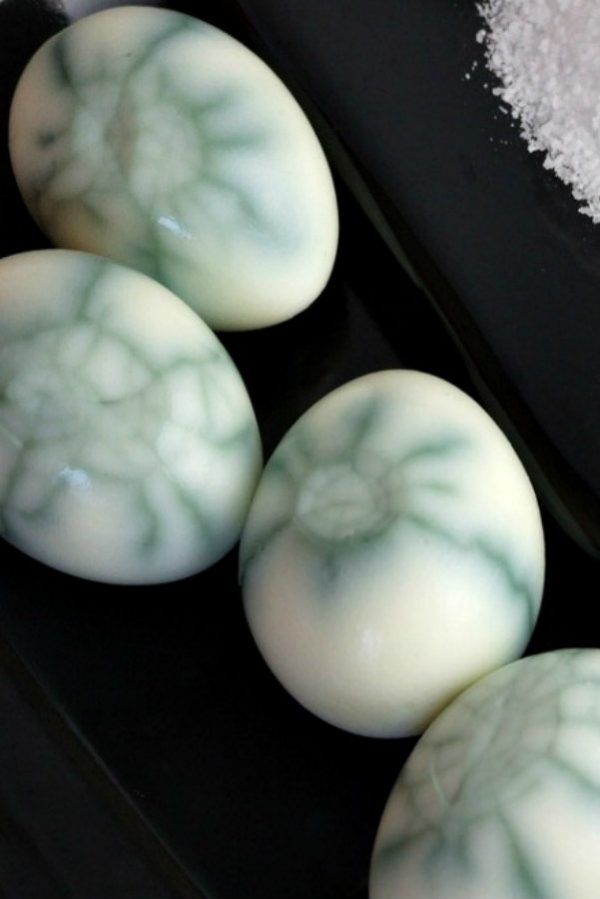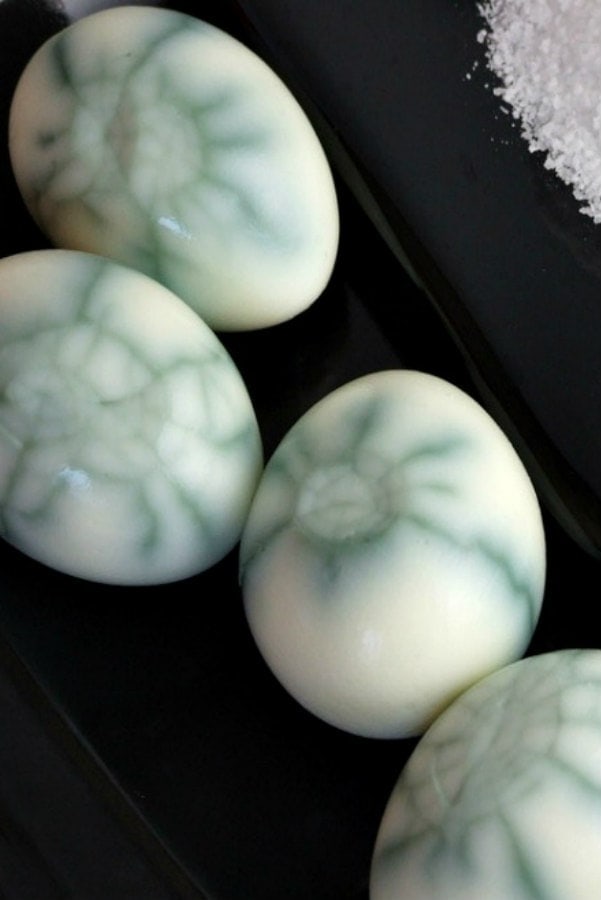 This recipe makes one dozen Spider Web Eggs. You can double or triple the recipe, if you'd like. Everyone likes to have low carb choices at a Halloween party, so this is definitely a good one to include. If you happen to be following the Weight Watchers WW plan, you'll find a link to the WW Points on the recipe card at the end of this post.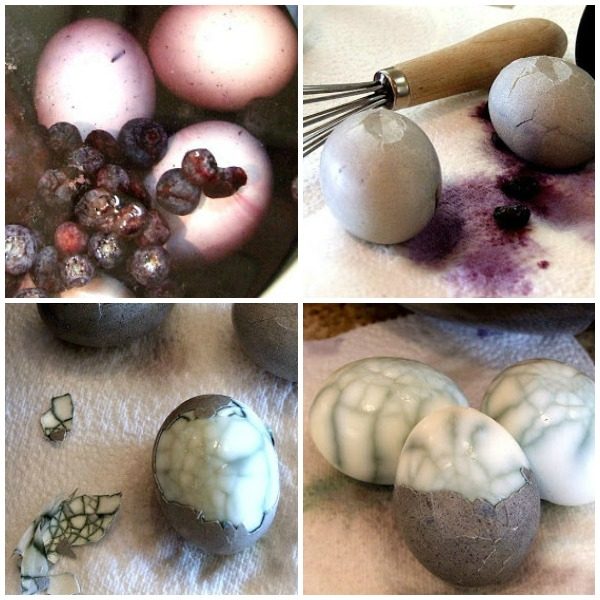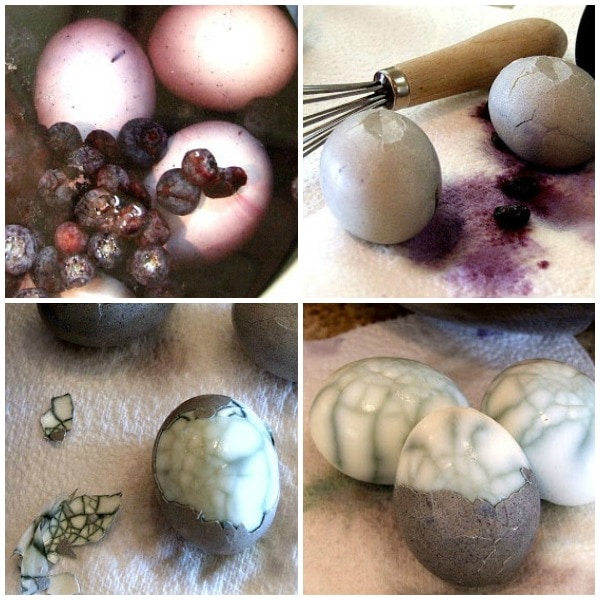 How do you make Spider Web Eggs?
Hard boil some eggs with frozen blueberries (known for their natural staining ability) to prep them for their web creations. The eggs will turn a light shade of gray.
Remove the eggs and whack them gently with the handle of a whisk- to create a nice 'crack.' Place the cracked eggs into a bowl and pour the blueberry cooking liquid over the top. Place the bowl in the fridge to give the tinted liquid a chance to do its magic, and let the eggs cool completely. I need to make it clear right here that these eggs will not taste like blueberries at all!! They're just used for staining the webs.
Gently peel the cooled eggs to reveal the spidery web that has been created under shell. The web will be a dark gray color, and again… the Spider Web Eggs will NOT taste of blueberries in any way!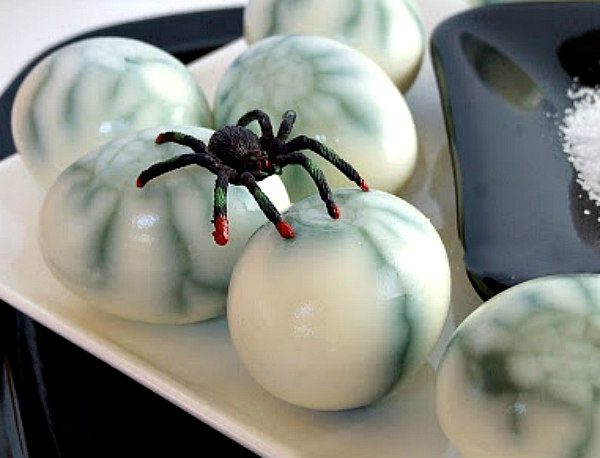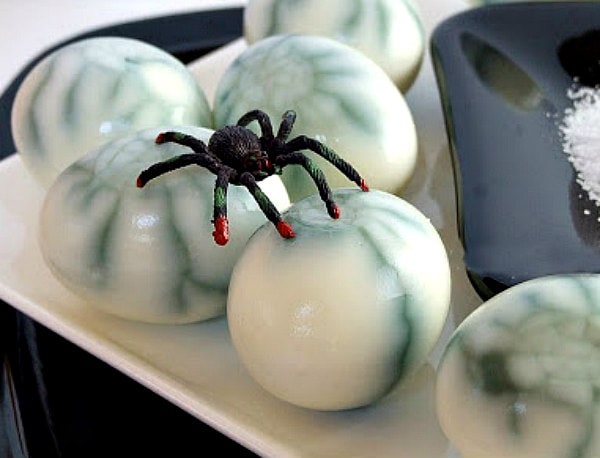 The result is a bunch of eggs looking rather spider-webby. Serve them up with a little dish of your favorite chunky salt. I recommend gray sea salt for a spookier pairing. And don't forget to add some scary spiders.
If you're a really cool parent, you can plan to slip these into your kid's lunchbox with a couple of fake spiders tucked in there too!
If you're looking for more spooky Halloween party recipes, you might also like to try my Witch Finger Cookies and these Eyeball Truffles. Pizza Skulls, Mummy Cookie Pops, and this Vampire Cocktail are cool ideas too!
Spider Web Eggs
These spooky eggs are a fun addition to a Halloween party menu!
Recipe Details
Ingredients
12

large

eggs

8

cups

water

2

cups

frozen blueberries

sea salt,

for serving
Instructions
Place the eggs in a single layer in a large saucepan, and cover with water and blueberries. Bring to a boil. Remove from heat. Cover; let stand for 10 minutes.

Using a slotted spoon, remove the eggs one at a time, and place on several layers of paper towels. Lightly crack the shell on one side with the handle of a whisk or wooden spoon. Transfer the egg to a medium bowl. Repeat with the remaining eggs and then pour all of the cooking liquid on top of the cracked eggs. Place the bowl in the refrigerator and let cool completely.

Carefully peel the shells from the eggs. Serve with salt.
Nutrition
Serving:
1
egg
,
Calories:
71
kcal
,
Protein:
6
g
,
Fat:
4
g
,
Saturated Fat:
1
g
,
Cholesterol:
186
mg
,
Sodium:
79
mg
,
Potassium:
69
mg
,
Vitamin A:
270
IU
,
Calcium:
33
mg
,
Iron:
0.9
mg