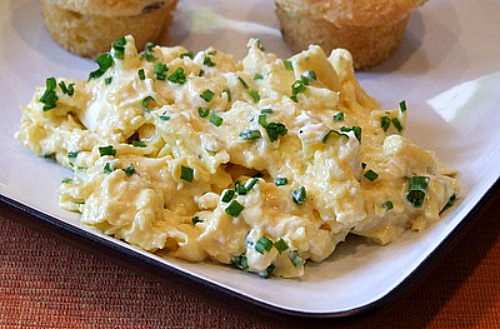 Creamy Scrambled Eggs
These eggs are incredibly creamy and delicious!!
Prep Time: 10 min
Cook Time: 5 min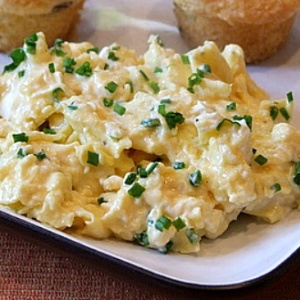 Ingredients:

10 large eggs
salt and pepper to taste
3 ounces cream cheese, cubed
1/3 cup freshly chopped chives

Instructions:

1. Whisk the eggs, salt and pepper in a bowl until blended.

2. Heat nonstick skillet to low heat and spray with nonstick spray.

3. Pour egg mixture into the skillet, tilting the pan to ensure even coverage. Cook over low heat just until the eggs begin to set, lifting the edge with a spatula to allow the uncooked eggs to flow underneath. Add the cream cheese to the eggs.

4. Cook until the eggs are the desired degree of doneness and the cream cheese melts, stirring gently. Sprinkle with the chives. Serve immediately.

Tips:

*For scrambled eggs that are super-light and fluffy, add a little water while you whisk them.