Here's a great recipe to to go along with your eggs:  Skillet Breakfast Potatoes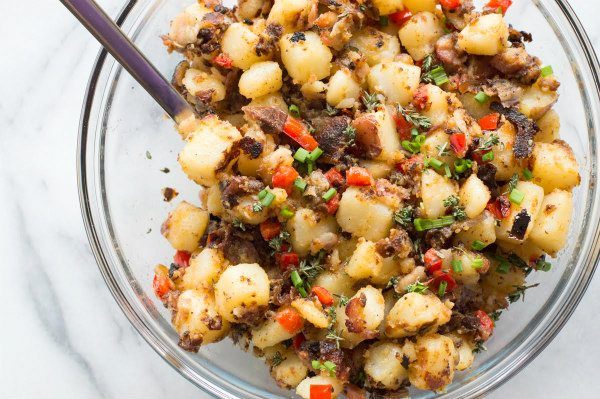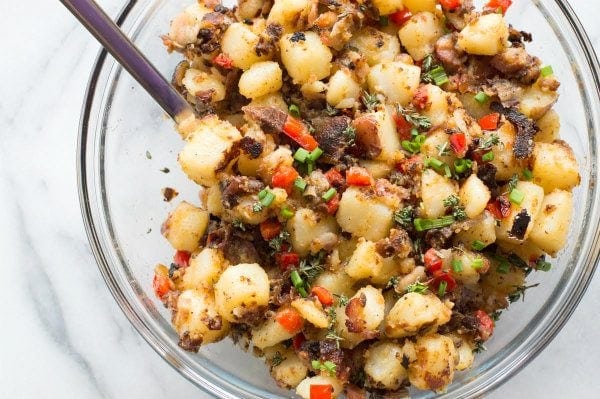 I love to make a special breakfast for my family on the weekend.  Sometimes we have pancakes or waffles, but more often than not I make some kind of egg dish with bacon and potatoes too.
This recipe is great because you boil the potatoes the night before- just until cooked.  Making them in the skillet the next morning is super quick and easy since the potatoes are already cooked through.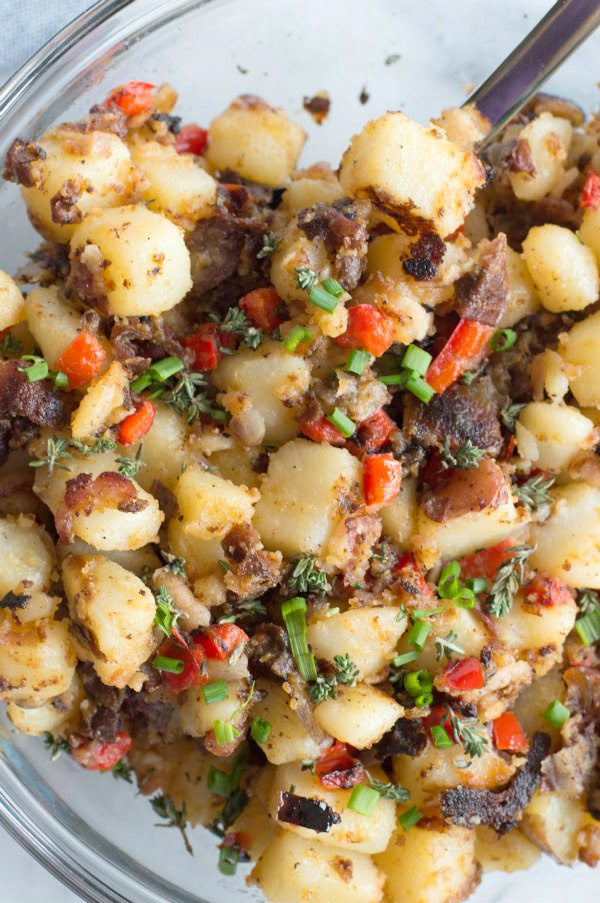 Bacon is added in to these potatoes… I actually like to add more bacon than the recipe calls for because my family loves bacon so much!  Leave the skin on the potatoes if you'd like for added color, flavor and texture.
Enjoy your beautiful weekend breakfast!
Skillet Breakfast Potatoes
Yield:
4 servings
Prep Time: 15 minutes + cooling time
Cook Time: 25 minutes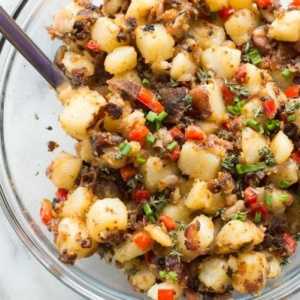 Ingredients:

1 pound red skinned potatoes
1/4 cup olive oil
1/4 cup cooked, chopped bacon
1/4 cup diced red bell pepper
1/4 cup diced red onion
1/4 cup chopped chives
1 teaspoon freshly chopped thyme
salt and pepper to taste

Instructions:

The night before... boil the potatoes in salted water until just cooked. Do not overcook the potatoes or they will be difficult to cook in the skillet. Drain the potatoes and cool overnight in the refrigerator.
When ready to serve, cut the potatoes into bite-sized pieces. Heat the oil in large cast-iron skillet over high heat until very hot. Add the potatoes when oil begins to smoke. Cook the potatoes until they begin to brown. Add the bacon and cook another 5 minutes. Add the red onion and peppers and cook for another couple of minutes
Remove from heat and season with salt and pepper. Garnish with chopped chives and fresh thyme.

Tips:

If you are preparing this dish as GLUTEN-FREE, just be sure to use a brand of bacon that is known to be GF.
SOURCE: RecipeGirl.com
Here are a few more breakfast potato recipes you might enjoy: