Here's an easy, delicious and good-for-you appetizer recipe:  Spicy Cucumber Stacks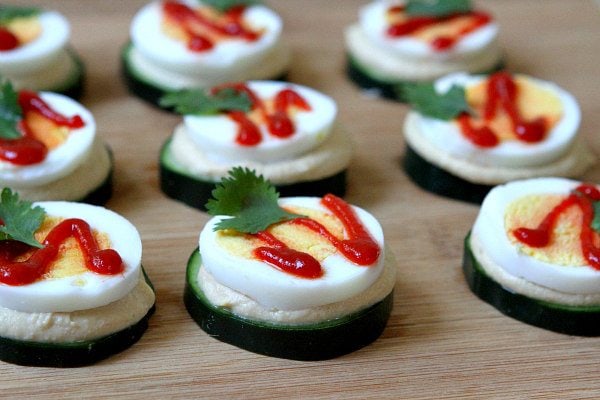 If you're looking for an appetizer to serve this summer that is easy to put together, has lighter ingredients and contains nutrients you need to help stay fit… this is the recipe for you.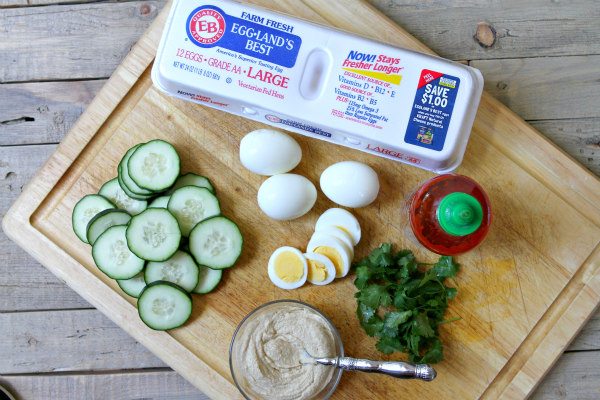 Be sure to pick up some Eggland's Best eggs for this recipe as they contain 5 times more Vitamin D than ordinary eggs.  Vitamin D aids in the body's absorption of calcium, helping to form and maintain strong bones. It is important for maintaining muscle strength, healthy body fat levels, and body tissue health.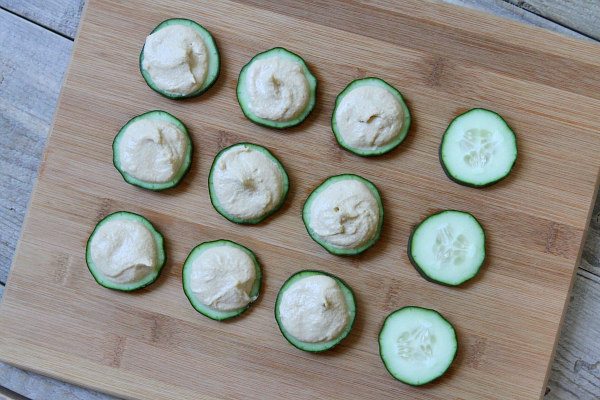 I'm happy to share that this is a super simple recipe.  Cucumber slices are topped with a little bit of hummus.  You can just use the hummus that you buy at the store — unless you're jazzed about making your own hummus.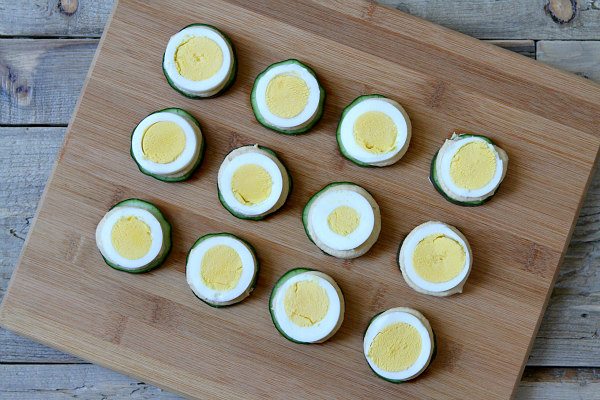 You'll hard-boil your eggs (see tips below for the best method- they come out perfect every time!)  Slices of the hard-boiled eggs top the hummus.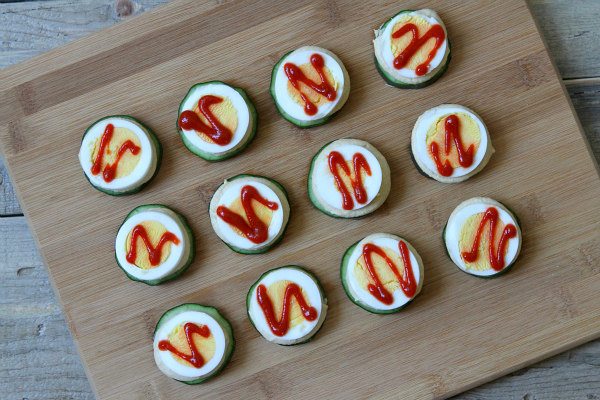 A little bit of Sriracha sauce is drizzled on top.  The flavors all balance out, so don't worry about it being too spicy.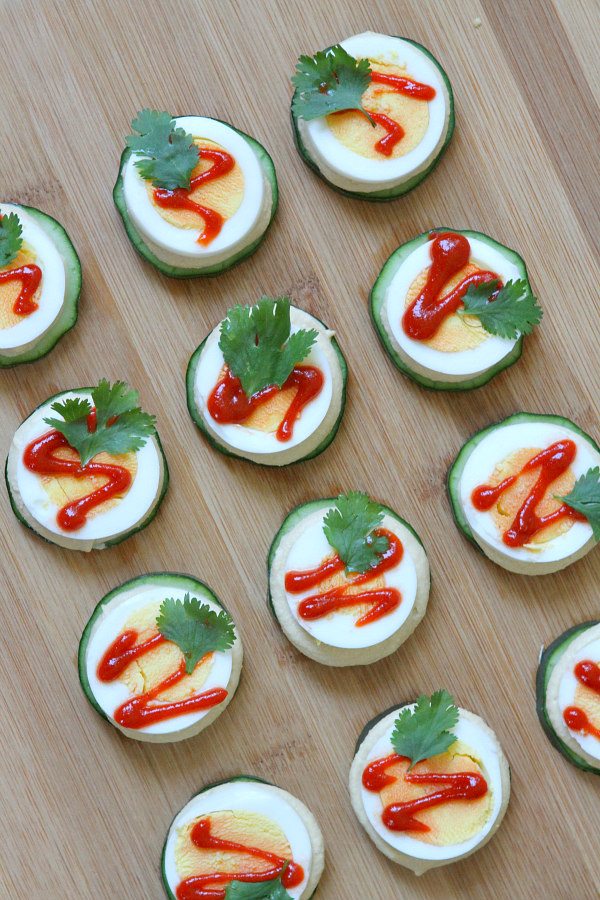 And a small leaf of fresh cilantro is used as a garnish to finish off each cucumber stack.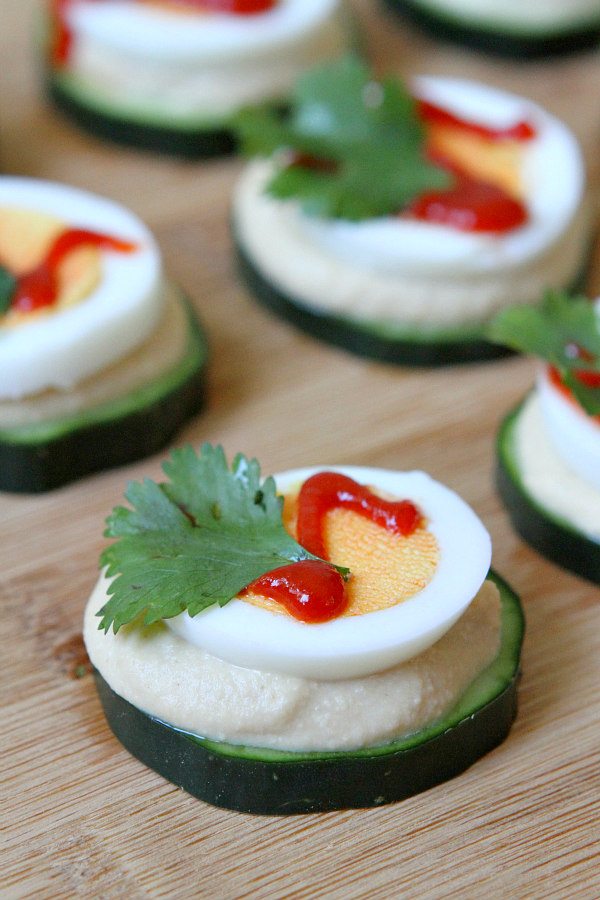 You'll be happy to have this good-for-you appetizer to serve to guests at summer parties.  There are ALWAYS people at parties who are avoiding chips and dip like the plague… and they so appreciate it when there are healthier options to nibble.  That's where this appetizer recipe comes in handy!
I'm working out like crazy right now in anticipation of that dreaded day that I'll have to put on a bathing suit this summer.  So muscle strength is crucial in my attempt to get fit and stay fit!  In other words, I'm eating Eggland's Best eggs for breakfast every morning.  I feel good that I'm getting a good amount of nutrients into my body after I commit to a run on the treadmill or a morning of lifting weights.
For more information, you can visit EgglandsBest.com.  Follow Eggland's Best on Facebook, Instagram, Pinterest and Twitter.
Spicy Cucumber Stacks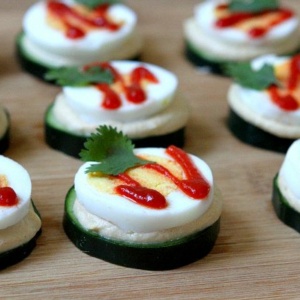 Yield:
12 to 14 appetizers
Prep Time:20 minutes
Ingredients:
sliced cucumber (about 14 slices)
1/2 cup (+ a little more) prepared hummus
4 hard-boiled Eggland's Best eggs (see *tips below for perfect hard-boiled eggs)
Sriracha sauce
14 cilantro leaves, for garnish
Directions:
Place cucumber slices on your serving platter.  Top each slice of cucumber with 2 teaspoons hummus.
Use an egg slicer to slice your hard-boiled eggs- or slice them thinly with a very sharp knife.  Place an egg slice on top of each mound of hummus.
Drizzle Sriracha sauce on top of each egg slice, and garnish with a cilantro leaf.  Serve immediately.
Tips:
TIP:  To make perfect hard-boiled eggs:  Place eggs in a medium saucepan and cover with water.  Bring to a boil over high heat.  Once boiling, put a lid on top of the pan, turn off the heat and set the timer for 15 minutes.  Drain hot water and add cold water and ice to the pan.  Let the eggs sit in the ice water until completely cooled.  Peel and use or eat!
If you are preparing this recipe as gluten-free, just be sure to use a brand of hummus that is known to be GF.
Nutrition:
Nutritional Information per appetizer: Calories 37.5, Total Fat 2.1g, Saturated Fat .4g, Cholesterol 50mg, Sodium 80mg, Potassium 53mg, Carbohydrates 2.4g, Dietary Fiber .7g, Sugar .4g, Protein 2.6g
Weight Watchers Points per appetizer:  Freestyle SmartPoints: 1, Original SmartPoints: 1, PointsPlus: 1, Old Program: 1
SOURCE:  RecipeGirl.com
Here are a few more egg appetizers you might enjoy:
Disclosure:  This recipe was created in partnership with Eggland's Best.  I only write about products that I already use in my kitchen- and this is one of them!  RecipeGirl.com maintains full editorial control of the content published on this site. As always, all thoughts, opinions, and enthusiasm for products are entirely my own.