Here's a simple recipe for Mini Smoked Salmon Pizzas.  This is the perfect, super easy appetizer recipe to bring to a party.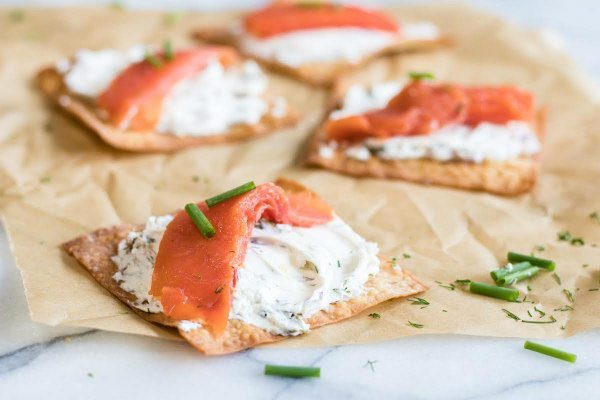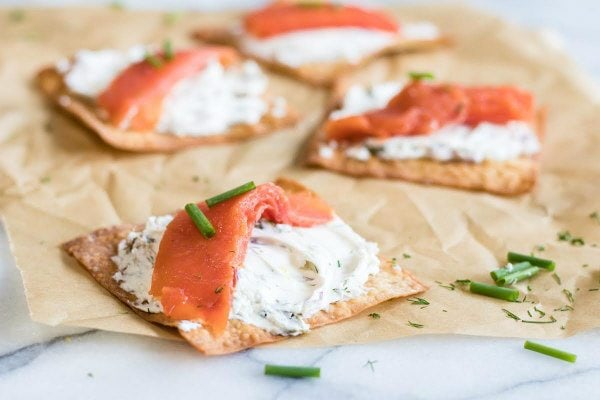 For the base of this smoked salmon appetizer recipe, you simply use gyoza skins, which are basically Japanese won tons. You should be able to find them in the refrigerated section of your supermarket. If you have a difficult time locating them, substitute round won ton wrappers.  The only "cooking" involved in this recipe is to bake the won ton wrappers to turn them into crispy bases for the topping.
Do I have to cook smoked salmon?
No, you do not have to cook smoked salmon. The smoking process cooks the salmon. You'll find smoked salmon in your local market near the seafood section. It's usually sold in sealed packaging.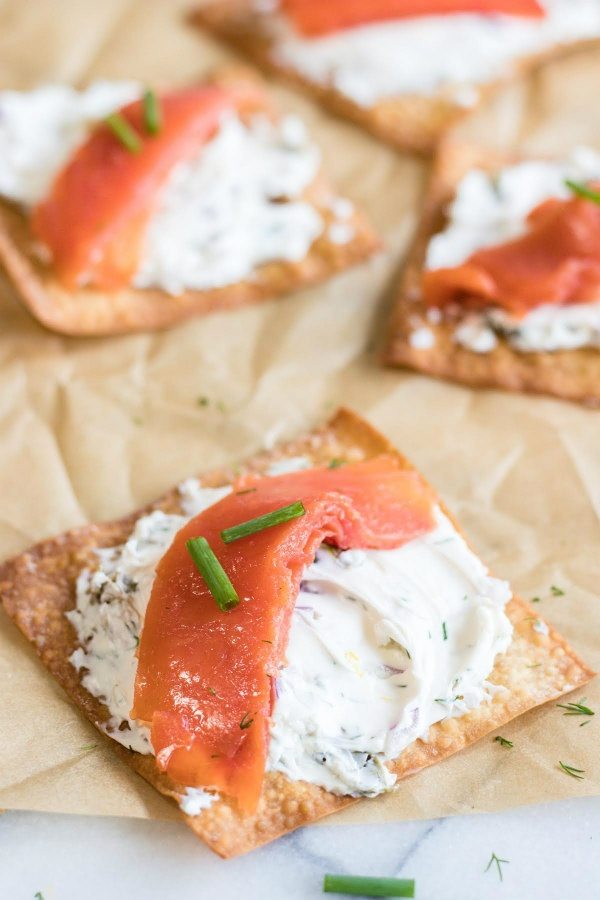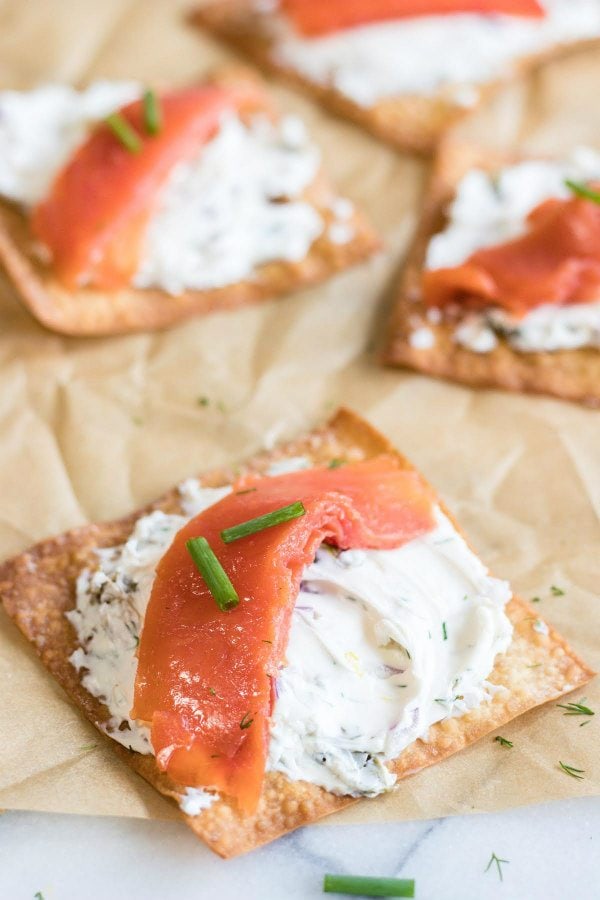 The rest of the recipe is a piece of cake.  You'll mix light cream cheese with red onion, capers, dill and lemon zest.  The cream cheese mixture is spread onto the crispy won tons, and then it's topped with a piece of smoked salmon and sprinkled with chives to make it all pretty.  That's it!
It can't get much easier than this.  And they look so impressive too!
If you're looking for more ways to use smoked salmon, try these Egg Salad Cups with Smoked Salmon and Dill or Smoked Salmon Deviled Eggs.  You might also enjoy a delicious Smoked Salmon Dip or a warm and comforting Smoked Salmon Chowder.
Thanks to Serene from the HouseOfYumm blog for these beautiful photos.  Serene is one of the photographers for RecipeGirl.com, and she captured the deliciousness of this appetizer perfectly!
Mini Smoked Salmon Pizzas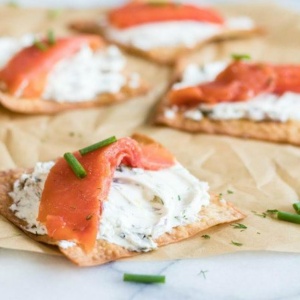 Yield:
24 appetizers
Prep Time:20 minutes
Cook Time:6 minutes
Ingredients:
24 gyoza skins (also known as won ton wrappers)
Four (1-ounce) slices cold-smoked salmon
1/2 cup (4 ounces) low fat cream cheese
2 tablespoons finely chopped red onion
1 tablespoon capers
1 teaspoon chopped fresh dill
1/2 teaspoon grated lemon zest
48 (1/2-inch) chive pieces
Directions:
Preheat oven to 400°F.
Arrange wrappers in a single layer on 2 baking sheets. Lightly coat wrappers with cooking spray. Bake 6 minutes or until crisp; cool.
Cut each salmon slice into 6 equal portions. Combine cheese and next 4 ingredients (through rind), stirring well. Spread 1 teaspoon cheese mixture on each wrapper; top each with 1 salmon piece. Garnish each with 2 chive pieces.
Nutrition:
Nutrition Facts-Amount Per Serving for 2 pizzas:
Calories 83, Total Fat 2.88g, Sat Fat 1.53g, Cholesterol 10.80mg, Sodium 340mg, Carbohydrates 9.75g, Dietary Fiber .37g, Sugar 0.02g, Net Carbs 9.5g, Protein 4.3g
Weight Watchers POINTS per 2 pizzas:  Freestyle SmartPoints: 4, SmartPoints: 2, Points Plus:  2, Old Points Program: 2
SOURCE:  RecipeGirl.com (via Cooking Light)