These Mini Macaroni and Cheese Appetizers are perfect for a neighborhood get-together or a throwback 70's themed throwback party.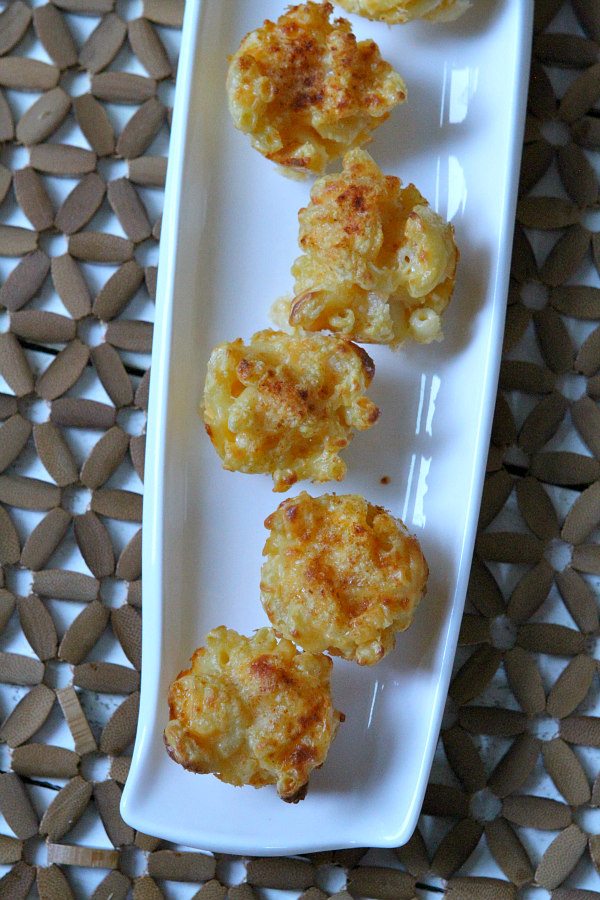 I mentioned serving them at a neighborhood get together because that's where these delicious little bites were first served. They were a huge hit at that party with both the adults and the kids. Since that first serving, I've included them on cocktail party menus, holiday party appetizer party menus and Super Bowl party menus too. Mini Macaroni and Cheese Appetizers will be one of the first things to be eaten up at your party since everyone loves macaroni and cheese!
Do these have to be served as mini appetizers?
If you're a macaroni and cheese lover like me, you'll love these little bites that are baked in the oven until crisp. It's best to bake them in mini-muffin tins because then you'll end up with a grab and go appetizer that is super easy to eat. If you try to make them in regular muffin tins, they won't turn out as crisp, and they definitely won't be a "pick up and eat" kind of food to serve. These mini macaroni and cheese appetizers are perfect for serving at an appetizer party!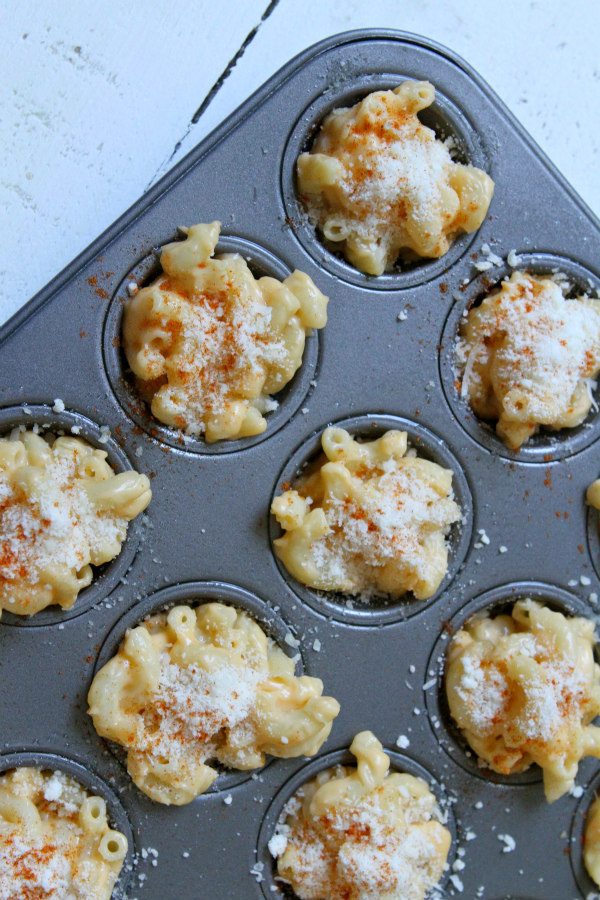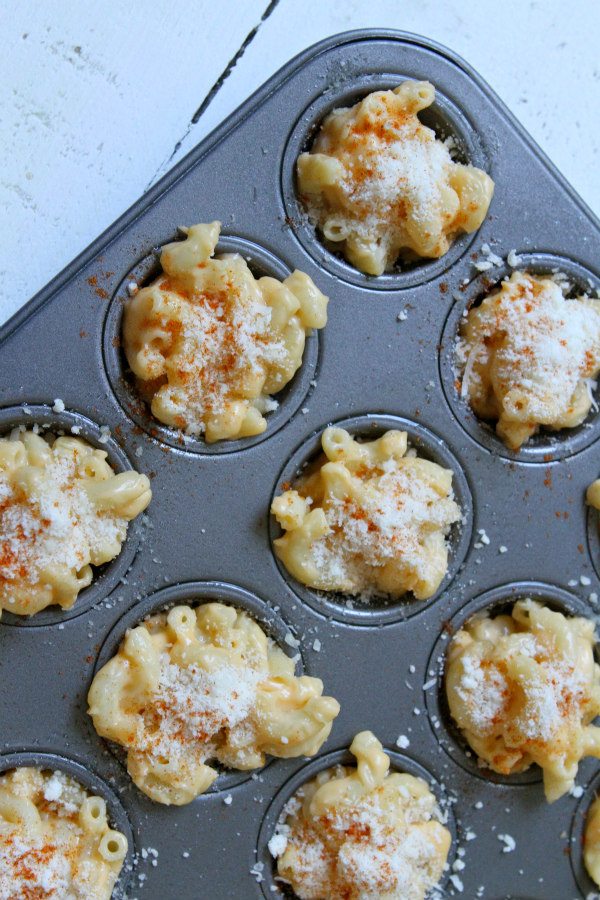 How to make Mini Macaroni and Cheese Appetizers:
It's very simple to make these appetizers. You will need a miniature muffin tin, which you can easily find for an inexpensive price on Amazon or at a home supply store.
You'll start with boiling the pasta- I suggest using classic, small macaroni. You may substitute another small pasta, if you'd like, such as ditalini or small shells. The muffin tin is buttered and then dusted with some grated Parmesan cheese. Then you'll make the cheese sauce (simple), stir in the cooked pasta, and scoop spoonfuls into your prepared muffin pan. A little more Parmesan is sprinkled on top, and then they are baked until crispy!
Can you make these mini appetizers ahead?
You can prepare these ahead of time by prepping them all the way up until they're in the pan and ready to go in the oven. At this point, cover the pan with plastic wrap and refrigerate until ready to bake and serve. They may be refrigerated overnight. You want to bake them just before serving.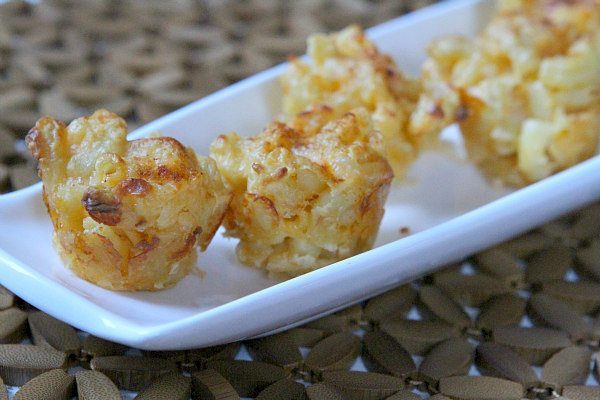 As I mentioned before, macaroni and cheese is such a favorite, classic recipe that almost everyone loves. In fact, almost everyone loves macaroni and cheese quite a lot! It's an indulgence to order it in a restaurant for dinner, but these small bites are a nice alternative to having a decadent meal out of it. Serve them at your next party and watch them fly off the table!
If you're looking for more macaroni and cheese recipes, I have quite a few to share with you. Classic Macaroni and Cheese is always a good place to start. It's cheesy and wonderful, and it's always a favorite. My Homestyle Baked Macaroni and Cheese is a nice twist on the classic. There's a crispy topping and added bacon in this recipe.
If you're looking for macaroni and cheese recipes that are just a little bit different, then for sure try my Bacon and Broccoli Macaroni and Cheese or this Spinach Macaroni and Cheese. I've been wanting to try Maria's Avocado Mac and Cheese too! For something really unique, try my Macaroni and Cheese Stuffed Vegetable Boats. Then you get your decadent mac and cheese and vegetables all in one shot! Mac and Cheese with Roasted Tomatoes is a good one too.
Mini Macaroni and Cheese Appetizers
These Mini Mac and Cheese Appetizers are the best grab and go comfort food appetizer recipe!
Recipe Details
Ingredients
8

ounces

small elbow macaroni

1½

tablespoons

unsalted butter,

plus more for brushing

¼

cup

freshly grated Parmesan cheese

2

tablespoons

all purpose flour

¾

cup

milk

4

ounces (1 packed cup)

shredded cheddar cheese

4

ounces

deli sliced American cheese,

chopped

1

large

egg yolk

¼

teaspoon

smoked Spanish paprika
Instructions
Preheat oven to 425°F.

In a large saucepan of boiling salted water, cook the macaroni until al dente, about 5 minutes. Drain, shaking off the excess water.

Brush four 12-cup nonstick mini muffin tins with butter. Sprinkle with 2 tablespoons of the Parmesan; tap out the excess.

In a large saucepan, melt the 1½ tablespoons of butter. Whisk in the flour over moderate heat for 2 minutes. Whisk in the milk and cook, whisking, until boiling, about 5 minutes. Add the cheddar and American cheeses and whisk until melted. Off the heat, whisk in the egg yolk and paprika. Fold in the macaroni.

Spoon slightly rounded tablespoons of the macaroni into the prepared muffin cups, packing them gently. Sprinkle the remaining 2 tablespoons of the Parmesan on top.

Bake the mini macs in the upper and middle thirds of the oven for about 10 minutes, until golden and sizzling. Let cool for 5 minutes. Using a small spoon, carefully loosen the mini macs, transfer to a platter and serve.
Notes
Make Ahead: This recipe can be prepared through step 5 (just before baking) and refrigerated overnight.
Nutrition
Serving:
1
appetizer
,
Calories:
43
kcal
,
Carbohydrates:
2
g
,
Protein:
2
g
,
Fat:
2
g
,
Saturated Fat:
1
g
,
Cholesterol:
10
mg
,
Sodium:
100
mg
,
Potassium:
20
mg
,
Vitamin A:
80
IU
,
Calcium:
59
mg
,
Iron:
0.2
mg