For cheese-lovers, there is nothing on earth quite as satisfying as a dish of homemade macaroni and cheese.   I love to see a good mac n' cheese on the menu when I'm out to dinner… with bacon, with lobster, with caramelized onions… with a zillion interesting cheeses combined and all melted and gooey.  It's heaven on a diet-buster's plate, which you've just gotta go for every once in a while, right?  Right.  The most recent issue of EveryDay Food (love this little magazine for quick dinner ideas) had a mac and cheese recipe that I fiddled with to create my own version:  Spinach Macaroni and Cheese.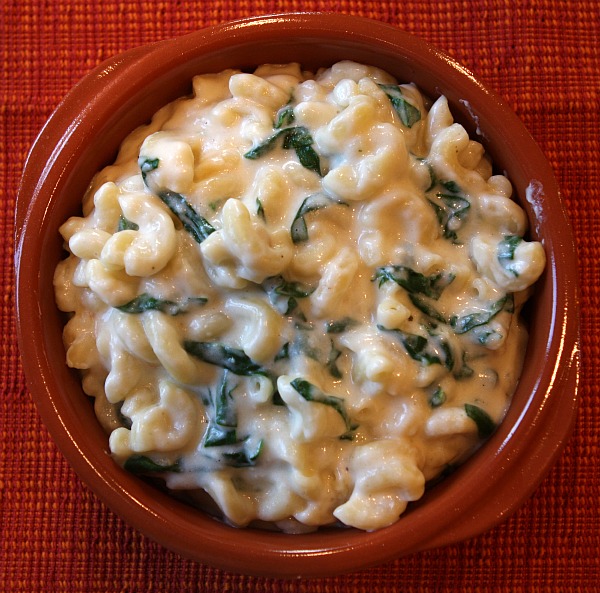 Here's the how-to: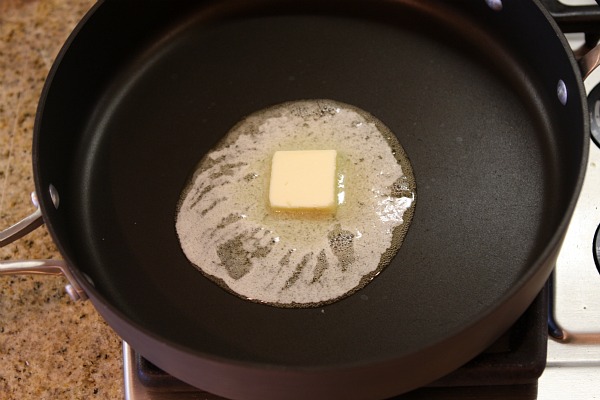 Melt a little butter in a large skillet.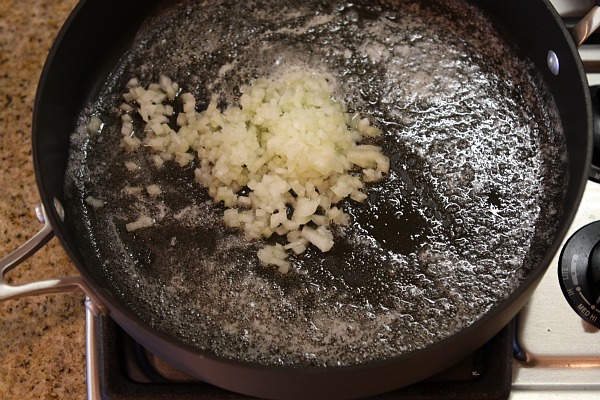 Saute very finely chopped onions. You don't want big chunks of onions in your Mac n' Cheese (& neither do your kids).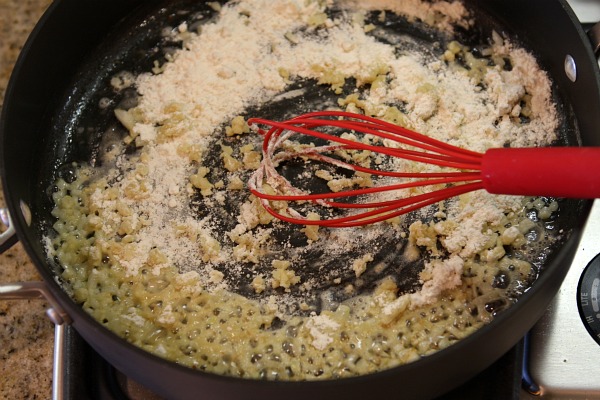 Whisk in flour. Don't worry about the lumps… those will disappear as you cook the sauce.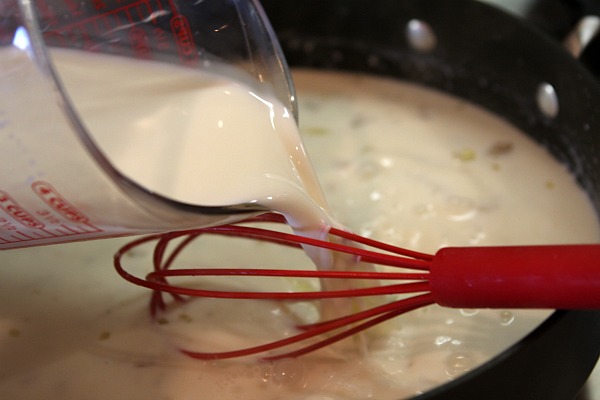 Pour in milk. I used a combination of whole milk and 2%. You can't cut down on the milk-fat too much or your sauce will not be so creamy.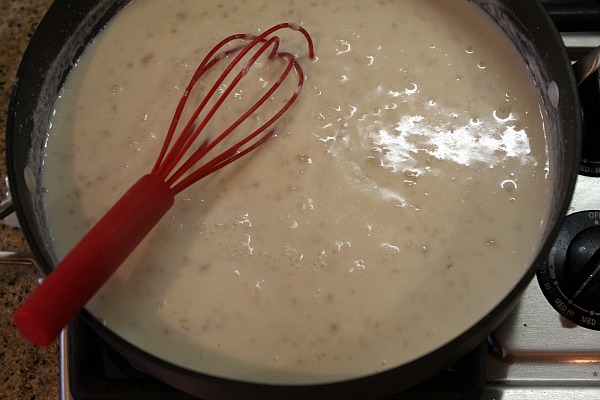 Let it bubble away for a few minutes, whisking the whole time to get rid of any lumps. It should thicken up pretty nicely.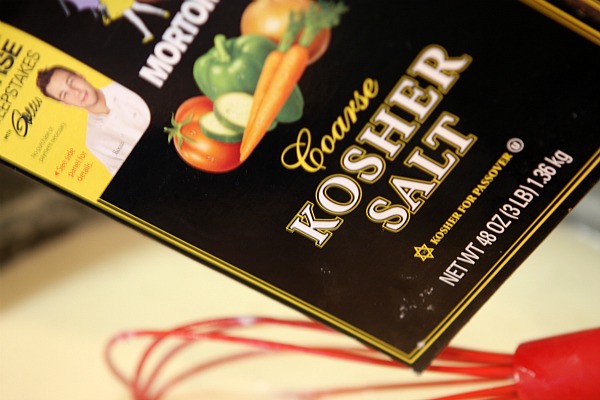 Add some Kosher salt…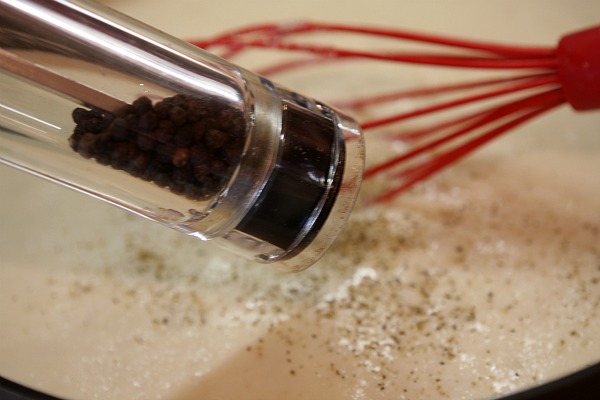 and a good dose of freshly ground pepper too.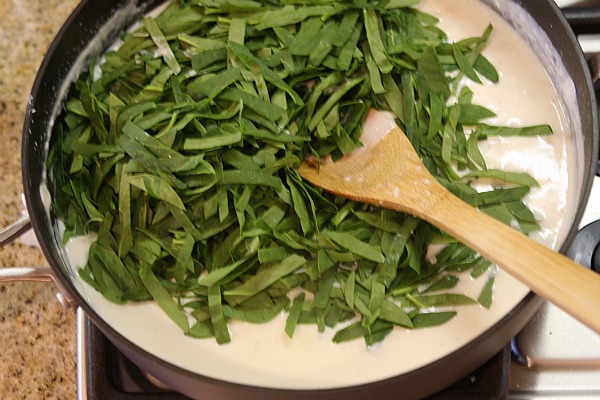 Now for the spinach. Pile spinach leaves on top of each other and slice them into thin strips. This will give you the added bonus of spinach without having to manage big clumps.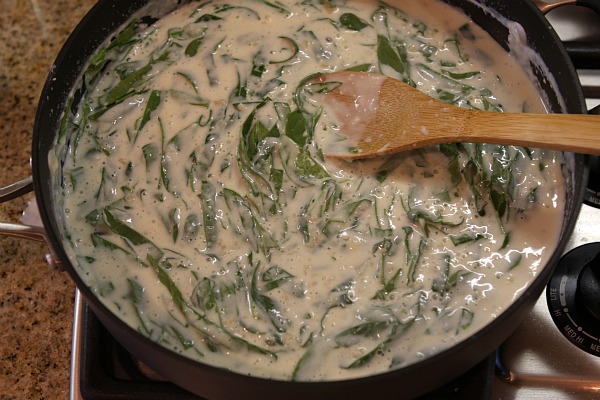 A couple of good stirs and the spinach is already wilted and incorporated.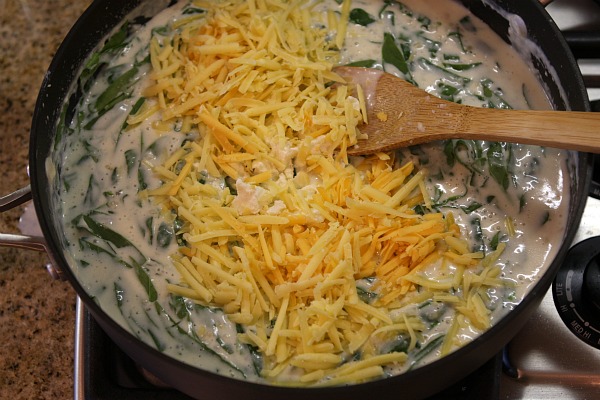 Add 2 cups of desired cheese combination- I used Sharp White Cheddar, Smoked Gouda and Goat Cheese.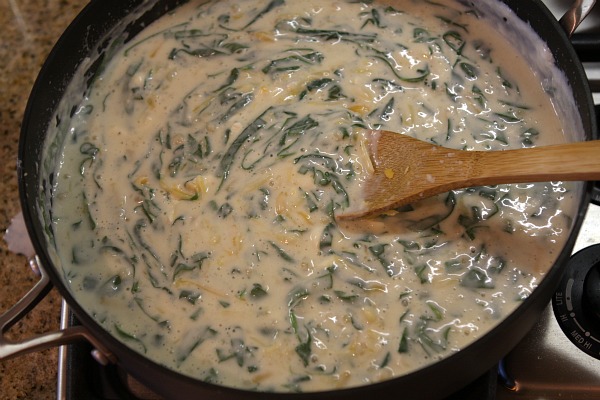 Stir in the cheese and it pretty much melts instantly.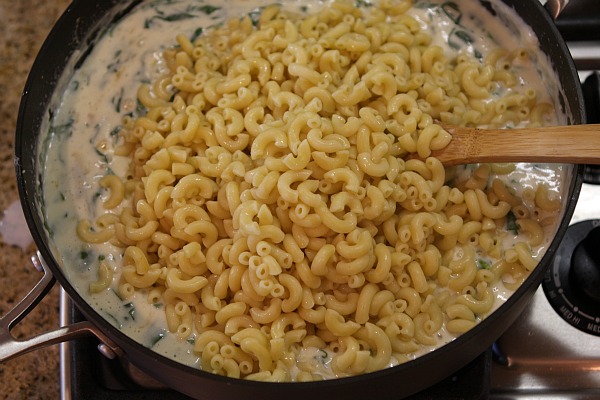 Add cooked elbow pasta.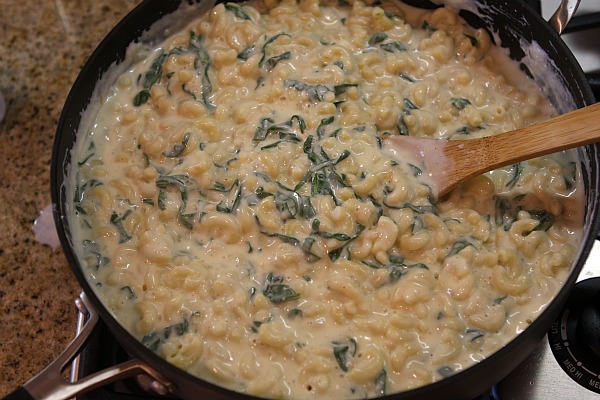 Stir it in there. Take a little taste and add more salt or pepper, if desired. Otherwise, it's done!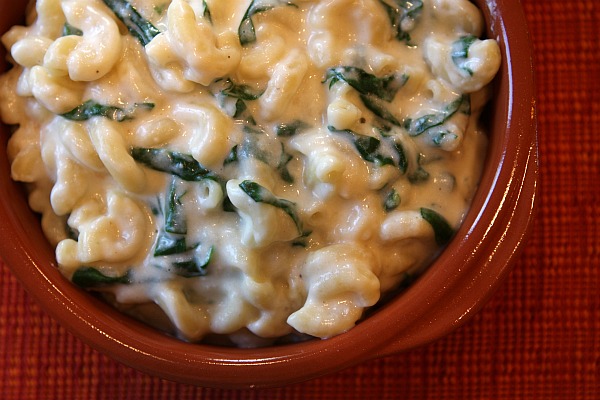 Dish it out and eat it up!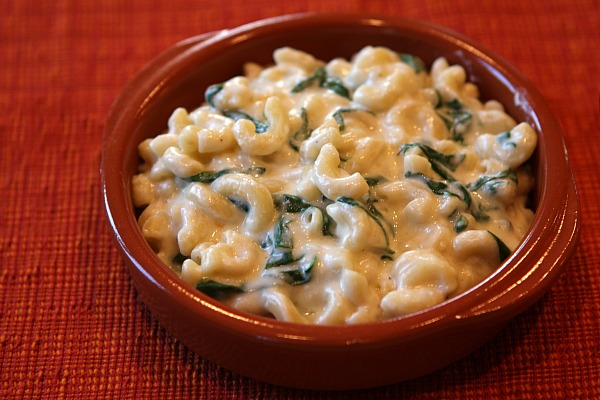 I found this to be a great, family-friendly dinner in my house. You can always leave out the spinach, but my kiddo ate it up and loved it in his Mac & Cheese. I also used some cheeses that kids should be okay with… since my son wouldn't let me use Swiss or Provolone or any other stinky cheeses. Any combination of your favorite cheeses should work just fine (as long as they're not a low fat variety- those don't melt very well at all). Loved this delicious, decadent Macaroni & Cheese recipe, and I think other cheese-lovers out there will like it too 🙂
Spinach Macaroni & Cheese
Play around with your favorite cheeses in this delicious comfort-food dinner...
Yield:
6 servings
Prep Time: 30 min
Cook Time: 20 min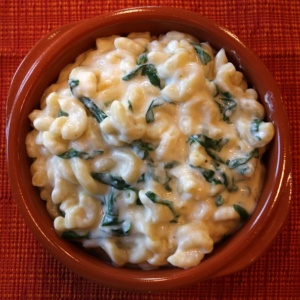 Ingredients:

3 Tablespoons unsalted butter
1/2 cup finely minced sweet onion
1/3 cup all-purpose flour
2 cups whole milk
2 cups 2% milk
kosher salt & freshly ground black pepper, to taste
4 cups spinach leaves (4.5 ounces), cut into 1/2-inch strips
1 cup shredded Sharp White Cheddar Cheese
2/3 cup shredded Smoked Gouda
1/3 cup crumbled goat cheese
3/4 pound elbow macaroni , cooked according to package instructions

Instructions:

1. In a large saucepan, melt butter over medium heat. Add onion and saute until softened, about 5 minutes. Whisk in flour until mixture is golden. Add whole milk, whisking constantly. Add 2% milk; raise heat to medium-high, bring to a boil and continue to whisk until sauce is smooth and thickened, 10 to 12 minutes. Add a sprinkle of salt and pepper.

2. Add spinach to sauce; give it a few stirs until spinach is wilted. Stir in cheeses until melted and well combined. Add cooked pasta and stir. Taste and add more salt and/or pepper, if desired. Serve immediately.

Tips:

*To cut spinach leaves, stack leaves on top of each other and use knife to cut into 1/2-inch strips.
*Use any combination of cheeses you prefer- (no low fat versions)- for a total of 2 cups of cheese.