Mini Chicken Pot Pies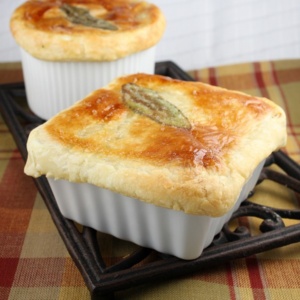 This is a terrific recipe to use after you've roasted a chicken. Pull off all of the leftover chicken meat scraps and you'll have enough to make this easy dinner.
Yield:
4 servings
Prep Time: 25 min
Cook Time: 50 min
Ingredients:
ROASTED VEGGIES:
1 1/2 cups chopped butternut squash
1/2 cup chopped onion
1/2 cup chopped carrot
1 cup chopped red potatoes
olive oil + salt + pepper
POT PIES:
1 sheet frozen puff pastry, thawed
2 teaspoons unsalted butter
2 teaspoons olive oil
3 Tablespoons all-purpose flour
2 cups 2% reduced-fat milk
2 Tablespoons freshly squeezed lemon juice
2 cups shredded leftover chicken
2 cups of roasted veggies
1/4 cup chopped fresh basil
1/2 teaspoon salt
1/4 teaspoon pepper
4 fresh sage leaves
1 large egg white, beaten
Directions:
1. Preheat oven to 400 degrees F. In a medium bowl, toss squash, onion, carrot and potatoes with about 1 Tablespoon olive oil and a good sprinkle of salt and pepper. Spread on baking sheet and roast for 20 to 30 minutes, just until tender. Remove from oven and let cool. Increase oven temperature to 425 degrees F.
2. Roll out Puff Pastry to 1/4-inch-thick, and cut into 4 (6-inch) rounds or squares, depending on the shape of your 1 cup ovenproof dishes. Keep pastry covered and refrigerated until ready to use.
3. Heat butter and oil in a medium saucepan over moderate heat; add flour, and cook, whisking constantly, for 1 minute. Add the milk in a slow steam while whisking constantly; bring the mixture to a simmer. Simmer for about 5 minutes or until thickened. Stir in next 6 ingredients (through pepper). Spoon mixture into ovenproof bowls. Top bowls with pastry, pressing against the outside edge of the dishes to seal. Place a sage leaf on top of each pastry and brush with egg white.
4. Bake pot pies on baking sheet on middle rack in oven for 15 to 17 minutes, or until pastry is golden brown. Serve hot.
Tips:
*Change up the roasted vegetables as you wish- trying things that are suited to your taste.
*Substitute leftover Thanksgiving turkey for the chicken if you'd like.
Source: RecipeGirl.com (Adapted from Health)