This recipe has been featured in a post on The Recipe Girl blog: Miniature Toffee Crunch Cheesecakes with Dulce de Leche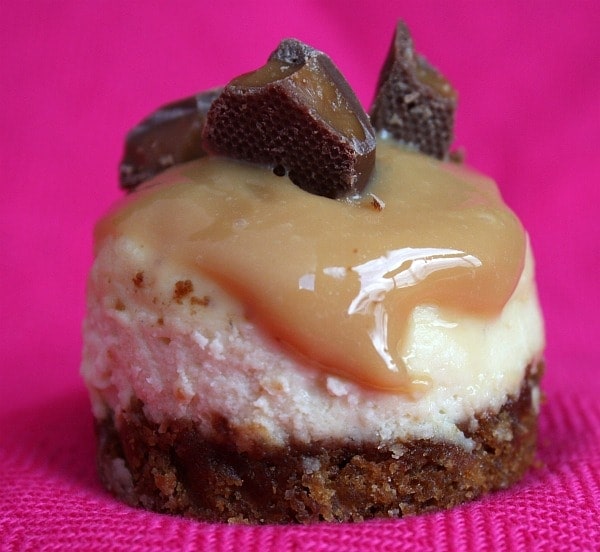 Mini Toffee Crunch Cheesecakes
If you're like me... a fan of all things cheesecake + dulce de leche + Heath Bars... you're gonna love this one.
Yield:
24 mini cheesecakes
Prep Time: 40 min
Cook Time: 30 min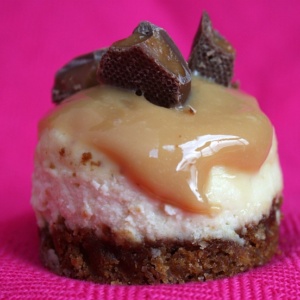 Ingredients:

CRUST:
1 1/2 cups graham cracker crumbs (about 9 whole crackers)
5 Tablespoons unsalted butter, melted
2 Tablespoons (packed) brown sugar
1 Tablespoon very finely chopped crystallized ginger (or 1/2 teaspoon ground ginger)

CHEESECAKE:
4 (8-ounce) packages cream cheese, at room temperature
1 cup light brown sugar, packed
2 Tablespoons butter, melted
5 large eggs, at room temperature
1 teaspoon vanilla extract

TOPPING:
dulce de leche (canned or homemade)
chopped chocolate-toffee bars (such as Heath or Skor brand)

Instructions:

Prepare crust:
1. Preheat oven to 350 degrees F. Spray bottoms of 24 mini cheesecake pans (the kind with the removable bottoms) with nonstick spray. Stir together crust ingredients in a medium bowl until the mixture clumps together. Put a small spoonful into each cheesecake cup and use spoon (or fingers) to press the crusts to the bottoms of the cups. Bake 8 to 12 minutes, until crust appears to be slightly firm and begins to darken. Let cool, and reduce oven temperature to 325 degrees F.

Prepare cheesecake:
2. Beat cream cheese and sugar in a large bowl until smooth. Beat in butter, then eggs, one at a time, until just blended. Beat in vanilla. Scoop batter into cheesecake cups onto the tops of the crust. Go ahead and fill each one almost to the top of the cup. They'll rise but should then sink back down a bit when they come out of the oven. You may have a little bit of batter left over (bake extra in a small dish, if desired). Bake until set, about 18 to 22 minutes- watch closely and pull out of the oven when the cheesecakes are set (touch the tops and make sure they're not jiggly, but firm). Cool completely at room temperature before adding topping.

Assemble the topping:
3. Carefully remove cheesecakes from the pan- loosen the sides with a thin, sharp knife if needed. Slide the bottoms off and place mini-cheesecakes on a platter. Scoop a small amount of dulce de leche onto the top of each cheesecake, and sprinkle with chocolate-toffee pieces.

Refrigerate until ready to serve.