This recipe has been featured in a blog post on The Recipe Girl blog: Mini Carrot Cake Cheesecakes This treat is gluten-free adaptable– please see TIPS below the recipe.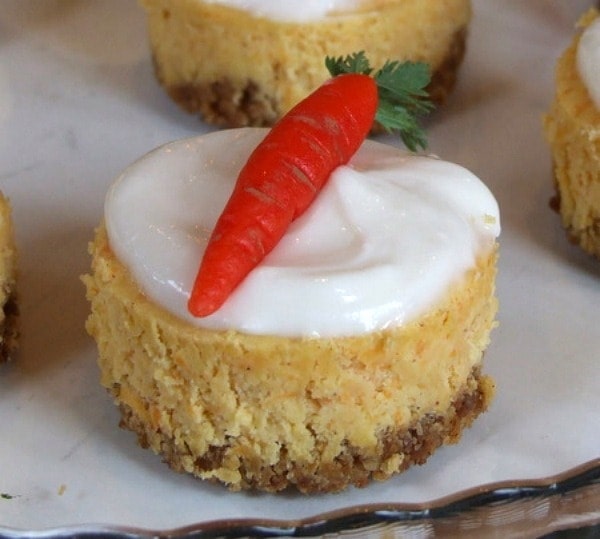 Mini Carrot Cake Cheesecakes w/ Cream Cheese Icing
Such cute, little desserts. Great Easter treat with the marzipan carrots!
Yield:
24 mini cheesecakes
Prep Time: 40 min
Cook Time: 35 min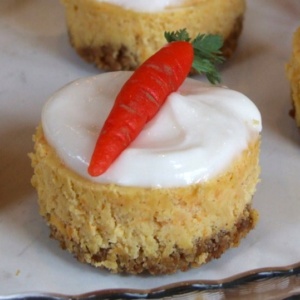 Ingredients:

FOR THE CRUST:
1/4 cup toasted pecans
4 whole graham crackers, finely ground (about 1/2 cup)
2 Tablespoons unsalted butter, melted
1 1/2 Tablespoons granulated sugar
1/8 teaspoon salt

FOR THE CHEESECAKE:
1/2 Tablespoon unsalted butter
1 medium carrot, peeled & finely grated
3/4 cup granulated sugar
2 (8-ounce) packages cream cheese, at room temperature
2 large eggs
1/4 teaspoon freshly grated nutmeg
1/4 teaspoon ground cinnamon
1/4 teaspoon ground ginger
1/8 teaspoon salt
3/4 teaspoon pure vanilla extract

ICING:
1 (3-ounce) package cream cheese, at room temperature
1/4 cup butter, softened
2 cups powdered sugar, sifted
1 teaspoon vanilla extract

Marzipan carrots, for garnish (optional)

Instructions:

1. Prepare the crust: Preheat oven to 350°F. Pulse pecans and graham crackers in a food processor until finely ground. Place in a medium bowl and stir in butter, sugar and salt.

2. Press a spoonful of crumb mixture into the bottom of each mini cheesecake tin (the kind with the removable bottoms). Bake until golden brown and slightly firm, 10 to 12 minutes. Don't overbake or the pecans will begin to burn. Let cool on wire rack. Reduce oven temperature to 325°F.

3. Prepare the cheesecake: Melt butter in a medium saucepan over medium heat. Add carrots, 1/4 cup of sugar, and cook, stirring often, until carrots are soft, 3 to 4 minutes. Transfer with pan juices to a bowl, and let cool.

4. Beat cream cheese and remaining 1/2 cup of sugar with a mixer on medium speed until fluffy, about 4 minutes. Add eggs, 1 at a time, scraping down sides of bowl as needed. Add carrots and pan juices, nutmeg, cinnamon, ginger, salt and vanilla, and beat until incorporated. Spoon on top of crusts to about 3/4 full.

5. Bake until set, about 18 to 22 minutes- watch closely and pull out of the oven when the cheesecakes are set (touch the tops and make sure they're not jiggly, but firm).

6. Transfer pans to a rack and let cool. Refrigerate until ready to frost.

7. Prepare icing: Beat cream cheese and butter at medium speed with an electric mixer until smooth. Gradually add powdered sugar and vanilla, beating until smooth. Place a heaping teaspoonful on top of each cheesecake and spread gently to cover the tops.

Tips:

*If preparing this recipe as GLUTEN FREE, sub GF gingersnaps (crumbled) for the graham crackers.
*You can always make these without the icing, but it adds a fun and delicious element to the dessert that is unexpected on a cheesecake.