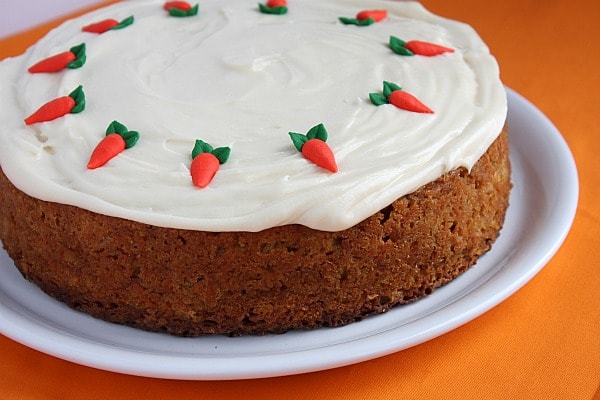 Yield: One 9-inch cake
Prep Time: 30 min
Cook Time: 20 min
Carrot Cake
This is an amazingly moist carrot cake. I was a little worried that a tall one-layer cake topped with frosting would feel like too-much cake, but I have to say that I absolutely adored this cake. Delicious!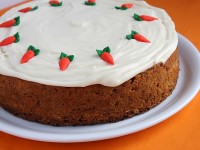 Ingredients:
CAKE:
2 1/2 cups all-purpose flour
6 medium carrots, grated (about 10 ounces)- use medium grate
1 teaspoon baking powder
1 teaspoon baking soda
1/4 teaspoon ground allspice
1/4 teaspoon ground cinnamon
1/4 teaspoon ground nutmeg
1/2 teaspoon salt
1 1/3 cups granulated sugar
1/4 cup firmly packed dark brown sugar
3 large eggs
3/4 cup plain yogurt
3/4 cup canola oil
FROSTING:
1 (8 ounce) package cream cheese
1/4 cup unsalted butter, at room temperature
1 teaspoon vanilla extract
2 1/2 cups (approximately) sifted powdered sugar
Directions:
Prepare cake:
1. Preheat oven to 350 degrees F. Spray 9-inch round, 3-inch deep cake pan with nonstick spray. Line the bottom of the pan with parchment paper.
2. Put carrots into a large mixing bowl.
3. In the bowl of a food processor, process flour, baking powder, baking soda, spices and salt for 5 seconds. If you don't have a processor, whisk these ingredients together very well instead. Add the flour mixture to the carrots and toss until they are well-coated with flour.
4. In the bowl of the food processor, combine sugar, brown sugar, eggs and yogurt. While the processor is running, drizzle in the oil. (Again, if you don't have a food processor, use a hand mixer instead... adding oil slowly while mixing). Pour this mixture into the carrot mixture and stir just until combined. Pour into the prepared cake pan and bake on the middle rack of the oven for 45 minutes. Reduce the heat to 325 degrees F and bake for another 20 minutes or until the cake reaches 205 to 210 degrees F. in the center. Remove the pan from the oven and allow cake to cool 15 minutes in the pan. After 15 minutes, turn the cake out onto a rack and allow cake to cool completely.
Frost the cake:
5. In a large bowl, combine cream cheese with butter and beat with a hand mixer on medium-speed just until blended. Add the vanilla and beat until combined. Add powdered sugar 1/2 cup at a time, beating until smooth between each addition. Use your own judgment on whether or not you need the entire 2 1/2 cups (preference on consistency). If the frosting is too soft, refrigerate for 5 to 10 minutes before frosting. Spread on a thick layer on top of the cake or frost top and the sides if you prefer.
Tips:
*A 3-inch deep (9-inch-round) cake pan is a must. This cake rises quite a bit to make a wonderfully tall 9-inch cake.
*It's important to line the cake pan with parchment paper- it will make the cake come out of the pan easily, with no chunks left behind.
*I highly recommend bake even cake strips- simply wrap them around the cake pan and they allow your cake to rise e-v-e-n-l-y!
*You can bake the cake one day, let it cool completely, wrap it in plastic wrap and then frost it the next day. It should stay nice and moist.
Source: RecipeGirl.com (Adapted from Food Network (Alton Brown))
Comments