This Chocolate Truffle Cake is a rich and decadent cake that is perfect for chocolate lovers.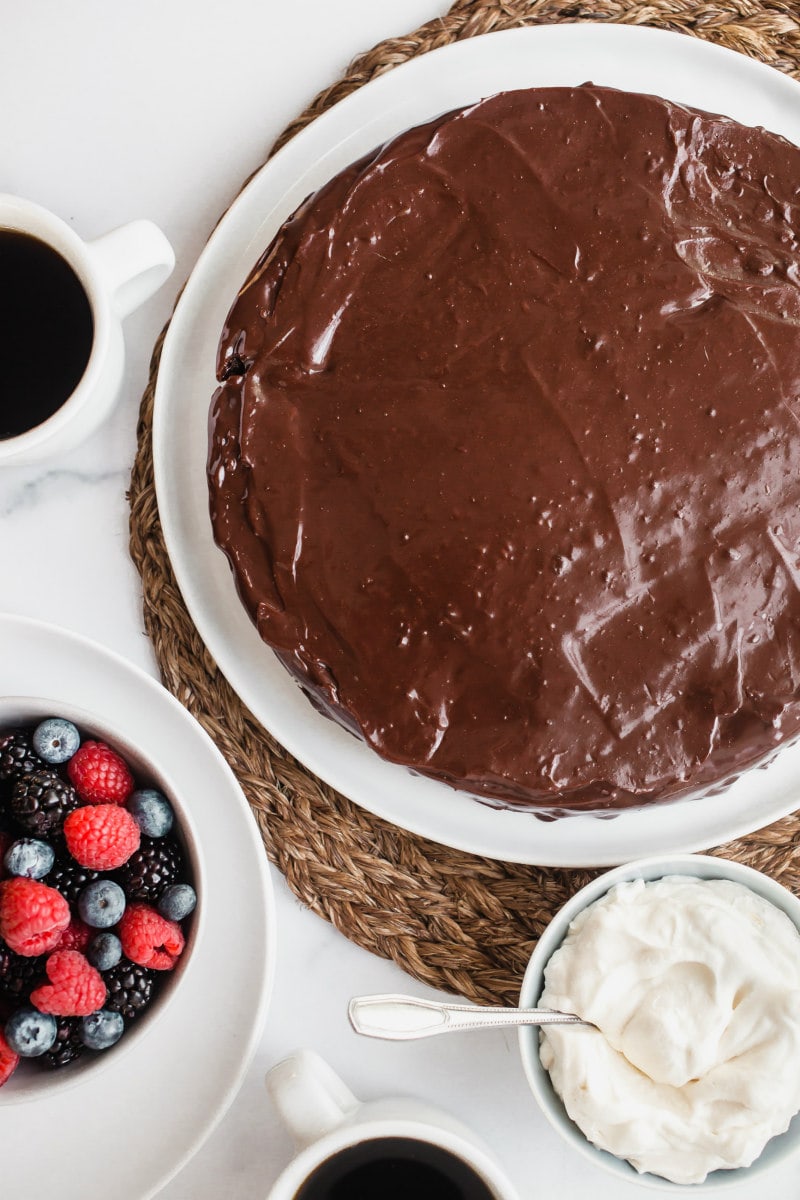 I first baked this Chocolate Truffle Cake many years ago when we were part of a neighborhood gourmet club. It was dessert for a big dinner I was serving, and it received big raves. I've made it so many times since then because it's so darn incredible. And it's a good cake to bake when you have gluten-free people in your crowd since it happens to be naturally gluten-free (there is no flour in the cake at all).
This is a rich cake. Very rich. It's the kind of cake chocolate lovers take a bite of and nearly faint with delight. Every forkful tastes like you're eating a chocolate truffle.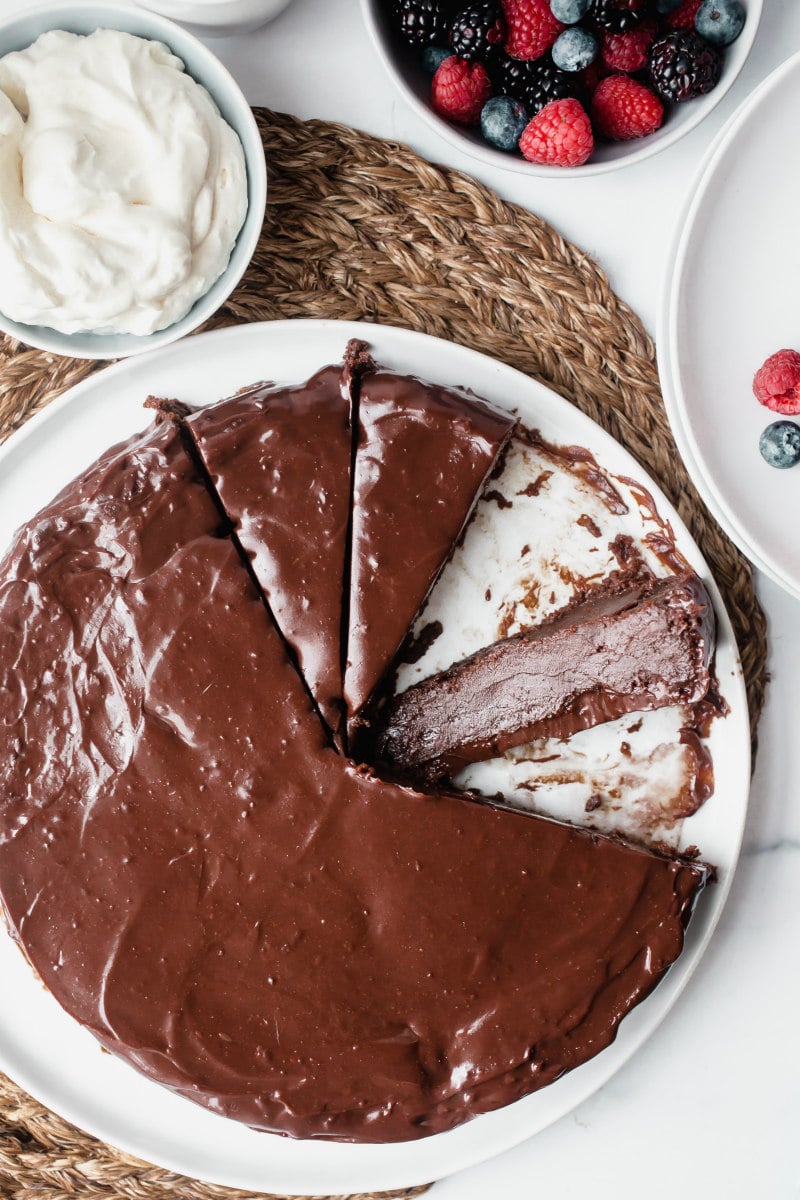 How to make Chocolate Truffle Cake:
Melted butter is combined with chopped chocolate, sugar and eggs. That's all that makes up the cake portion of this recipe! It's baked in a springform pan for about 30 minutes, and after baking it goes in the refrigerator for several hours- or (preferably) overnight.
When it's time to add the icing to the cake, you will remove the chilled cake from the pan and place it on a wire rack with something underneath to catch the drips. The icing (basically an easy-to-whip-up chocolate ganache) is drizzled on top of the cake and spread to cover and drip down the sides. Then you'll refrigerate your frosted cake until you're ready to serve it.
Things you can order from Amazon to help you make this cake: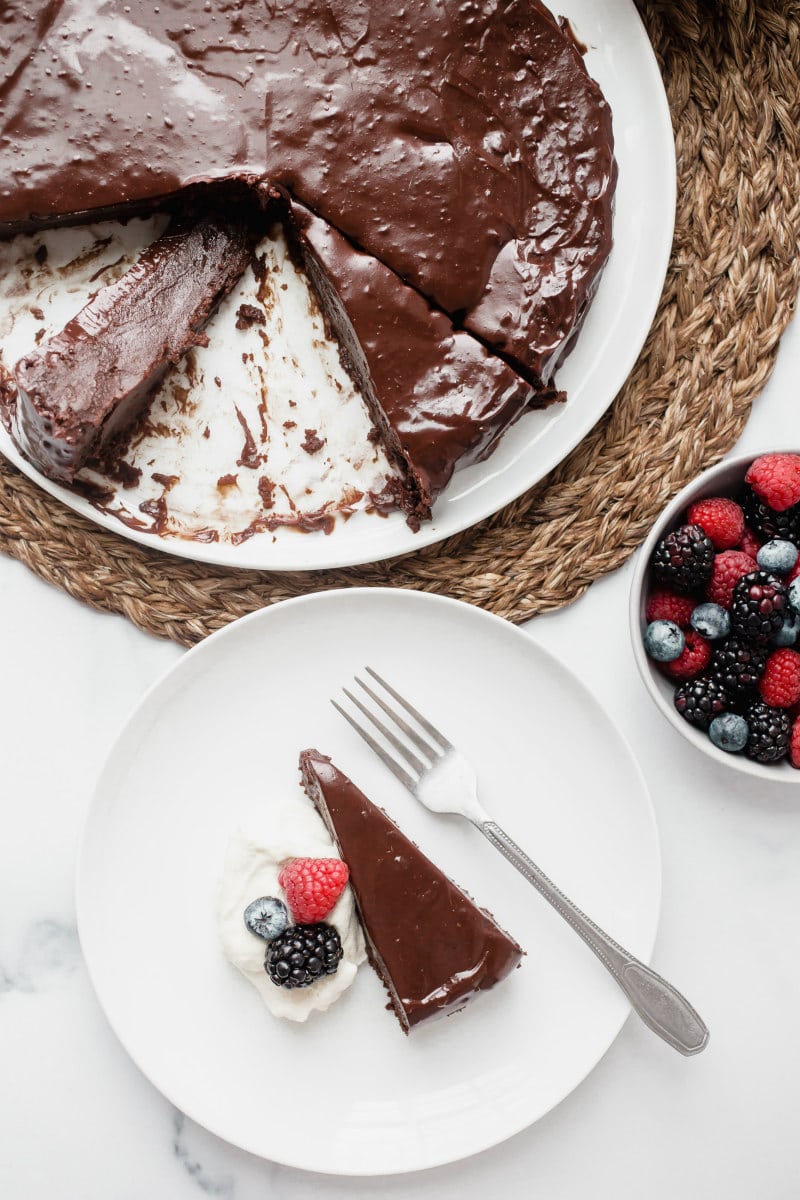 About the chocolate:
The cake portion of the recipe calls for 8 ounces of semisweet chocolate. Use a brand of chocolate that you like. I usually buy a block of semisweet and chop it up for the cake. The icing that goes on top uses 10 ounces of semisweet chocolate. Chocolate chips are just fine for the icing. I do tend to avoid generic, store-brand chocolate chips and opt for something a little better.
How to make Chocolate Truffle Cake gluten-free:
It's pretty easy to make this cake gluten-free. There is no flour at all in the cake, so that part is easy. The only thing you need to worry about is the chocolate. Just make sure the brand of chocolate you're using is known to be gluten-free, and you're all set! And it's okay to use all chocolate chips if that's all you can find.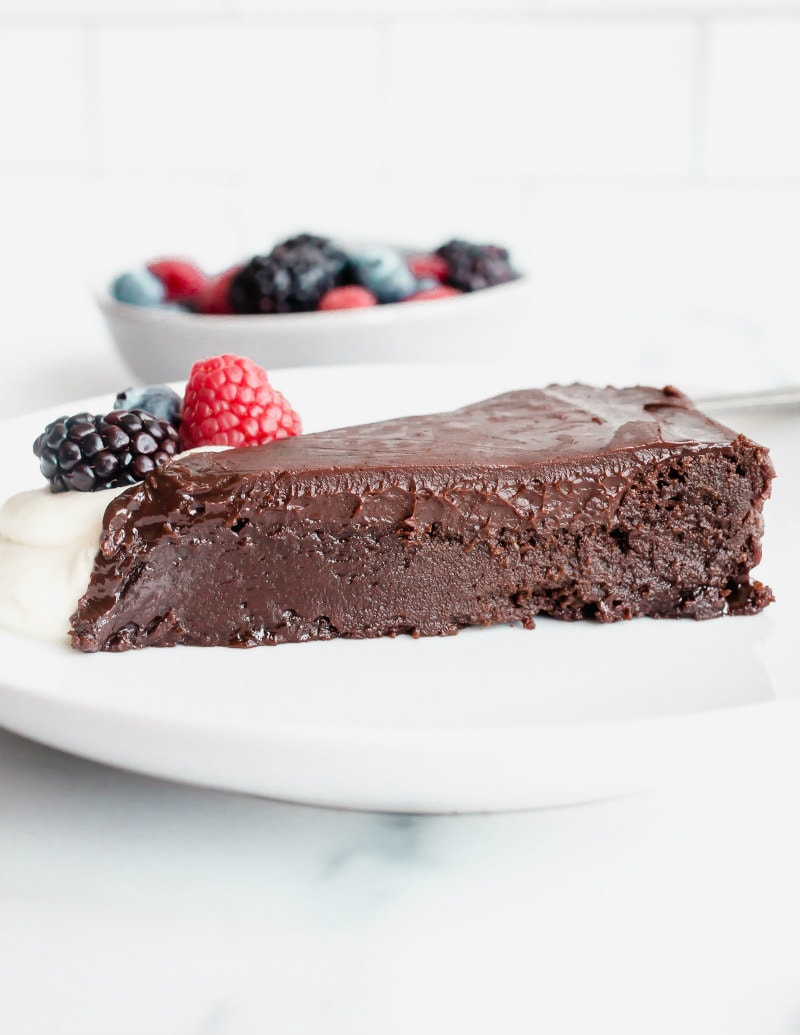 How to serve this cake:
First of all, one small sliver of Chocolate Truffle Cake is all you need to eat for dessert. I don't care how much you love chocolate cake, a small portion is the way to go with this one. It's like eating several chocolate truffles in one sitting. It's going to be thick and rich and gooey to slice too (you can tell by looking at the photos above). This is totally fine because this cake is totally worth it. Just use a sharp knife, and clean the knife with paper towels between cuts.
Because this cake is so decadent, you'll want to cut the richness a bit with either freshly whipped cream or vanilla ice cream. Add some fresh berries or a sprig of mint to make it look pretty.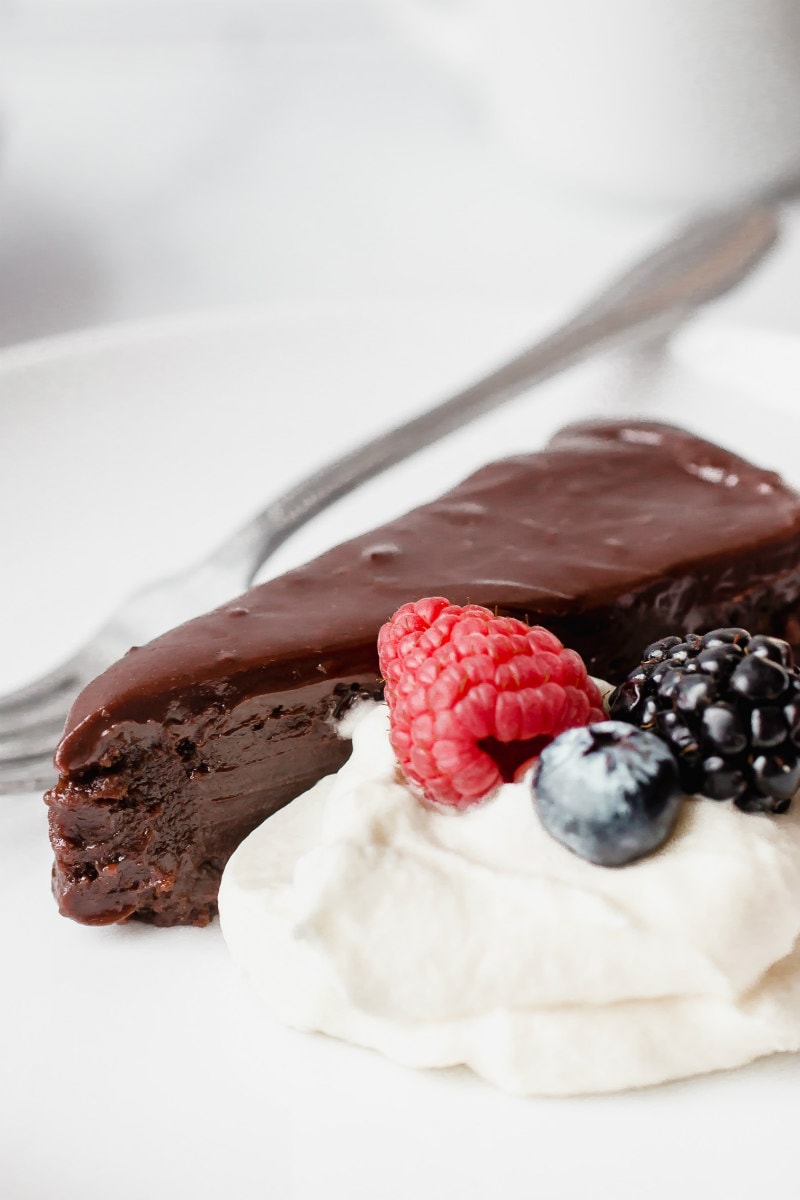 Here are a few more chocolate cake recipes you might like to try:
Chocolate Truffle Cake
The most decadent chocolate cake ever!
Recipe Details
Ingredients
CAKE:
1

cup (2 sticks)

unsalted butter

8

ounces

semisweet chocolate

1

cup

granulated white sugar

4

large

eggs,

well beaten
ICING:
10

ounces

semisweet chocolate chips

1

cup

heavy whipping cream
TOPPING:
whipped cream or ice cream

(optional)
Instructions
PREPARE THE CAKE:
Preheat the oven to 350°F. Grease an 8-inch springform pan liberally with cooking spray.

Melt the butter in a medium-sized glass bowl in the microwave (about 1 to 2 minutes). Add the chocolate and microwave for 30 more seconds. Let sit for 3 or 4 minutes, then add the sugar and stir until blended. When cool, stir in the beaten eggs. Pour the batter into the prepared pan and bake for 30 to 35 minutes, or until a crust forms on top. Cool to room temperature; then refrigerate overnight in the pan.

Remove the cake from the pan, and place the cake on a wire rack over a baking sheet (or over paper towels if you just want to discard the chocolate drippings.
MAKE THE ICING:
Add the whipping cream to a large saucepan. Heat to almost boiling. Remove the pan from the burner and add the chocolate chips. Let it sit for 4 to 5 minutes. Then stir to blend.

Pour ganache icing over the cake and spread the icing over the sides. It will be a glossy icing. Carefully move the iced cake to a serving plate.
FOR SERVING:
Serve each sliver of cake with a dollop of whipped cream or a scoop of vanilla ice cream.
Notes
*If you are preparing this recipe as GLUTEN FREE, just make sure you use GF chocolate.
*Use good quality chocolate for this recipe- it will make a difference.
*You definitely need the whipped cream on top to "cut" some of the richness of the chocolate (or vanilla ice cream).
*The serving size is a "sliver" of cake- it's incredibly rich, so I think you'll find that a sliver is plenty.
Nutrition
Serving:
1
serving
,
Calories:
433
kcal
,
Carbohydrates:
32
g
,
Protein:
4
g
,
Fat:
33
g
,
Saturated Fat:
19
g
,
Cholesterol:
113
mg
,
Sodium:
33
mg
,
Potassium:
229
mg
,
Fiber:
3
g
,
Sugar:
26
g
,
Vitamin A:
710
IU
,
Vitamin C:
1
mg
,
Calcium:
44
mg
,
Iron:
2
mg
Thanks to Tara Liptak from the blog, Smells Like Home for the beautiful photography on this post.