This Healthy Chocolate Cake is lower in fat and sugar than traditional chocolate cake recipes. It also happens to be gluten-free!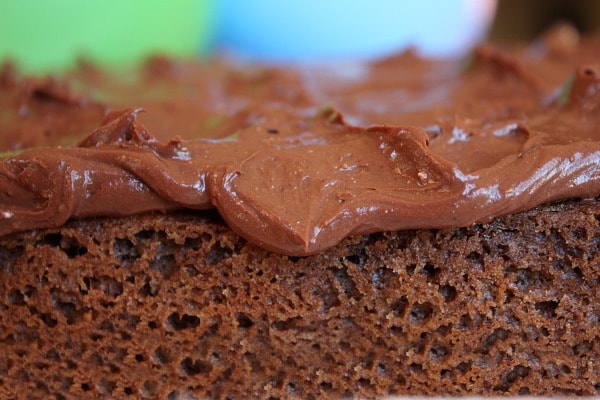 There is absolutely zero butter or oil in the cake portion of this healthy chocolate cake. It stays moist with a whole lot of unsweetened applesauce, and egg whites are used in place of whole eggs.
Can you use a sugar replacement to bake this Healthy Chocolate Cake?
Yes! The sugar level in the cake is low (just 2/3 cup of granulated sugar) if you want to use regular sugar. In the recipe, I give alternatives to bake the cake with a sugar replacement if you need it to be sugar free. I've tried a lot of different brands, but I like the Swerve brand of sugar-free sweetener for baking and sweet treats. It's the brand that tastes the best to me. If you're baking this cake for someone who cannot have much sugar, use a sugar replacement. If you are following the Weight Watchers program, use a sugar replacement. And, if you do happen to be following the Weight Watchers WW plan, you'll find a link to the WW Points on the recipe card at the end of this post.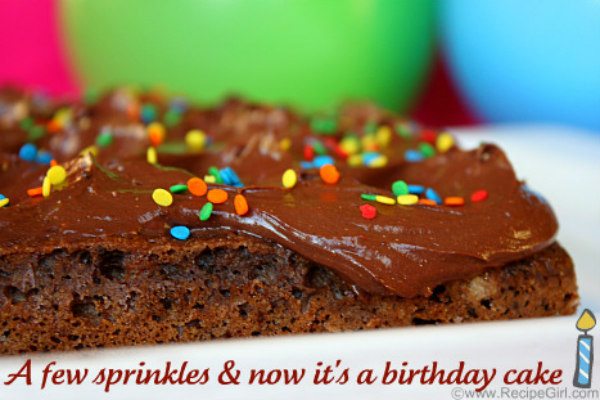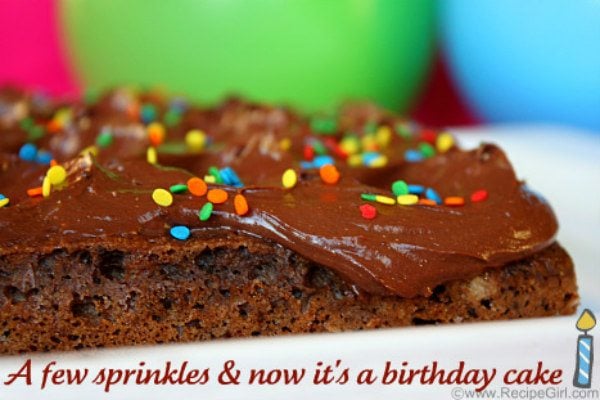 The frosting is made from low fat cream cheese, a cup of powdered sugar (again, I give you a sugar replacement option in the recipe), cocoa powder, vanilla and nonfat milk.
How does a healthy chocolate cake taste?
I brought this cake to a birthday celebration with a bunch of relatives, and I didn't tell any of them that I had baked a healthy cake. Note that I used regular sugar (not a sugar replacement) in the recipe. I sliced and served, and I waited for their reactions. My mother-in-law was first (she's a chocolate fanatic): "Ok, Lori… what's different about this cake?" My son said, "I can taste cinnamon!" My sister-in-law said, "It tastes like a healthier version of chocolate cake." They all loved the cake (with the exception of one picky 4 year old, who ate the frosting only).
The cake itself has a very different flavor (because of the oat flour). I don't think the cake part tastes all that fabulous on its own. It's not super chocolatey and rich. My son argued that fact though and said he loved the cake part. The frosting is more "normal" and there's a lot of it. Spread over the top of the healthy cake, the frosting really makes it a worthwhile baked treat. See, you can still enjoy dessert when you're trying to be healthy!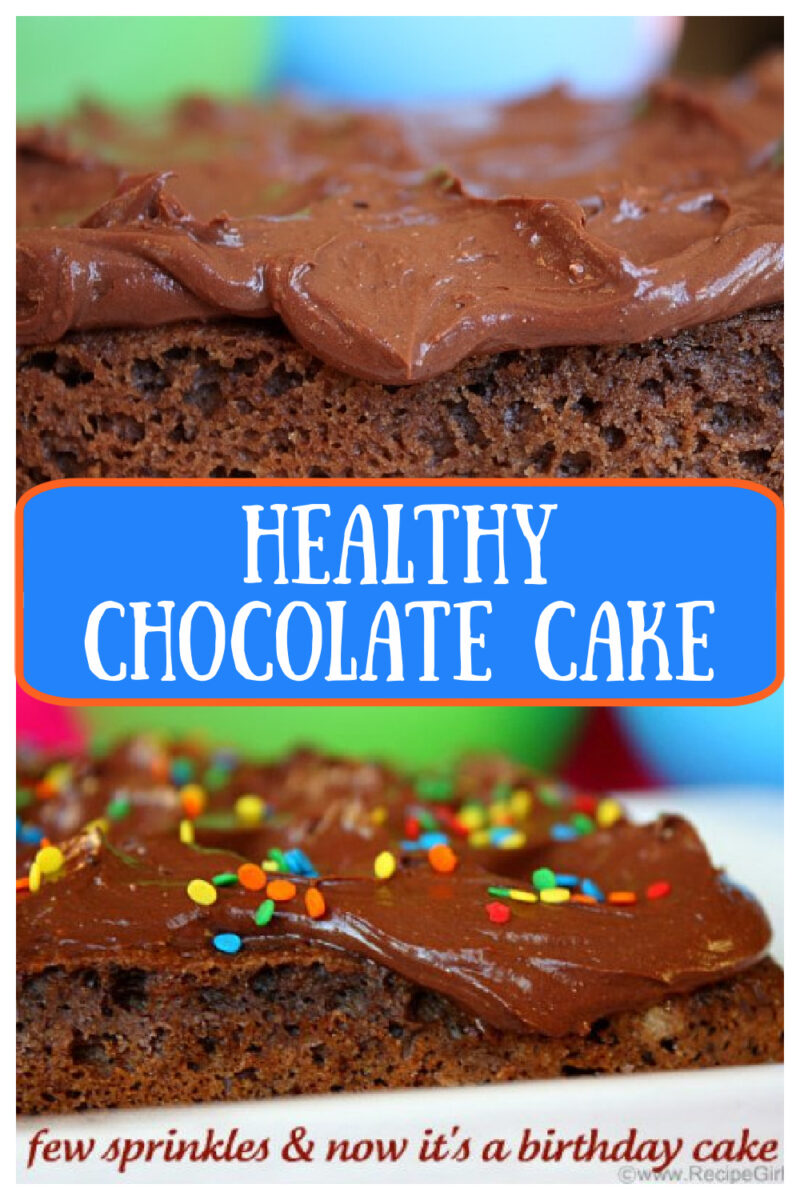 Healthy Chocolate Cake
Here's a chocolate cake that's lighter on sugar and fat.
Recipe Details
Ingredients
CAKE:
2¼

cups

oat flour

(see notes below)¼

1½

cups

nonfat dry milk powder

⅔

cup

granulated white sugar

(see Notes below for baking with a sugar replacement)

⅓

cup

unsweetened cocoa powder

1½

teaspoons

baking powder

1

teaspoon

baking soda

½

teaspoon

ground cinnamon

⅛

teaspoon

salt

One

23-ounce jar

unsweetened applesauce

(a little over 2¾ cups)

5

large

egg whites,

lightly beaten

3

teaspoons

vanilla extract
FROSTING:
8

ounces

reduced-fat cream cheese,

at room temperature

1

cup

powdered sugar,

sift after measuring

½

cup

unsweetened cocoa powder

3

teaspoons

vanilla extract

3

tablespoons

nonfat milk
Instructions
Preheat the oven to 325° F. Coat a 13x9x2 inch pan with nonstick cooking spray.
PREPARE THE CAKE:
In a large bowl, whisk together the oat flour, dry milk powder, sugar, cocoa, baking powder, baking soda, cinnamon and salt. In a separate bowl, whisk together the applesauce, egg whites and vanilla.

Stir the wet ingredients into the dry ingredients and mix just until combined. Don't over-mix or you may toughen the texture of the cake.

Pour the batter into the prepared pan, smoothing to the edges, and bake until springy to the touch and a toothpick inserted into the center of the cake comes out clean- it should take anywhere from 25 to 35 minutes. Check at 25 and add minutes onto baking time if necessary.

Cool cake to room temperature on a wire rack.
PREPARE THE FROSTING:
In a medium bowl, use an electric mixer at low speed to beat the cream cheese, sifted powdered sugar, cocoa and vanilla in a medium bowl until smooth. Slowly add the nonfat milk and beat until it's a good spreading consistency, about 1 minute.

Swirl frosting over top of cake. Cut into 15 squares, and serve.
Notes
To make your own oat flour, grind 1

¼ cups old fashioned oats in a coffee grinder or strong blender.

Substitutes for oat flour: try using rice or barley flour. Almond flour can be used too, but the flavor will be different and it will have a higher fat content.
I baked this cake with regular sugar, but you can certainly bake with a sugar replacement, if you'd like. Just follow instructions on the bag for how to replace the sugar. I usually like the Swerve brand granular when I'm replacing the sugar. It's a cup-for-cup replacement.
For the frosting, Swerve also sells a powdered version if you want to try that to be sugar free.
I made this cake in a 9x13-inch pan, but I think it would work just as well baked in two 8-inch round cake pans. There certainly is enough frosting to use for a two layer cake.
Nutrition
Serving:
1
serving
,
Calories:
238
kcal
,
Carbohydrates:
40
g
,
Protein:
11
g
,
Fat:
5
g
,
Saturated Fat:
2
g
,
Polyunsaturated Fat:
1
g
,
Monounsaturated Fat:
1
g
,
Cholesterol:
11
mg
,
Sodium:
299
mg
,
Potassium:
432
mg
,
Fiber:
3
g
,
Sugar:
25
g
,
Vitamin A:
369
IU
,
Vitamin C:
1
mg
,
Calcium:
228
mg
,
Iron:
2
mg