My Father-in-Law had a birthday recently, and since he has to watch sugar levels & should be eating heart healthy foods, I thought this recipe would be perfect for him: Healthy Chocolate Cake.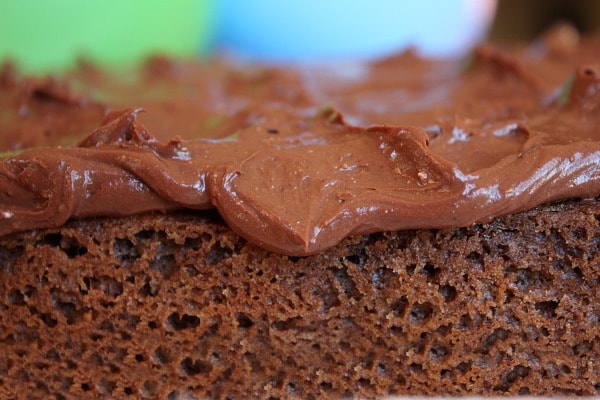 There is absolutely zero butter or oil in the cake portion. It stays moist with a whole lot of unsweetened applesauce, and egg whites are used in place of whole eggs.
The sugar level in the cake is low too (just 2/3 cup of granulated sugar). In the recipe, I give alternatives to bake the cake with Splenda if you need it to be sugar free.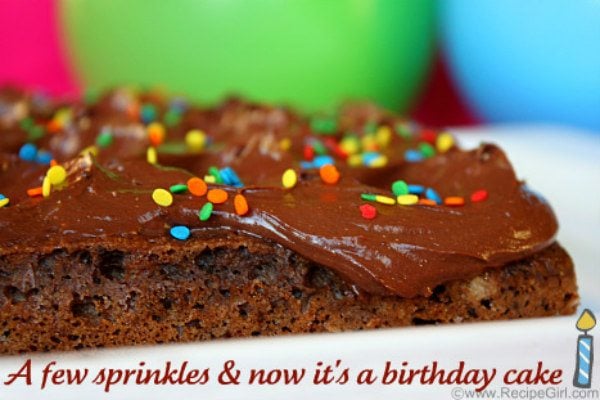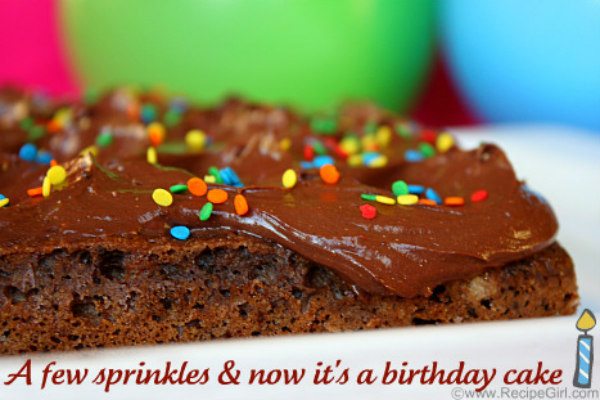 The frosting is made from low fat cream cheese, a cup of powdered sugar (again, I give you a Splenda option), cocoa powder, vanilla and nonfat milk.
I brought this cake to a birthday celebration with a bunch of relatives, and I didn't tell any of them that I had baked a healthy cake. I sliced and served, and I waited for their reactions. My mother in law was first (she's a chocolate fanatic): "Ok, Lori… what's different about this cake?" My son said, "I can taste cinnamon!" My sister-in-law said, "It tastes like a healthier version of chocolate cake." They all loved the cake (with the exception of one picky 4 year old, who ate the frosting only). The cake itself has a very different flavor (because of the oat flour). I don't think the cake tastes all that fabulous on its own- it's not super chocolatey and rich. My son argued that fact though and said he loved the cake part. The frosting is more "normal" and there's a lot of it. Spread over the top of the healthy cake, the frosting really makes it a worthwhile baked treat. Divided into 15 pieces (a 9×13-inch cake), this cake only has 195 calories.  See, you can still enjoy dessert when you're trying to be healthy!
Heatlhy Chocolate Cake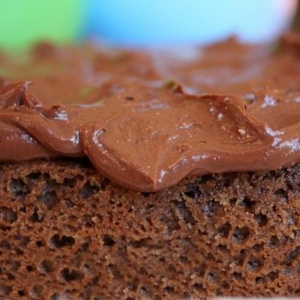 My father in law is diabetic and really has to watch his sugar-intake. I brought this cake to him for his birthday and he was very grateful 🙂
Yield:
15 servings
Prep Time: 25 minutes
Cook Time: 30 minutes
Ingredients:
CAKE:
2 1/4 cups unsifted oat flour
1 1/2 cups nonfat dry milk powder
2/3 cup granulated sugar (see cooking tips below to use Splenda)
1/3 cup unsweetened cocoa powder
1 1/2 teaspoons baking powder
1 teaspoon baking soda
1/2 teaspoon ground cinnamon
1/8 teaspoon salt
1 (23 ounce) jar of unsweetened applesauce (or just measure 23 ounces)
5 large egg whites, lightly beaten
3 teaspoons vanilla extract
FROSTING:
1 (8-ounce) package low-fat cream cheese (Neufchatel), softened
1 cup powdered sugar, sift after measuring
1/2 cup unsweetened cocoa powder
3 teaspoons vanilla extract
3 tablespoons nonfat milk
Directions:
Preheat oven to 325 degrees F. Coat 13x9x2-inch pan with nonstick cooking spray.
Prepare cake: In a large bowl, whisk together oat flour, dry milk powder, sugar, cocoa, baking powder, baking soda, cinnamon and salt. In a separate bowl, whisk together applesauce, egg whites and vanilla.
Stir wet ingredients into dry ingredients and mix just until combined. Don't over-mix or you may toughen the texture of the cake.
Pour batter into the prepared pan, smoothing to edges, and bake until springy to the touch and toothpick inserted into center of cake comes out clean- it should take anwhere from 25 to 35 minutes. Check at 25 and add minutes onto baking time if necessary.
Cool cake to room temperature on a wire rack.
Prepare frosting: With an electric mixer at low speed, beat cream cheese, sifted powdered sugar, cocoa and vanilla in a medium bowl until smooth. Slowly add nonfat milk and beat until it's a good spreading consistency- about 1 minute.
Swirl frosting over top of cake. Cut into 15 squares, and serve.
Tips:
You can buy oat flour (health food sections in your market likely carry it) or you can make it yourself. Just put rolled oats into a blender and blend away until it turns into powder. Now you have oat flour!
To make this recipe sugar free, you can use Splenda for Baking- be sure to use the kind that is specifically for baking (not the little packets that are for coffee). I haven't tried this recipe using Splenda, so I can't vouch for how it tastes. In the cake portion, replace granulated sugar with 1/2 cup + 2 Tablespoons Splenda. In the frosting, replace powdered sugar with 1/2 cup Splenda.
I made this cake in a 9x13-inch pan, but I think it would work just as well baked in two 8-inch round cake pans. There certainly is enough frosting to use for a two layer cake.
If you want to make it in a 9x13 pan and you'd like to be able to remove the entire cake from the pan and onto a platter, line the pan with parchment paper that overhangs on the sides. Spray the parchment all over with cooking spray. After cooled, you should be able to lift the entire cake out of the pan (carefully) by holding the overhanging parchment. Then you'll need to do use some racks or baking sheets to turn, peel off the parchment and the turn right-side up onto a platter.
Nutrition:
Nutritional Information per serving (Serving size:

1/15 of the cake)

Calories:

195, 

Fat:

4.7g, 

Saturated Fat:

2.3g, 

Sugar:

21.3g, 

Fiber:

3.5g, 

Protein:

6g, 

Cholesterol:

8.5mg, 

Carbohydrates:

35g

Weight Watchers POINTS per serving: SmartPoints:  9 , Points Plus: 5 Old Points Program: 3.5