Carrot Cake Cheesecake Cake is a beautiful and delicious cake to make for Easter, Mother's Day or other spring celebrations.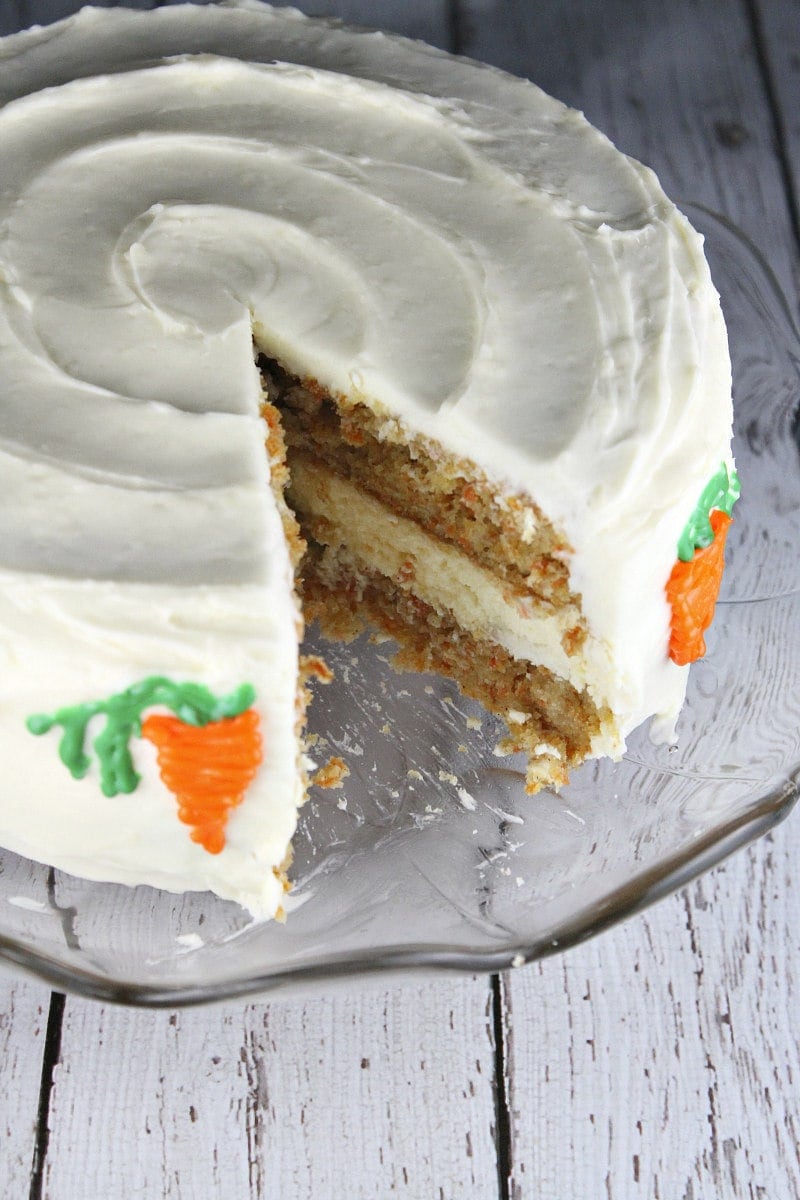 It occurred to me the other day that I haven't given you a fabulous dessert to make for Easter Sunday! And it also occurred to me that I haven't shared a new cheesecake cake in quite some time, so… it's time. This cake has been in my head for a LONG time. Every time Easter rolls around, I think… man, I should make a carrot cake cheesecake cake, but then I never do it. But guess what? I did it!
My oh-so-fabulous in-laws were visiting us last weekend, and I baked-up this cake for their last night here. It was a big hit. My father-in-law said things like, "This cake should be in your next book– it's so good!" I have to admit that I really enjoyed it too.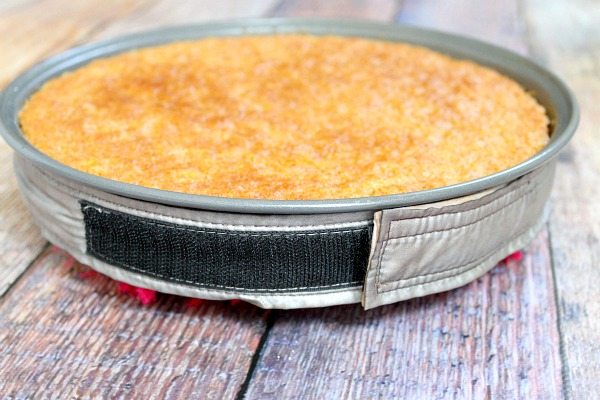 How to make a Carrot Cake Cheesecake Cake:
First things first: You must always bake your cakes with these BAKE EVEN STRIPS wrapped around the pan. They make sure that your cakes bake FLAT and not mounded… which is what you want when you are baking a cake. They are among the best things I have ever purchased!!! All you have to do is soak them in water for a little while, and then you wrap them around the pans and use the velcro to fasten them. They really work in keeping a cake top flat. I love them!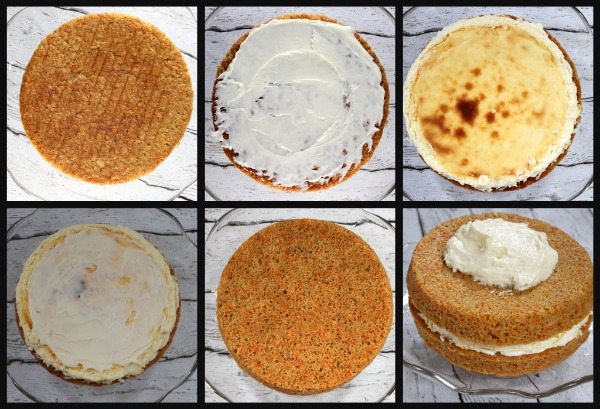 The process:
Put one layer of cake on a serving platter. Frost it a little bit. Then add a layer of cheesecake. The cheesecake layer you're adding will be frozen, so it will be easy to handle. Frost the top of the cheesecake a little bit. Then add the second layer of carrot cake. Then frost the whole cake. I find it easiest to put a large pile of frosting on the top, then use a large ICING SPATULA to spread the frosting over the top and down the sides.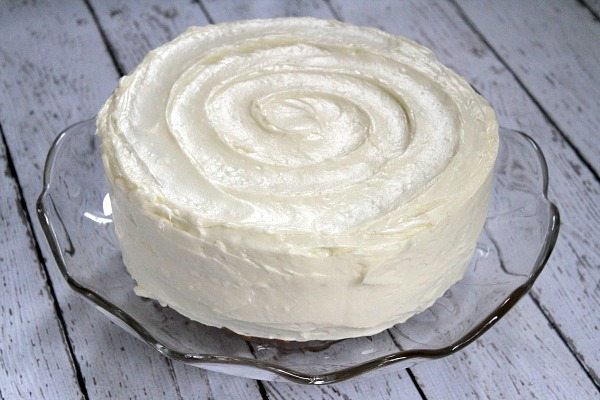 Just add simple swirl with your icing spatula on top, and that's it! If you're into piping frosting, you can do something more fancy if you want.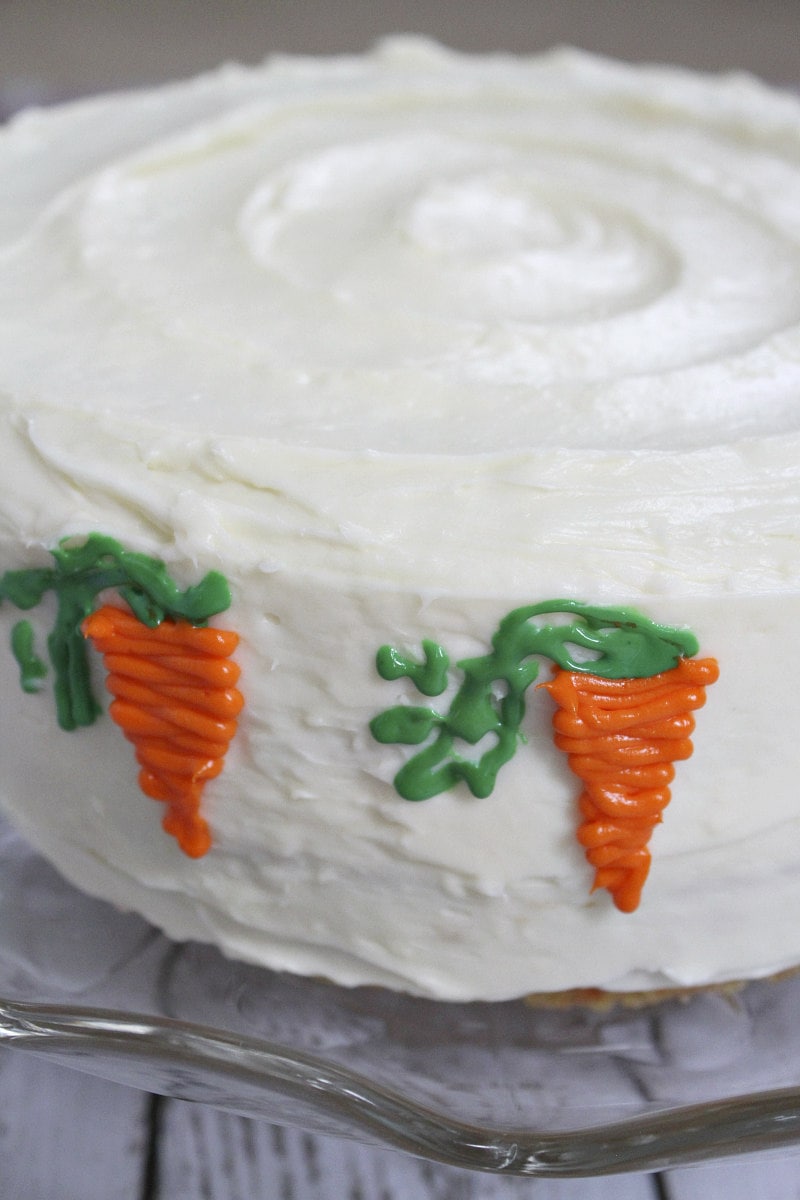 I like to add some simple carrot decorations, but that's completely optional of course. I just take a little of the frosting and color it orange. Then I use a piping bag with a small tip to drizzle some "carrots" onto the sides. You can use green gel from the store to make haphazard carrot stems.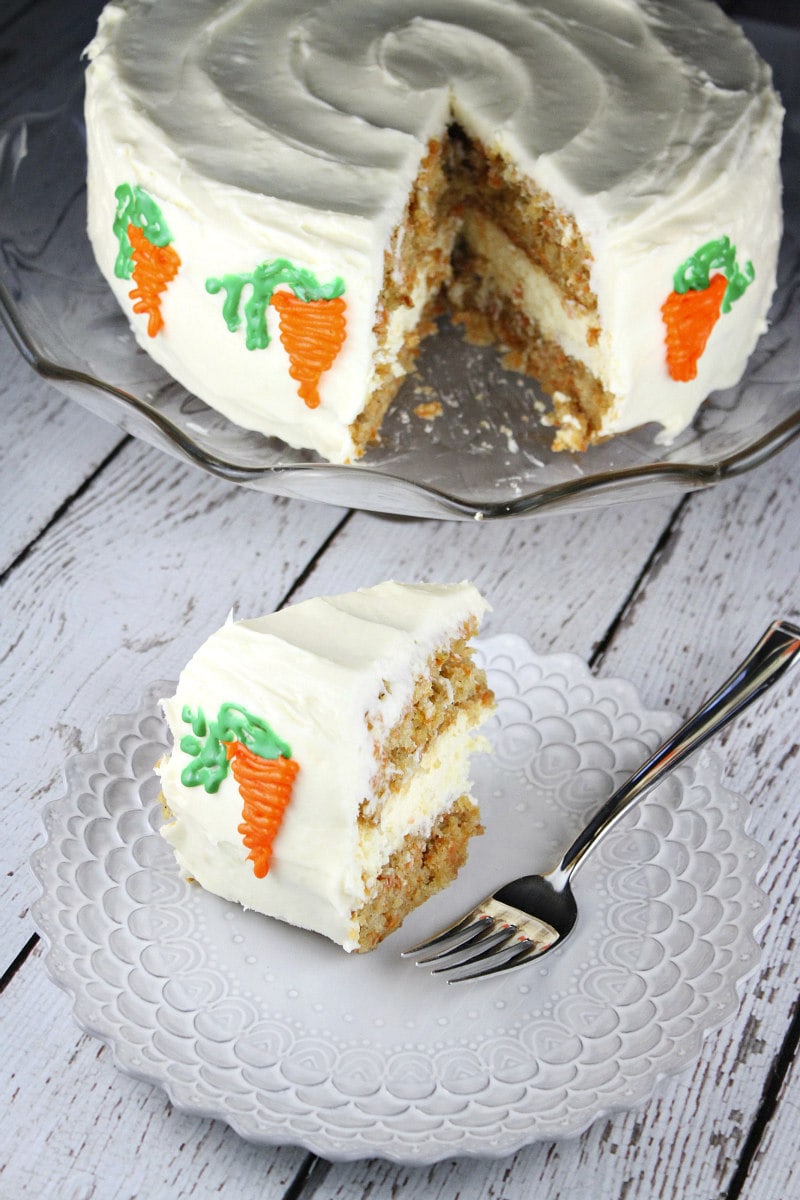 Cut into this baby and check out the inside: a nice layer of CHEESECAKE in the middle makes the cake 99.8% better than regular carrot cake.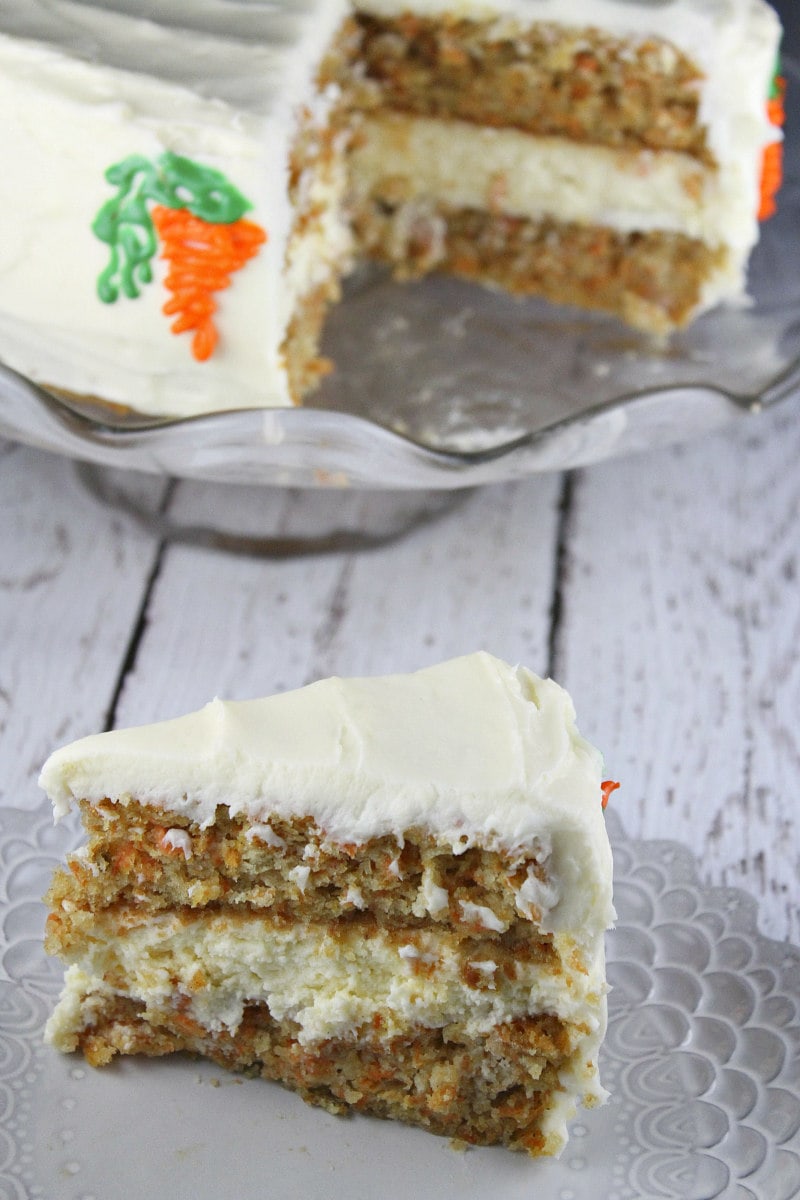 I actually prefer to chill the cake for at least a couple of hours before slicing. It gives the cake a chance to really stick together and solidify enough to slice nice pieces for serving. And I fully recommend making it ahead too. Like make it one day, refrigerate it, and serve it the next day.
This cake is MAJOR. "Major" means that it's awesome, and delicious and a nice, impressive dessert for Easter. I hope you love it as much as I do!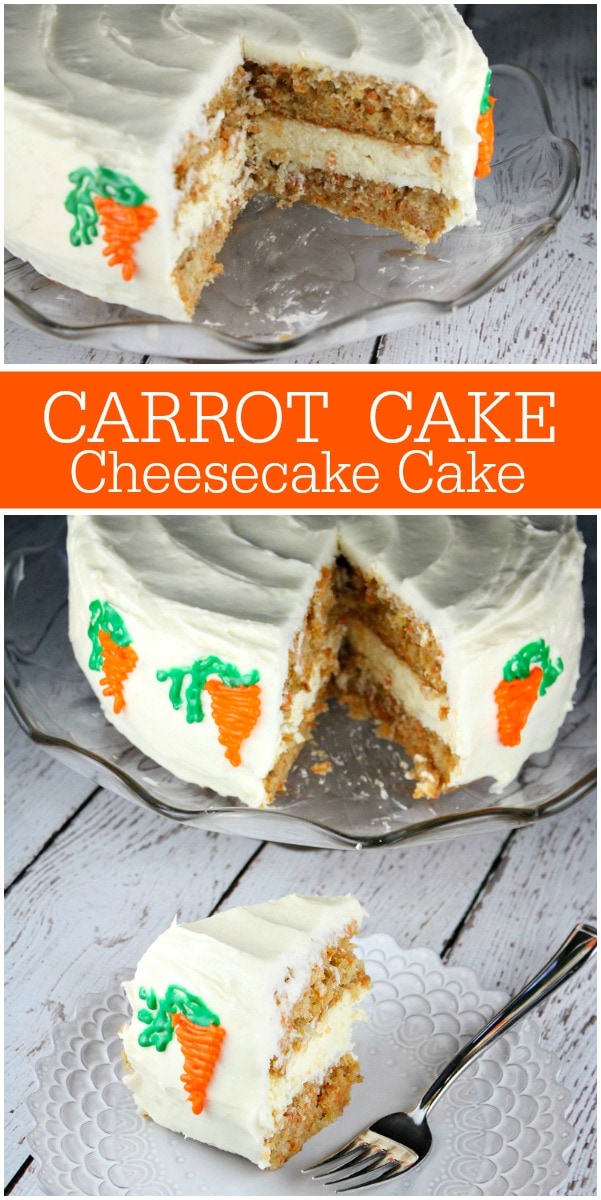 Here are a few more carrot cake creations you might like to try:
Carrot Cake Cheesecake Cake
Everyone loves this Carrot Cake Cheesecake Cake!
Recipe Details
Ingredients
CHEESECAKE:
Two

8-ounce

packages cream cheese,

at room temperature

2/3

cup

granulated white sugar

pinch of salt

2

large

eggs

1/3

cup

sour cream

1/3

cup

heavy whipping cream

1

teaspoon

vanilla extract
CAKE:
4

large (about 10 ounces)

carrots,

grated (use medium grate)

2½

cups

all purpose flour

1

teaspoon

baking powder

1

teaspoon

baking soda

1/4

teaspoon

ground allspice

1/4

teaspoon

ground cinnamon

1/4

teaspoon

ground nutmeg

1/2

teaspoon

salt

1 1/3

cups

granulated white sugar

1/4

cup

packed brown sugar

(light or dark)

3

large

eggs

3/4

cup

plain yogurt

(I use nonfat, and it's fine)

3/4

cup

canola or vegetable oil
CREAM CHEESE FROSTING:
2½

cups

powdered sugar

(sifted lightly to remove any lumps)

Two

8-ounce

packages cream cheese,

at room temperature

1/2

cup (1 stick)

unsalted butter,

at room temperature

1

teaspoon

vanilla extract
Instructions
PREPARE THE CHEESECAKE LAYER:
Preheat oven to 325 degrees F. Spray a 9-inch springform pan with nonstick spray and line the bottom with a round of parchment paper. In a large bowl, use an electric mixer to mix the cream cheese- blend until it is nice and smooth and creamy. Mix in sugar and salt and blend for 2 minutes, scraping down sides of the bowl as needed. Add eggs, one at a time, blending after each addition. Finally, mix in sour cream, whipping cream and vanilla. Mix until smooth. Pour the batter into the prepared pan. Bake the cheesecake for about 40 to 45 minutes. It should be set to the touch and not jiggly. Remove the cheesecake from the oven and let it cool on a wire rack for at least an hour. When it has cooled, place the pan into the freezer and let the cheesecake freeze completely. This can be done in several hours- or overnight.
PREPARE THE CAKE:
Preheat oven to 350 degrees F. Spray Two 9-inch round cake pans with nonstick spray, then line them with parchment paper and spray again. Place the carrots into a large mixing bowl. In a separate medium bowl, whisk together the flour, baking powder, baking soda, spices and salt. Add the flour mixture to the carrots and toss until they are well-coated with flour. In a separate medium bowl, whisk together the sugar, brown sugar, eggs and yogurt. Then (slowly) whisk in the oil. Pour this mixture into the carrot mixture and stir just until combined. Divide between the prepared cake pans and bake on the middle rack of the oven for 30 to 40 minutes (it should be firm to the touch in the middle and not wiggly). Remove the cakes from the oven and allow them to cool 15 minutes in the pan. After 15 minutes, turn the cakes out onto racks and allow them to cool completely.
PREPARE THE FROSTING:
In a large bowl, using an electric mixer on medium-high speed, beat powdered sugar, cream cheese, butter and vanilla until it is smooth and creamy (do not over beat).
ASSEMBLE THE CAKE:
Place one cake layer into the center of a cake plate or platter. Spread it with a small amount of frosting (it will act as a sort of glue to keep the layers from sliding). Remove the cheesecake from the freezer, take off the sides of the pan, and slide a knife under the parchment to remove the cheesecake from the pan. Peel off the parchment and discard! Measure your cheesecake layer against the cake layers. If the cheesecake layer turns out to be a slightly larger round than your cake, move it to a cutting board and gently shave off some of the exterior of the cheesecake to get it to the same size as your cake layers. Place the cheesecake layer on top of the first cake layer. Again, cover the cheesecake with a small amount of frosting. Place the 2nd cake layer on top of the cheesecake. To frost, start by adding a large scoop of frosting onto the top of the cake. Use a long, thin spatula to spread the frosting evenly across the top and then spread it down the sides of the cake too. Continue to spread over the top and spread down the sides until the cake is completely covered. Decorate, as desired. Keep this cake refrigerated.
Notes
*This cake might seem like an arduous task, but I started baking it at 2pm, and we were able to have it for dessert after dinner at 8. Though I must admit, it's much easier to make it early in the day (or the day before) and serve it later (especially if you are busy preparing other things for dinner).

*It's important to line the cake pan with parchment paper- it will make the cake come out of the pan easily, with no chunks left behind.

*I highly recommend bake even cake strips- simply wrap them around the cake pan and they allow your cake to rise e-v-e-n-l-y!

*You can bake the cake one day, let it cool completely, wrap it in plastic wrap and then frost it the next day. It should stay nice and moist.
Nutrition
Serving:
1
serving
,
Calories:
753
kcal
,
Carbohydrates:
76
g
,
Protein:
9
g
,
Fat:
46
g
,
Saturated Fat:
20
g
,
Cholesterol:
176
mg
,
Sodium:
428
mg
,
Potassium:
273
mg
,
Fiber:
1
g
,
Sugar:
57
g
,
Vitamin A:
4750
IU
,
Vitamin C:
1.3
mg
,
Calcium:
128
mg
,
Iron:
1.7
mg