Yummy tomato side dish recipe:  Baked Tomatoes with Goat Cheese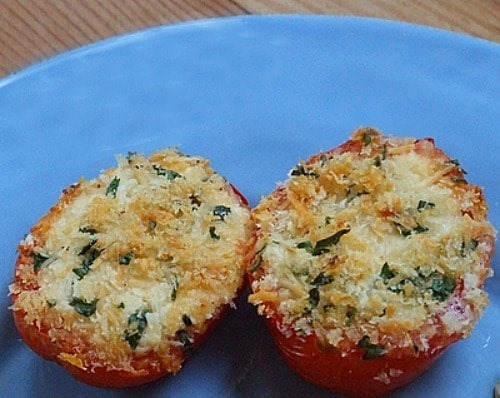 Yield: 2 dozen
Prep Time: 40 min
Cook Time: 15 min
Baked Tomatoes with Goat Cheese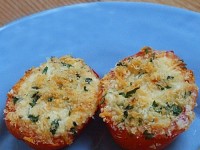 Ingredients:
1 cup panko breadcrumbs
1 cup freshly grated Parmesan cheese
1/4 cup chopped fresh parsley
1 tablespoon freshly squeezed lemon juice
1 teaspoon minced garlic
1/3 cup butter, melted
11 ounces goat cheese, softened
1/2 teaspoon freshly ground black pepper
1/4 teaspoon salt
12 plum (Roma) tomatoes
pesto sauce (store bought is fine), optional
Directions:
1. Preheat oven to 400°F.
2. Stir together the first 5 ingredients in a shallow dish. Stir in butter; set aside.
3. Combine goat cheese, pepper and salt in a small bowl.
4. Cut tomatoes in half horizontally. Remove seeds and pulp. Spoon about 2 teaspoons of the goat cheese mixture into each half.
5. Dip tomato halves, upside down, in bread-crumb mixture, coating generously. Place right side up on an ungreased baking sheet.
6. Bake 15 to 18 minutes or until lightly browned. Transfer tomatoes to a serving platter. Drizzle with pesto (if using).
Tips:
*"Panko" is Japanese breadcrumbs- they can be found in the Asian section of your market. You may also substitute toasted fresh breadcrumbs.
Leave a Comment