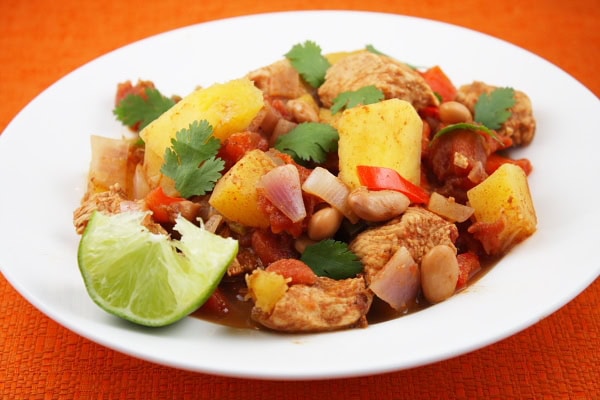 Acorn Squash and Chicken Chili
Yield:
4 servings
Prep Time: 20 min
Cook Time: 40 min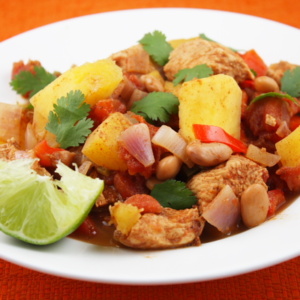 Ingredients:

1 tablespoon extra-virgin olive oil
1 medium red onion, finely chopped
1 medium red or orange bell pepper, finely chopped
1 medium jalapeño, seeded and finely chopped
2 cloves garlic, finely chopped
1 tablespoon Chinese five-spice powder
2 teaspoons chili powder
1 medium (2-pound) acorn squash, halved lengthwise, seeded, peeled and cut into 1-inch pieces
1 whole skinless, boneless chicken breast (about 1 1/2 pounds), cut into 1-inch pieces
One 28-ounce can diced tomatoes with their juices
1 cup light beer
1 tablespoon unsweetened cocoa powder
1 teaspoon brown sugar
One 15.5-ounce can pinto beans, drained
3 medium limes, 2 juiced (about 3 tablespoons), plus 1 lime cut into wedges, for serving
cilantro, for serving
sour cream or plain yogurt, for serving

Instructions:

1. Heat olive oil in a large Dutch oven or pot over medium-high heat. Add onion and cook, stirring, until softened, about 5 minutes. Add bell pepper, jalapeño, garlic, five-spice powder and chili powder and cook for 3 minutes. Stir in the squash pieces, chicken pieces, tomatoes, beer, cocoa powder and brown sugar. Bring the mixture to a boil, stirring, then reduce the heat and simmer for 20 minutes.

2. Stir in the pinto beans and lime juice and cook for 5 minutes. Let the stew cool slightly, then ladle into bowls and top each serving with some cilantro, a dollop of sour cream and a lime wedge.

Tips:

*If you are preparing this recipe as GLUTEN-FREE, substitute GF chicken broth for the beer, and make sure the brand of pinto beans you are using is known to be GF.
*If you are preparing this recipe as DAIRY-FREE, leave off the sour cream/yogurt.