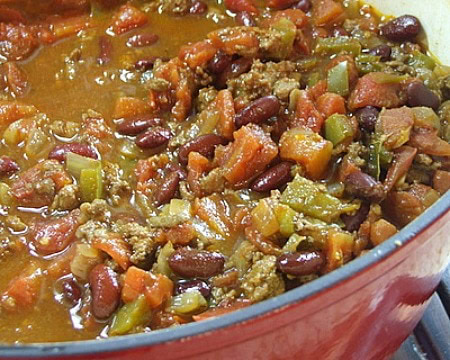 All- American Chili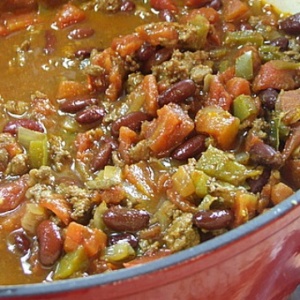 An extremely easy and delicious recipe.
Yield:
8 Servings (Serving Size 1 1/4 cups chili and 1 Tbsp. cheese)
Prep Time: 20 min
Cook Time: 1 hr, 45 min
Ingredients:
6 ounces hot turkey Italian sausage
2 cups chopped onion
1 cup chopped green bell pepper
8 cloves garlic, minced
1 pound ground beef
1 whole jalapeño pepper (seeds removed), chopped
2 Tablespoons chili powder
2 Tablespoons brown sugar
1 Tablespoon ground cumin
3 Tablespoons tomato paste
1 teaspoon dried oregano
1/2 teaspoon freshly ground black pepper
1/4 teaspoon salt
2 whole bay leaves
1 1/4 cups Merlot or other fruity red wine
2 (28-ounce) cans whole tomatoes, undrained and coarsely chopped
2 (15-ounce) cans kidney beans, drained
1/2 cup (2 ounces) shredded reduced-fat sharp cheddar cheese
Directions:
1. Heat a large Dutch oven over medium-high heat. Remove casings from sausage. Add sausage, onion and the next 4 ingredients (onion through jalapeno) to pan; cook 8 minutes or until sausage and beef are browned, stirring to crumble.
2. Add chili powder and the next 7 ingredients (chili powder through bay leaves), and cook for 1 minute, stirring constantly. Stir in wine, tomatoes, and kidney beans; bring to a boil. Cover, reduce heat, and simmer 1 hour, stirring occasionally.
3. Uncover and cook for 30 minutes, stirring occasionally. Discard the bay leaves. Sprinkle each serving with cheddar cheese.
Nutrition:
Nutritional Information per serving:
Serving size: 1 1/4 cups chili + 1 Tablespoon cheese
Calories per serving: 367
Fat per serving: 10.66g
Saturated Fat per serving: 3.39g
Sugar per serving: 11.83g
Fiber per serving: 11g
Protein per serving: 26.3g
Cholesterol per serving: 56.09mg
Carbohydrates per serving: 38g
WW POINTS per serving:
Points Plus Program: 8 Old Points Program: 9