Here's a great chili for a chilly day:  Ina Garten's Chicken Chili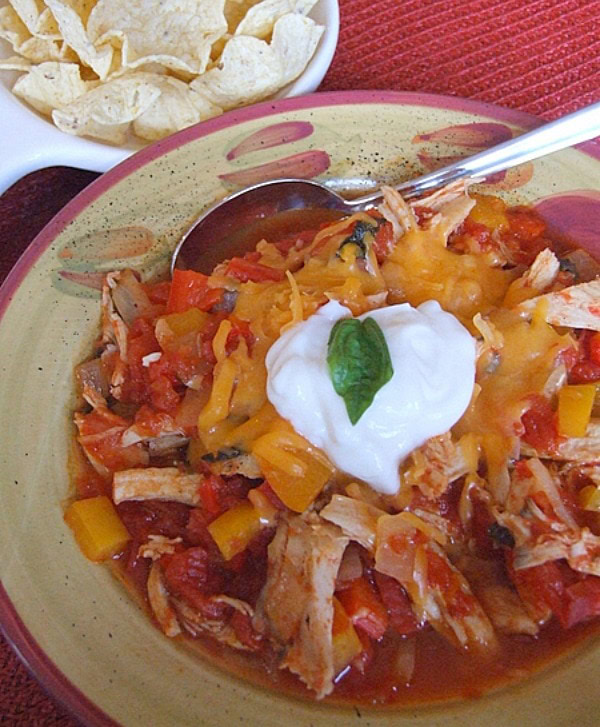 A non-traditional chili, it has tons of yellow and red bell peppers as well as fresh basil. It's spiced up lightly with chili powder, cumin, red pepper flakes and cayenne. Add more for heat.
Sometimes I like to add a good spoonful of my favorite barbecue sauce to this chili recipe to add a little sweet flavor to it.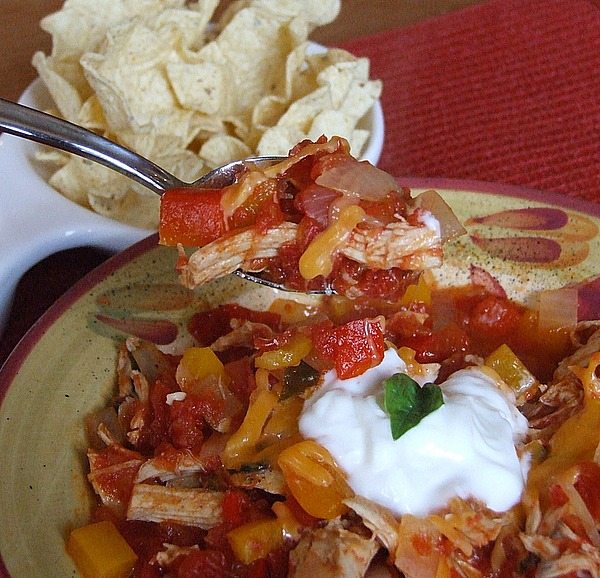 Served up family-style with a sprinkle of cheddar cheese, a dollop of sour cream and Tostitos Scoop chips, this is a great chili recipe.
If you're following the Weight Watchers program, this chili computes to just 1 point per serving.  Wahoo!
Ina Garten's Chicken Chili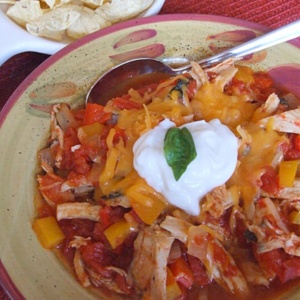 This recipe feeds a small crowd. It's also a fun one for dunking chips.
Yield:
12 servings
Prep Time:45 minutes
Cook Time:1 hour and 25 minutes
Ingredients:
8 cups chopped yellow onions (6 onions)
2 tablespoons extra-virgin olive oil
1/4 cup minced garlic (8 cloves)
4 medium red bell peppers, cored, seeded, & large-diced
4 medium yellow bell peppers, cored, seeded & large-diced
2 teaspoons chili powder
2 teaspoons ground cumin
1/2 teaspoon dried red pepper flakes, or to taste
1/2 teaspoon cayenne pepper, or to taste
4 teaspoons kosher salt, plus more for chicken
4 (28-ounce) cans whole peeled plum tomatoes in puree, undrained
1/2 cup minced fresh basil leaves
4 full chicken breasts, cooked and shredded/chopped (5 to 6 cups)
freshly ground black pepper
onions, corn chips, grated cheddar, & sour cream (optional, for serving)
Directions:
Cook onions in oil over medium- low heat for 10 to 15 minutes, until translucent. Add the garlic and cook for 1 more minute. Add bell peppers, chili powder, cumin, red pepper flakes, cayenne and salt. Cook for 1 minute. Crush the tomatoes by hand or in batches in a food processor fitted with a steel blade (pulse 6 to 8 times.) Add to the pot with the basil. Bring to a boil, then reduce the heat and simmer, uncovered, for 30 minutes, stirring occasionally.
Preheat oven to 350°F.
Add the cooked chicken to the chili and simmer, uncovered, for another 20 minutes.
Serve with the toppings, or refrigerate and reheat gently before serving.
Tips:
If preparing this recipe as DAIRY FREE, don't serve with sour cream or cheese. If preparing this recipe as GLUTEN FREE, choose tortilla chips that are known to be GF.
Nutrition:
Weight Watchers Freestyle SmartPoints per serving (1/12th of the recipe): 1
Here are a few more chicken chili recipes you might enjoy: