The blue cheese and chiles topping on these grilled steaks has a perfect amount of spice to it.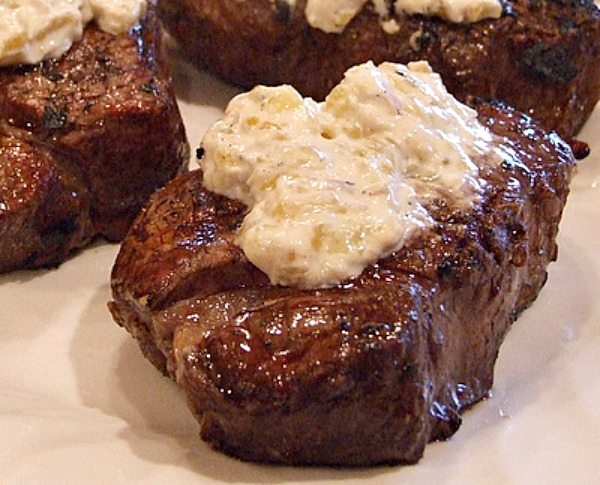 Grilled Steaks with Blue Cheese and Chiles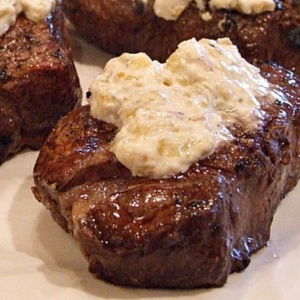 Yield:
6 servings
Prep Time: 25min
Cook Time: 10 min
Ingredients:
1 1/2 tablespoons extra-virgin olive oil
3 teaspoons minced fresh parsley, divided
2 cloves garlic, minced
Six 1-inch-thick beef tenderloin steaks (about 6 ounces each)
2 ounces cream cheese, at room temperature
1/4 cup finely crumbled blue cheese (about 1 ounce)
2 tablespoons chopped canned jalapeno chiles
1 medium shallot, finely chopped
3/4 teaspoon white wine vinegar
Directions:
1. Combine olive oil, 2 teaspoons parsley, and garlic in large plastic zip bag. Sprinkle steaks with salt and pepper. Add steaks to the zip bag and move them around to coat all sides. Marinate steaks 30 minutes at room temperature or chill in refrigerator up to 1 day.
2. Mix cream cheese, blue cheese, chiles, shallot, vinegar, and remaining 1 teaspoon parsley in medium bowl. Season blue cheese topping to taste with salt and pepper.
3. Prepare grill to medium-high heat. Place steaks on grill rack (some marinade should still cling to meat). Cook 5 minutes. Turn steaks over. Divide blue cheese topping among steaks. Grill until topping softens and steaks are medium-rare, about 5 minutes longer.
Nutrition:
Nutritional Information per serving:
Serving size: 1 steak w/ 1/6th of the sauce
Calories per serving: 355
Fat per serving: 21.5g
Saturated Fat per serving: 8.43g
Sodium per serving: 234mg
Fiber per serving: .12g
Protein per serving: 37g
Cholesterol per serving: 119mg
Carbohydrates per serving: 1.18g
WW POINTS per serving:
Points Plus Program: 9 Old Points Program: 9