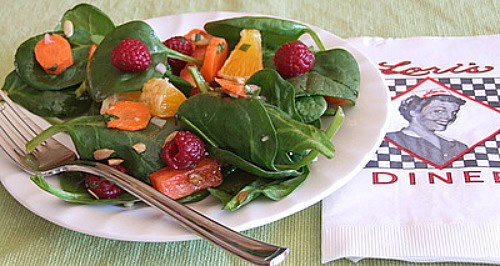 Baby Spinach & Raspberry Salad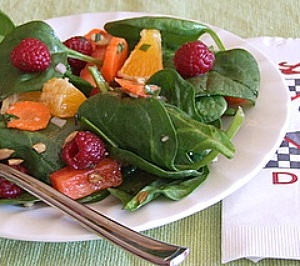 Good, healthy tasting salad with a nice combination of flavors...
Yield:
6 servings
Prep Time: 20 minutes
Ingredients:
DRESSING:
1/4 cup white balsamic vinegar
1 teaspoon honey
1 Tablespoon fresh parsley, chopped
1 Tablespoon fresh tarragon, chopped
1 Tablespoon fresh chives, chopped
1 Tablespoon fresh basil, chopped
1 clove garlic, minced
1/2 small shallot, minced
1/4 cup canola oil
SALAD:
1/4 cup sunflower seeds or pine nuts
8 cups baby spinach
1 cup fresh raspberries
2 medium oranges, peeled, membranes removed, segmented
1 medium red bell pepper, cored, seeded and cut into 2-inch strips
1 medium carrot, peeled and coarsely grated
Directions:
1. Whisk together dressing ingredients.
2. Place spinach in a bowl and add additional salad ingredients. Toss with desired amount of dressing, plate and serve.
Tips:
*I love a little sprinkle of goat cheese in this salad.
Nutrition:
Nutritional Information- Per Serving (salad divided into 6 equal portions)
Calories 172, Calories from Fat 105, Total Fat 12g, Sat Fat 1g, Cholesterol 0mg, Sodium 63g, Potassium 467mg, Carbohydrates 15.5g, Dietary Fiber 4.5g, Sugar 7.5g, Net Carbs 11g, Protein 3.25g
WW POINTS per serving:
Points Plus Program: 5 Old Points Program: 5
Source: RecipeGirl.com (via Self)