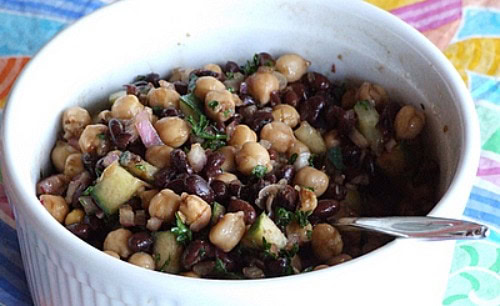 Two- Bean Salad w/ Balsamic Vinaigrette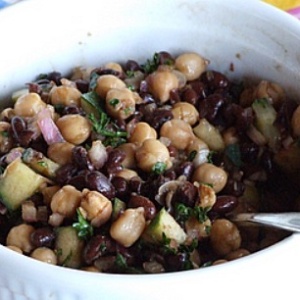 Great salad with a delicious, tangy taste...
Yield:
6 servings
Prep Time: 15 minutes + standing time
Ingredients:
1 (15 ounce) can garbanzo beans (chickpeas), rinsed & drained well
1 (15 ounce) can black beans, rinsed & drained well
2/3 cup chopped red onion
1/4 cup chopped fresh parsley
2 Tablespoons olive oil
2 Tablespoons balsamic vinegar (or red wine vinegar)
3 cloves garlic, finely chopped
1/2 medium cucumber, chopped
salt & pepper to taste
Directions:
Combine all ingredients in medium bowl. Toss to blend well. Season salad to taste with salt and pepper. Cover and refrigerate. Let stand at room temperature for 30 minutes before serving.
Tips:
*Make ahead: Up to one day in advance.
Nutrition:
Nutritional Information- Per Serving (salad divided into 6 equal portions):
Calories 201, Calories from Fat 49, Total Fat 5.6g, Sat Fat .75g, Cholesterol 0mg, Sodium 487g, Potassium 388mg, Carbohydrates 30.5g, Dietary Fiber 8.5g, Sugar .25g, Net Carbs 22g, Protein 8.25g
WW POINTS per serving:
Points Plus Program: 5 Old Points Program: 5.5