Entertain with a Mardi Gras Inspired Dinner Party Menu to celebrate the occasion in style!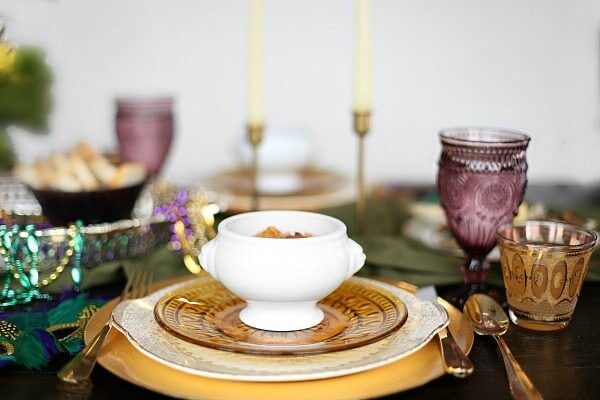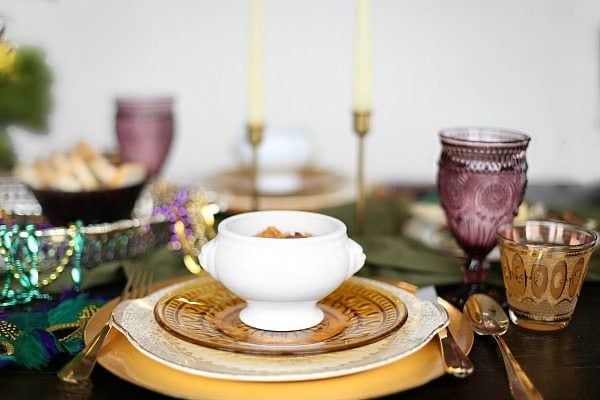 If you've ever been to Mardi Gras, but you're a little past the "party" stage, why not bring the experience home with a more sophisticated dinner party that celebrates some of New Orleans finest dishes.
Last year we were able to visit New Orleans for the first time, and even though it wasn't during Mardi Gras, there's always a party in the air. Everywhere you go you'll find beads and cocktails! I love the idea of sharing the experience in a more refined way such as a Mardi Gras INSPIRED dinner party. That means you can serve up the taste of the bayou, but still present like a grown up *wink*.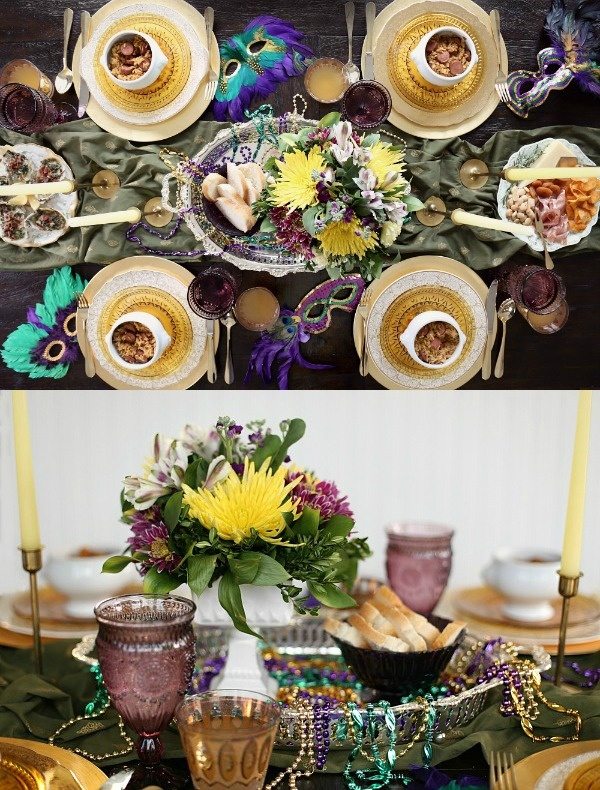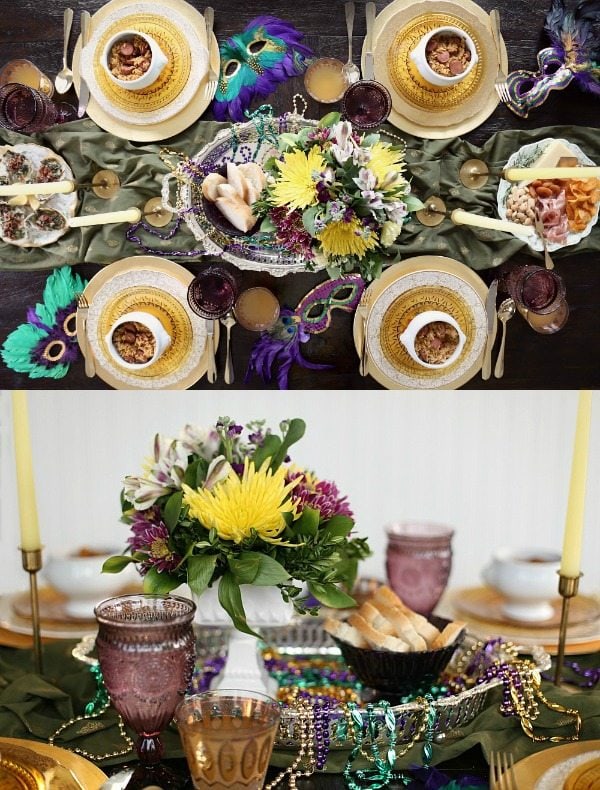 This dinner party menu is simple but brings together some of the quintessential flavors of New Orleans. But before we get to the eats, lets talk about the lovely table setting.
To set the tone for Mardi Gras I used the traditional colors, but in more muted tones. The purple is a little more "amethyst," green is more of a "mossy" tone, and gold is represented with antiqued bronze and amber. The place settings are layered with a combination of vintage and modern dishes, with a fun Mardi Gras mask for each guest.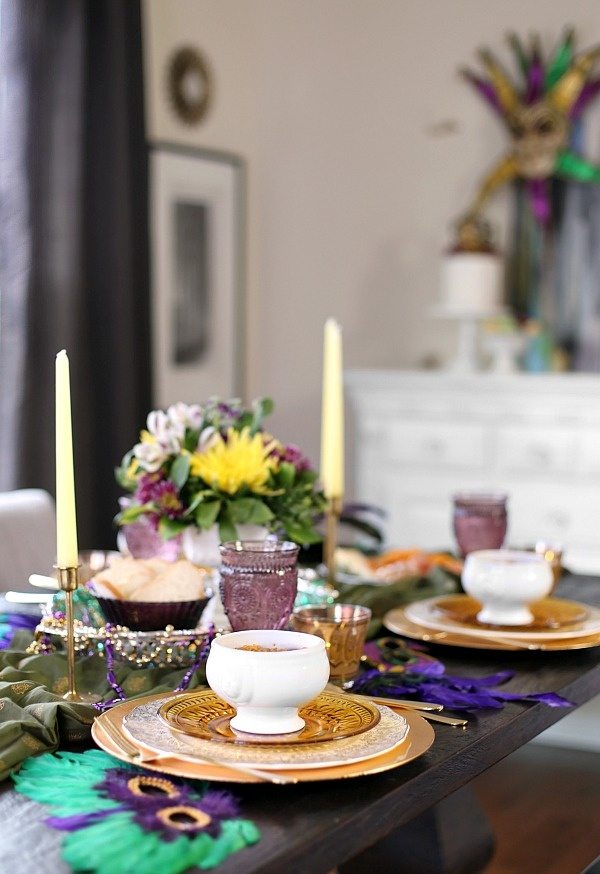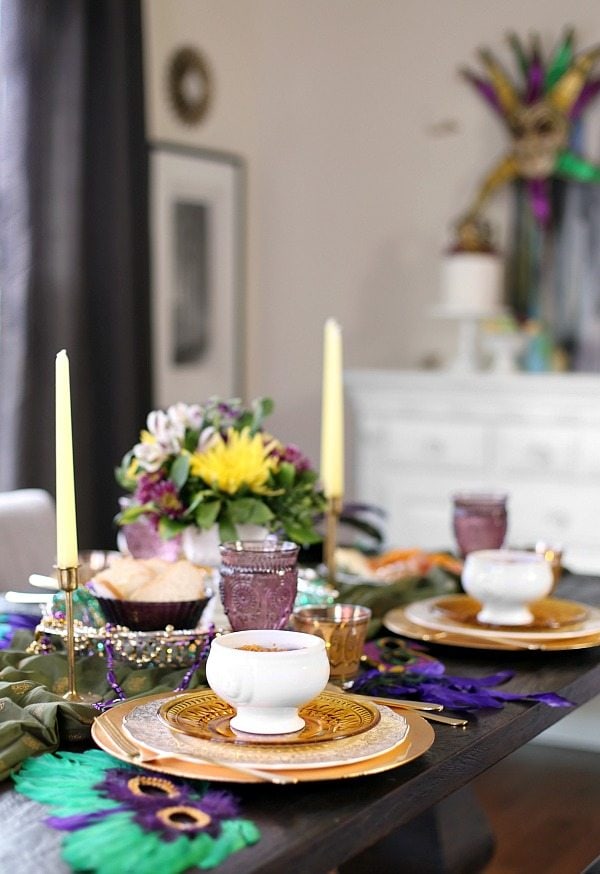 Because New Orleans is filled with old world charm and French influence, I used a silver tray as the centerpiece. It's filled with a small floral arrangement and Mardi Gras bead, of course!
I also incorporated the vintage oyster plate I bought there, to hold oysters Rockefeller. I think it's sacrilege to go to New Orleans and not eat oysters!
Check out the menu below, and serve it in courses for a more elegant experience.

Mardi Gras Inspired Dinner Party Menu
This menu reflects the abundance of seafood that New Orleans is known for. Begin the evening by welcoming guests with a Sriracha Bloody Mary. Once seated, serve Oysters Rockefeller and a Crab Avocado Appetizer Stack (we were served this stack at the amazing restaurant, Criollo).
Next, serve a Blood Orange Salad, which adds freshness and balances the menu. For the main course, classic Shrimp Jambalaya is the way to go.
For dessert, nothing beats a king cake, but Kahlua Creme Brulee is another terrific option for this dinner party menu.
I hope this Mardi Gras Inspired dinner party menu encourages you to celebrate the occasion in a new and fun way!