Blood Orange Spinach Salad
This recipe has been featured in a post on The Recipe Girl blog: Blood Oranges… Where Have You Been All My Life?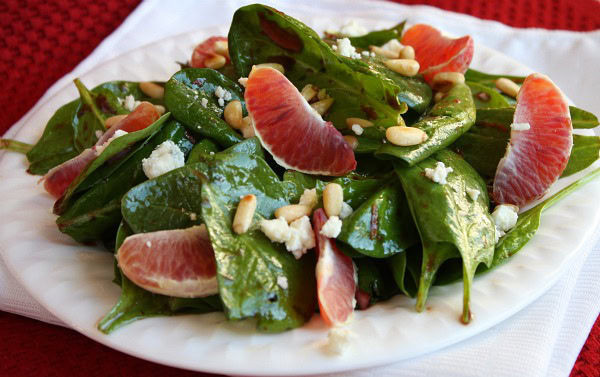 Yield: 4 to 6 servings
Prep Time: 25 min + marinating time
Blood Orange Spinach Salad
Spinach is accompanied by a dressing highlighted with balsamic-marinated shallots & fresh blood-orange juice and zest.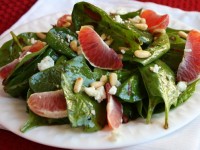 Ingredients:
2 Tablespoons finely chopped shallots
2 Tablespoons balsamic vinegar
zest from one orange
1/3 cup blood orange juice, freshly squeezed (use the zested orange)
2 medium blood oranges, peeled & segmented
3 Tablespoons extra-virgin olive oil
salt & freshly ground black pepper, to taste
3 cups (5 ounces) fresh baby spinach
2 Tablespoons pine nuts, toasted
4 ounces Gorgonzola or blue cheese
Directions:
1. In a small bowl, combine shallots and vinegar. Let shallots sit in the vinegar for about 20 minutes.
2. Add orange zest and juice to the shallots. In a thin, steady stream, whisk olive oil into the shallots, whisking until dressing is well combined. Add salt and pepper, to taste.
3. Remove white pith and membranes as much as possible from segmented oranges.
4. Place spinach in a large bowl and toss with enough dressing to coat. Add in pine nuts, Gorgonzola and orange segments and toss lightly until mixed.
5. Serve immediately, drizzling more dressing if needed.
Tips:
*Substitute regular oranges if you'd like.
Leave a Comment