One of the best salads I've ever eaten:  SPINACH SALAD w/ HOT PROSCIUTTO DRESSING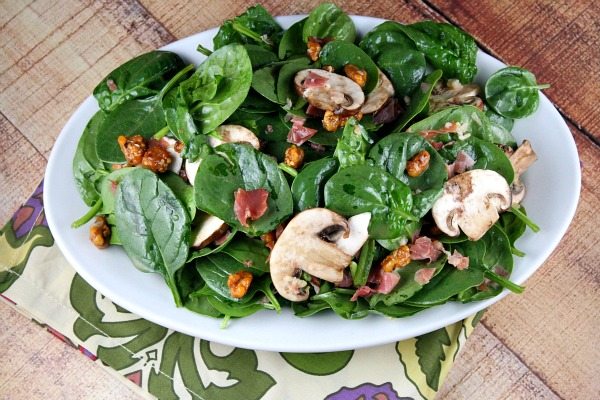 I grew up back in the 70's with the ubiquitous spinach salad.   It was the salad that everyone served for dinner or shared at potlucks.  It was your basic bowl of spinach leaves and mushrooms (maybe hard-boiled egg?) and it was topped with a hot bacon dressing.  Anyone remember that salad?  Anyone still make that salad?  I actually really loved that spinach salad.  I've been meaning to ask my Mom if she still has that 70's spinach salad recipe in her files somewhere.  In the meantime, I'm sharing an updated version of the spinach salad.  This one switches out bacon for an equally desirable prosciutto.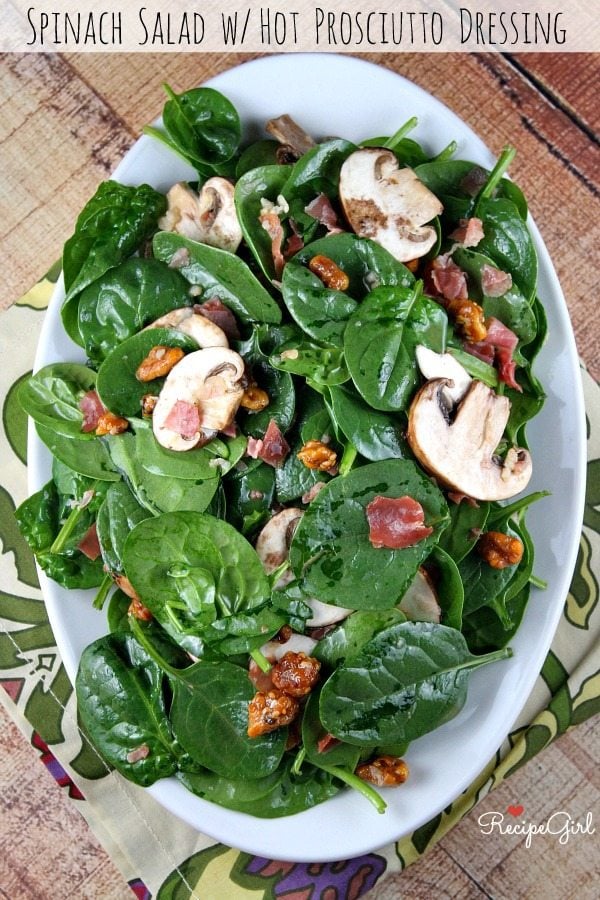 Walnuts are added in for good measure.  You can (and should) toast them a bit, unless you're okay with raw walnuts in a salad.  Toasting them makes them 100% more delicious, in my opinion.  Or you can do as I did and buy a package of candied walnuts (or make your own).  The best part of this recipe is the dressing.  It has flavors of wine and lemon, it's lightly sweetened, and it has a generous dose of chopped prosciutto mixed in.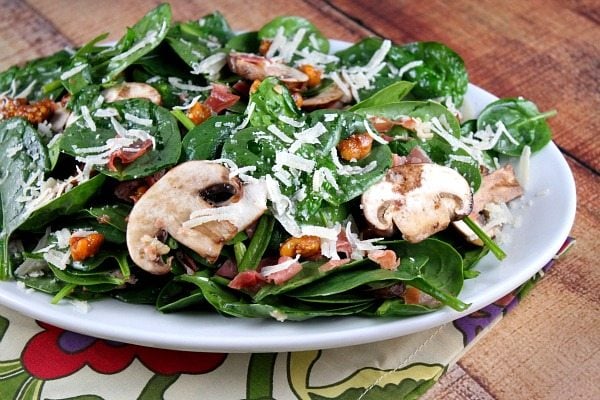 In the end, the whole thing is topped with shredded Parmesan.  I went with a beautiful, rustic chunk of rather expensive and amazing Parmigiano-Reggiano, but you can certainly use any Parmesan you have on hand.  This is one delicious salad indeed.  My husband and I practically ate the entire thing split between the two of us, but it is perfect for serving four as a side salad.  Dare I say that my version is a vast improvement over the 70's spinach salad?  I'm cool with that.  We truly enjoyed this recipe- it'll be a repeater for sure in our house.
Spinach Salad with Hot Prosciutto Dressing
Yield:
4 servings
Prep Time: 15 min
Cook Time: 5min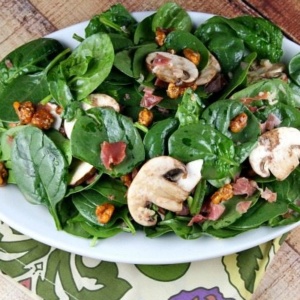 Ingredients:

SALAD:
One package fresh spinach leaves (5 ounces or so)
1 cup thinly sliced fresh mushrooms
1/3 cup chopped walnuts (toasted or candied or raw)
1/3 cup freshly grated Parmesan cheese

DRESSING:
1/4 cup extra-virgin olive oil
1/2 cup chopped prosciutto (3-ounces)
2 cloves garlic, minced
1/4 cup dry white wine
1/4 cup freshly squeezed lemon juice
1 tablespoon granulated white sugar

Instructions:

1. Place spinach in a medium-large salad bowl. Sprinkle on mushrooms and walnuts.

2. Prepare the dressing: In a small saucepan, heat oil over medium heat and add prosciutto and garlic. Stir and cook until garlic is lightly browned. Stir in wine, lemon juice and sugar, and continue to simmer for about 5 minutes, stirring every once in a while.

3. Pour hot dressing over the salad and toss. Divide salad between four serving plates and sprinkle each with Parmesan cheese.

Tips:

*If you are preparing this recipe as gluten-free, just be sure to use a brand of prosciutto that is know to be GF.
More spinach salad recipes you may enjoy… from these fabulous blogs:
Chickpea and Spinach Salad with Cumin Dressing (from RecipeGirl)
Summer Berry Spinach Salad (from FoodieCrush)
Spinach Salad with Chicken, Avocado and Goat Cheese (from RecipeGirl)
Strawberry- Cucumber Spinach Salad (from Cafe Johnsonia)
Warm Spinach Salad with Bacon, Mushrooms and Hard Boiled Eggs (from Brown Eyed Baker)