Every year when summer rolls around, I'm obsessed with this delicious recipe:  Fresh Corn with Prosciutto Basil Butter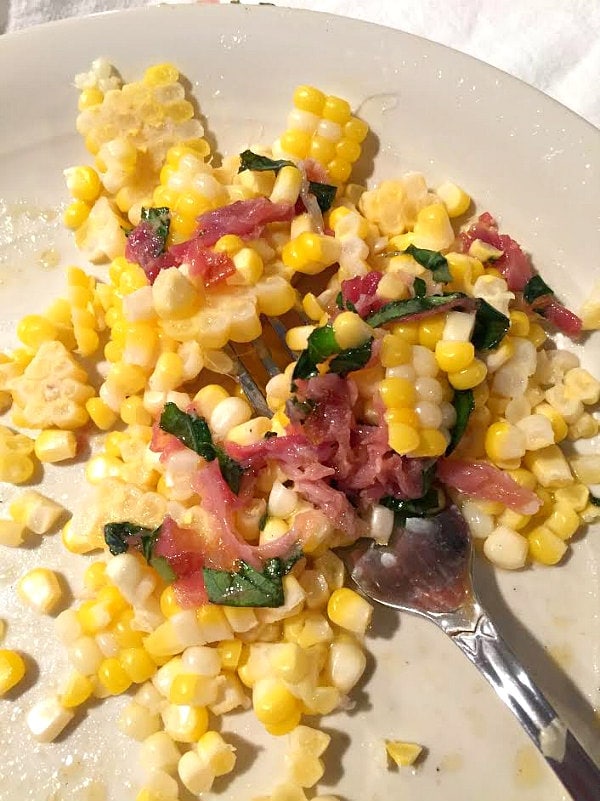 Fresh Corn with Prosciutto- Basil Butter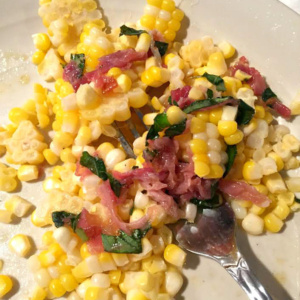 Yield:
6 servings
Prep Time: 20 minutes
Cook Time: 12 minutes
Ingredients:
1/2 cup (1 stick) butter, at room temperature, divided
2 Tablespoons minced shallot
2 ounces thinly sliced prosciutto, minced
3 Tablespoons minced fresh basil
salt and pepper, to taste
6 ears fresh corn, shucked
Directions:
Melt 2 Tablespoons butter in heavy small skillet over medium-heat. Add shallot and sauté until tender, about 5 minutes. Transfer to bowl and cool. Add remaining butter to shallot and stir until smooth. Mix in prosciutto and basil. Season to taste with salt and pepper.
Cook corn in large pot of boiling salted water until crisp-tender, about 3 minutes. Drain and cool.  Cut corn off the cobs and transfer to a saucepan.  Add the flavored butter and heat until melted and heated through.
Tips:
If preparing this recipe as GLUTEN FREE, just make sure that the prosciutto you're using is free of gluten.
Make ahead tip: Step one may be prepared 3 days ahead. Cover and refrigerate. Let stand 2 hours at room temperature before using.)
Alternately you can try grilling the corn instead of boiling it. Soak the corn in water for about 20 minutes, then place it on a hot grill just until it gets a few char marks on all sides.
SOURCE:
RecipeGirl.com (adapted slightly from 
Bon Appetit
)