Parmesan melts into the bread in this appetizer and provides a salty pairing for the prosciutto:  Cheese Crostini with Prosciutto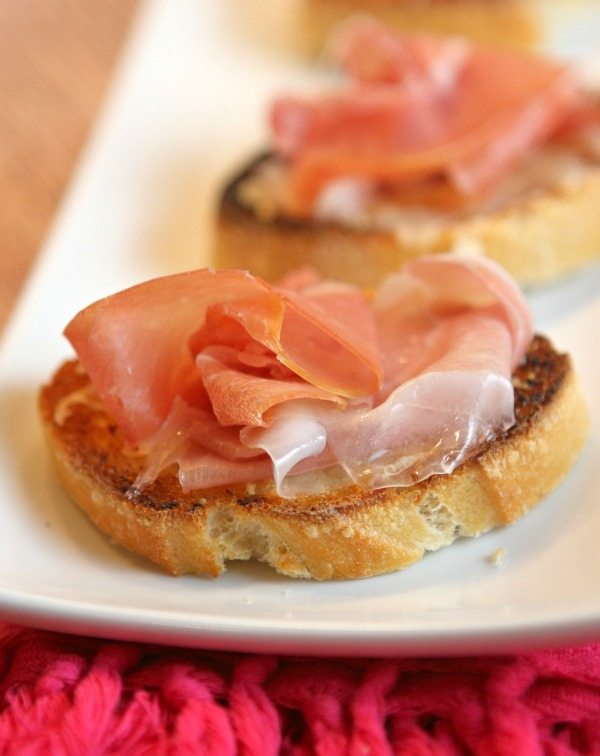 Cheese Crostini with Prosciutto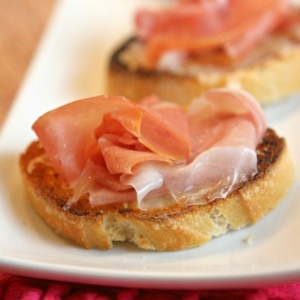 Yield:
6 appetizers
Prep Time: 10 minutes
Cook Time: 2 minutes
Ingredients:
6-ounce baguette, sliced into 6 pieces
2 cloves garlic, halved
1/4 cup (1 ounce) grated fresh Parmesan cheese
2 ounces thinly sliced prosciutto
1/2 teaspoon freshly ground black pepper
Directions:
Preheat oven to broil.
Place bread on baking sheet. Rub 1 side of each bread slice with cut half of garlic. Discard garlic. Broil 1 minute or until very lightly browned.
Sprinkle cheese evenly over bread. Broil 1 minute or until cheese melts.
Drape prosciutto evenly over bread slices. Sprinkle with freshly ground pepper.
Nutrition:
Nutrition Facts-Amount Per appetizer: Calories 123, Calories From Fat (22%) 27, Total Fat 2.9g, Sat Fat 1.2g, Cholesterol 10.3mg, Sodium 506mg, Carbohydrates 16.6g, Dietary Fiber 1g, Sugar .12g, Net Carbs 15.6g, Protein 7g
Weight Watchers POINTS:  SmartPoints: 3, Points Plus: 3, Old Points Program: 2
SOURCE: www.RecipeGirl.com (via Cooking Light)
More crostini recipes you might enjoy: