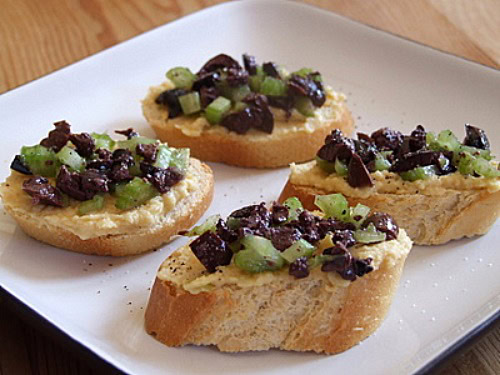 Greek Crostini
Yield: 12
Prep Time: 20 minutes
These are a very simple-to-assemble recipe. Loved the olives and hummus together & my guests enjoyed it too.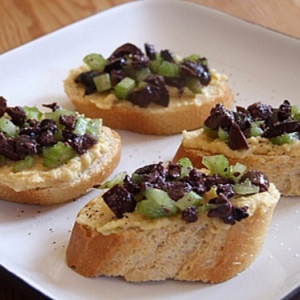 Ingredients:

1 (15-ounce) can chickpeas (garbanzo beans), drained & rinsed
1/4 cup olive oil
1 Tablespoon fresh lemon juice
1 clove garlic, minced
1 Tablespoon olive oil
8 large pitted green olives, chopped finely
2 Tablespoons celery, finely diced
1 baguette, sliced into 12 pieces
salt & pepper, to taste

Instructions:

1. In a food processor, combine chickpeas, 1/4 cup oil, lemon juice, and garlic. Blend to make smooth paste. Season with salt and pepper and set aside.

2. In small bowl, combine 1 T. oil, olives and celery. Season with salt and pepper and set aside.

3. Spread chickpeas mixture among the baguette slices, and top with olive mixture. Season with freshly ground pepper.

4. Serve immediately.

Cooking Tips
*A good olive oil can sometimes make all the difference!
*Toast the baguette slices briefly under the broiler (before topping with chickpea mixture) if you prefer a toasted baguette.